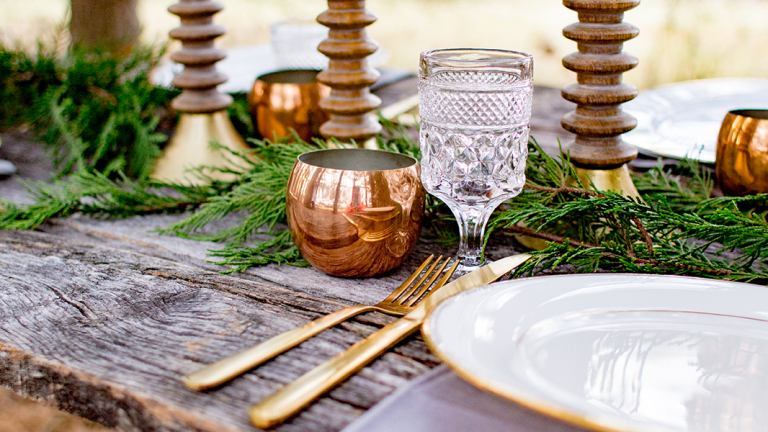 Easy Finishing Touches to Give Your Holiday Table a Dose of Hygge
Hygge is a feeling that comes from taking genuine pleasure in making ordinary moments more meaningful, beautiful, or special.
Hygge (pronounced "hoo-guh") is all the hype these days. In fact, the word was a finalist for the Oxford Dictionaries' 2016 "word of the year." Several articles and at least six books on hygge—such as The Little Book of Hygge and The Year of Living Danishly—have been published in the U.S. this year, with more to come in 2017.
While this Danish concept is difficult to describe, you know it the minute you see, or rather, feel it. There is no direct English translation, but hygge is defined as "a quality of cosiness and comfortable conviviality that engenders a feeling of contentment or well-being." It's the warm and cozy of winter. It's candlelight in a room full of people you love. It's what makes a cold and grey winter a season of warmth and glow. It's living simply and comfortably.
As an event planner and stylist, I'm sharing some last-minute tips to bring a bit of hygge to your house and table this holiday season. The key is using what you already have at home, combined with the hospitality nature has to offer.
01. Something Old, Something New, Something Borrowed, Tried and True
When I am planning a table setting for a holiday gathering, I love to rummage through the dining room chests and pull out all the family heirloom dishes and silverware. Using your family's vintage dishes and silverware brings history into the table.
My parents' wedding dishes are simple, white with the daintiest gold border, and I love using them for big holiday meals—both for their beauty and significance. Look through your parents' or grandparents' drawers and cupboards to see what treasures you may have overlooked before. Or ask friends to bring their heirloom tableware to share. Antique and thrift stores are also a great option for finding unique pieces. It's always fun to mix and match modern tableware too!
02. Gather Natural Materials
Whether you live in the city, the suburbs, or are a country gal like me, there are natural materials at your disposal just waiting to be collected. Every table scape is made cozier and earthier with a touch of pine, boxwood, holly, berries, or even twigs.
For Christmas, I like to create a garland out of fresh cypress boughs. This brings a lush feeling to the table, and offers a subtle evergreen scent. Arm yourself with shears and take a walk outside—I look for color and texture when I am foraging for natural materials. If it doesn't have a deep, rich tone or interesting texture, I keep looking. Once I find a bright berry bush or lush pine tree, I get to work cutting away. This is a simple (and free) way to liven up your table.
03. A Warm and Happy Glow
Here's where we really get our hygge on. Dim the overhead lights (or turn them off completely) and look to setting a fire in the hearth and placing candles—sticks, pillars, votives, or a mix—down the length of the table. Lanterns are another source of extra light when you want to cut the overhead light completely. My personal party philosophy is that lighting creates the mood, and the mood dictates the conversation. To achieve that satisfying intimate environment we are going for, spend some time assessing the lighting situation in your space and planning for a few choice edits and additions.
04. The Menu: a Ritual of Life's Simple Pleasures
For the meal, revisit a family recipe, but consider adding your own twist. Add dried fruit and a splash of wine to a traditional stuffing or fold orange marmalade and chunks of dark chocolate into a bread pudding, for instance. Your grandmother will love that you are giving a nod to the past and be impressed that you injected your own flair.
For drinks, make one batch of Christmas sangria topped with rosemary and serve in a large bowl. Or make a seasonal favorite like an apple cider hot toddy and leave it simmering on the stovetop. Making just one type of drink for everyone to share makes purchasing ingredients and staging the bar a breeze. It also allows your guests to sit back and relax as you refill their mug with a singular yet deeply-satisfying cocktail throughout the evening. Bonus: Go hygge all the way by preparing a pot of traditional Danish Gløgg (mulled white or red wine).
05. Friends. Family. Graciousness. Good feelings.
Bring your family and friends out from the freezing cold into this inviting environment you've created. After all, hygge is a feeling that comes taking genuine pleasure in making ordinary moments more meaningful, beautiful or special. And an evening around the table surrounded by nature, food, and good company is one of the most restorative experiences in life. I look forward to it all year round, and I hope you will, too. Happy staging, and happy holidays!
Photography: Stanley Murzyn
Styling: Shelagh Bolger