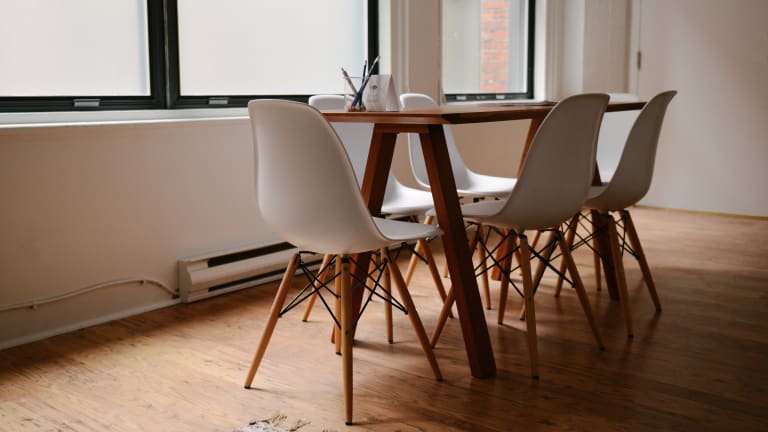 4 Common Phrases You Might Hear in Your Annual Performance Review
Whether yours is coming or just happened, this advice will help you prepare.
The end of the year usually sparks a bout of reflection and resolutions. And when it comes time for a yearly review, your work performance likely tops the list.
Even if you've had a stellar year, it's not uncommon to feel nervous before the annual performance review. Human nature tends to magnify negative situations, according to the New York Times, making it easier to recall our mistakes and hiccups. Unfortunately, it's also a foolproof way to rustle your nerves.
Much like a job interview, it's impossible to predict exactly what happens during an annual review—it varies between workplace cultures and even manager personalities. But it is possible to prepare for it. We turned to Sarah Landrum, founder of career development site Punched Clocks and writer at Forbes, for a breakdown on what you're most likely to hear at your annual performance review and how to handle the four most common situations with ease and grace.
01. 'How do you think this year went?'
Your answers should encompass your current career mindset. Landrum says that giving a positive answer about the previous year takes preparation—and we don't mean just mentally.
"Keep track of your responsibilities and accomplishments in a hard folder or digital file," she advises. While it's best to do this as the year progresses, you can also make a last-minute list or a quick portfolio highlighting your top achievements. It will double as a prescriptive moment of reflection when you might draw a blank for examples.
Landrum advises sharing very specific accomplishments, using numbers to quantify and measure your gains whenever possible. "Use them to back up how well you think the year went," she says. "This will highlight the most important areas of your work."
Think of it as another job interview. While you obviously already have the position, this tactic brings out your eagerness to learn and progress. And it shows that you want (and are able) to make moves.
02. 'I'd like you to be more . . .'
When someone points out something they'd like us to change about ourselves, it's easy to jump into defense mode. It can even be hurtful. But when it comes to your job, this isn't a personal attack. Your boss is speaking on behalf of the company's needs, something that your position directly impacts.
"First things first—check your anger at the door," Landrum says. "Don't make excuses or feel the need to defend yourself." Defensive actions can backfire, thwarting your chance to proceed with humility and poise. Instead, take this as an opportunity to cultivate your growing list of accomplishments.
If your boss is vague about his or her expectations, "Ask for clarification," says Landrum. "Don't be afraid to ask follow-up questions if you don't get the explanation you need the first time." Questions to ask if this comes up are:
Which skills would you like to see me grow?
How can we plan to measure my success so that I know I'm on the right track?
When should we check back in about this goal?
The answers will give you the exact areas and tools you'll need to flourish in your current or future role.
03. 'Your performance is not up to par in regard to . . .'
This is different from, "I'd like you to be more..." in that you aren't meeting a goal or expectation that has previously been outlined or discussed during the year. If this comes up, remind yourself that there is always room for improvement, no matter how awesome you are at your job.
"Your boss is sharing this feedback because they want to help you improve," explains Landrum. "Remain open to what they have to say." Again, the purpose of an annual performance review is to work with—not against—you. Ask for clarification and examples. This will link her feedback with specific situations that you can reflect back on.
Landrum advises working with your boss to create clear action items. If you know where you're underperforming, come prepared with a list of specific roadblocks that have prevented you from achieving these goals and expectations, along with a few ideas on how to remove or work around those road blocks. Your boss will be impressed by your creativity and drive to resolve the shortfall.
04. 'What are your goals for next year?'
By now, you know the ropes of the position. Make an effort to infuse your response with your experienced knowledge of the company's goals.
"Come prepared with those items you have wanted to do, goals for the future, and improvements you'd like to make," says Landrum. This shows your boss that you know how your efforts will make a difference in the company. It also displays that you are taking the appropriate steps to do it with fierce and classy diligence.
Landrum's most important piece of advice? "When you're nailing down your goals, make them SMART." Remember, reflecting before your annual review is crucial. Some questions you can come prepared to ask are:
I'd love to grow in this role. What is the company's timeline for raises or promotions, and what can I do to achieve the next level?
Is there someone I can reach out to for advice or guidance on reaching these goals?
Extra effort in mentally preparing for your annual performance review increases the chances for an enlightening, positive, and productive discussion and decreases miscommunication, frustration, or confusion. Before it's over, you'll already be moving forward like the trailblazer you are.
Photo Credit: Breather