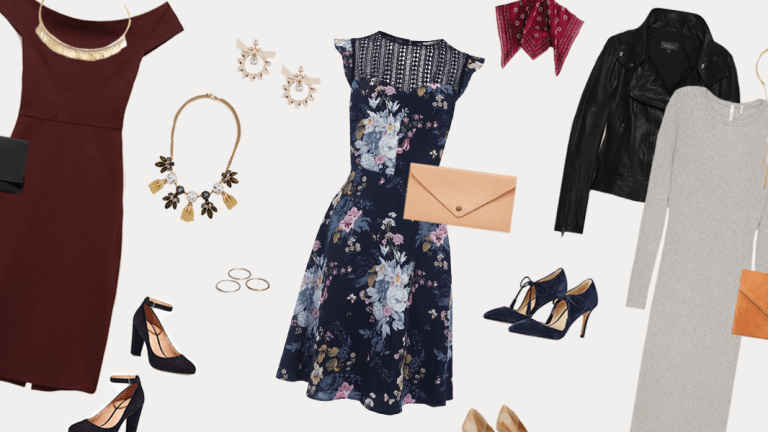 The Perfect New Year's Eve Outfit for Every Style Personality
What's your go-to going-out outfit?
We all have a go-to signature look, but even the best-dressed can use a little inspiration when it comes to nailing a look for a night on the town—especially for a big night like New Year's Eve. Take a look at our five going out style categories to find out which one you are. It'll make finding this Saturday night's outfit easier than ever!
The Femme Fatale //
This is girl's go-to getup is uber feminine with a vintage-meets-sultry vibe. She knows she can't go wrong when flattering her shape, choosing figuring hugging dresses, skirts and necklines. A classic LBD or deep-red number always catches her eye make her feel her best when getting dolled up for a night out!
Try: A timeless, figure-flattering number inspired by the '40s and '50s. Add a statement necklace and vintage-inspired pumps and you're ready for a night on the town.
The Casual-Cool Girl  //
This girl is not about to sacrifice her comfort for any event or party. It's all about faking the fancy, so she will always opt for flexible knits, comfy shoes, and add a structured piece to pull the whole outfit together. Tailored styles are her wardrobe musts—and her key to looking party-appropriate all night long! 
Try: A knit dress is comfy and chic (not to mention warm!), especially with a leather bomber and sleek sneakers. 
The Multitasker // 
Always finding herself running from the office to cocktails, this working lady knows how to transform her office wear look into a night time look with statement neck and clutch. Nothing is worse than having to lug another outfit in for a bathroom change, so she keeps it simple by working around her office dress, swapping out accessories and shoes. Her overall look is classy and pulled together yet ready for whatever the evening throws at her. 
Try: A black A-line dress is tailored enough to re-use for the office and cute enough for a the big night out. A statement necklace and fun clutch are festive enough to compete with the ball drop.
The Effortlessly Chic //
Never concerned about her outfit, this girl is confident in her go-to look. With a strict policy against frills and bright colors, she sticks to her timeless black on black ensemble of skinnies, booties, and a sharp textured blazer. Heeled black booties ensures her entrance into any event and when she needs some variation, she opts for subtle accents like a scarf or simple jewlery.
Try: A sleeveless black sweater will look chic when the party heats up and a blazer will keep you warm until that last lingering drink. Throw on a silk square scarf around the neck for a pop of color!
The Girlie Girl //
Flared skirts, lace details, floral prints and delicate details is what the girlie girl is all about! Wherever she's going, she likes to incorporate her feminine flair with flouncy fabrics and flattering fits that express her girlie style. A-line silhouettes are her go-to, and details like lace appliqué and ruffles never let her down.
Try: A floral A-line with feminine details to spare and sexy shoes to make the look decidedly grown-up. Pop on some sparkly jewelry to get extra-festive!