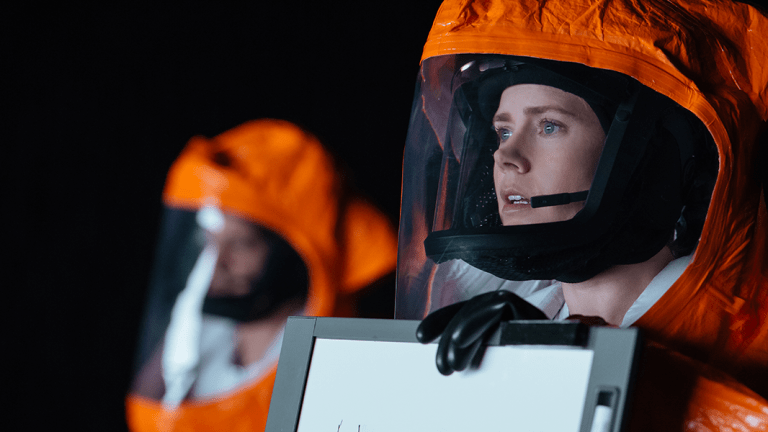 Our Favorite Female Movie Characters from 2016
Get ready for your holiday Netflix movie sessions.
As the year comes to a close, we'd like to tip our hats to some of the most talented actors and inspiring female characters of the past year's box office. Some of these women took on traditionally male roles and stunned. Others highlighted the struggles many women have faced with poignant precision. As we ready our Netflix queues for the holidays, here are some of our favorite leading ladies of 2016.
Holtzmann (Ghostbusters)
Holtzmann, the Ghostbusters character played by Kate McKinnon of Saturday Night Live, was by far the most entertaining and strong female character I've seen all year. Performing alongside the other amazing actresses in the film, including Melissa McCarthy, Leslie Jones, and Kristen Wiig, it's saying something that Holtzmann rises to the top in this film, but she just does. She's the female version of the nutty professor: frizzy hair, goggles, wacky ideas, and clear genius. Holtzmann also happens to have mastered both the most kick-ass fight scene of the film and the most heartfelt bonding moment. Not a small feat. Which is why, for sheer entertainment value, she's my favorite filmed lady from 2016. —Mary Rose
Louise Banks (Arrival)
I didn't know what to expect when I went to see Arrival, starring Amy Adams. I guess I was anticipating your typical alien movie, but it wasn't that at all. Arrival is really a love story, and Adams delivers a powerful performance. Confronted with mysterious alien visitors when gigantic spaceships touch down in twelve locations around the world, the United States turns to linguistics professor Louise Banks (Adams) to find out what the extraterrestrials want from planet Earth. As the world moves to the brink of world war—and possibly extraterrestrial warfare—Banks scrambles to translate for their visitors and in the process discovers the key to the universal language of the human heart. What I found most inspiring about watching Adams play the role of Banks was how her character didn't need to prove anything. Banks' heroism wasn't squeezed into a stereotypically male Hollywood template—it was natural, human, and powerfully feminine. —Monica
Jackie Onassis (Jackie)
I have mixed emotions about Natalie Portman's movies. Some, such as Black Swan, I sort of wished I never saw. Others, such as the lowbrow Friends with Benefits, I've loved. Nevertheless, I was excited to see Jackie, and I did not leave disappointed. Many speculated that Portman would be nominated for her portrayal of former first lady Jacqueline Kennedy, and they were proven right during this week's Golden Globe announcements. Aside from the spot-on accent, Portman was able to conjure a real emotion of devastation and urgency that seemed appropriate for a woman whose husband was just murdered and who feels pressured to plan a grand funeral for him. Her character isn't "likable" in the traditional sense, but Portman's acting forces the audience to see Jackie in a much more sympathetic and proud light. —Megan
Judy Hopps (Zootopia)
Officer Judy Hopps may be an unlikely role model seeing as she's an anthropomorphic cartoon character. But she's a remarkable lady who ultimately doesn't let others' perception, treatment, or expectations of her dictate her goals. She wants to become a police officer as a young bunny, but no one supports her, not even her parents, because no rabbit has done it before. It reminds me of women's constant challenges to break the glass ceiling; it takes a lot of bravery, belief in oneself, and relying on others for help to achieve our goals. Plus, I love the unlikely friendship between Officer Hopps and Nick Wilde! —Krizia
Rachel Watson (The Girl on the Train)
If you saw The Girl on the Train, you know that Rachel Watson is not quite a likable character at first. She looks like she's cried through her makeup every morning, has something of an alcohol problem, and obsesses about other people's lives. But as I saw it, she's also a woman who has weathered some tough and abusive storms and come out stronger for it. By the end of the film, she's gone from doubting herself to trusting herself and from being a risk to others to bringing justice. In the messy world we live in, this was a real, complicated heroine who came out on the sheer power of endurance. —Mary Rose
The Ancient One (Doctor Strange)
Scott Derrickson sparked some controversy when he cast Tilda Swinton as "the Ancient One" in Doctor Strange, the fourteenth film released by the Marvel Comics universe. For starters, the comic book character was always a man, and then there's the fact that he had traditionally been represented as Tibetan rather than white. Marvel sidestepped the accusations of "whitewashing" by saying that in its version of the story, the Ancient One is a title passed down through the generations from person to person rather than being one individual. This debate aside, I thought that Swinton was magnificent in the role and that the gender switch worked very well. When Dr. Strange—an arrogant, incredibly skilled surgeon who doesn't seem to treat women very well—goes in search of the mystical character, he assumes that he'll be learning the ancient wisdom from a man. It was fun to see his assumption turned on its head. —Sophie
Mia (La La Land) 
La La Land is the movie I've been waiting years for. Not only for its exciting 1940s musical throwback but also for the heroine who finally represents the normal girl. Although the film was not advertised as a tear jerker, I couldn't help but find myself alternating between being misty eyed and smiling throughout the entire film. Mia (Emma Stone) is a struggling actress who despite being driven and talented, is rejected time and time again. Her struggle is one so many of us can relate to—the fear of not being good enough but daring to dream anyway. Surrounded by superficial Hollywood types, Mia is incapable of being anything but herself: goofy, vulnerable, and honest. It's her realness that inhibits her from blending in with the crowd but, ultimately, what makes her so special. In a moving song Mia sings a tribute to those like her, "Here's to the ones that dream, foolish as they may seem / Here's to the hearts that ache / here's to the mess we make." I couldn't help but feel as though Mia was singing to girls like me, everyday girls, who continue to dream even when it hurts or feels impossible. Her message is one of hope and solidarity, to keep working toward the dream no matter what. —Lilly 
Nadine (The Edge of Seventeen)
The Edge of Seventeen's protagonist Nadine (Hailee Steinfeld) spends most of the film as a neutral, almost antagonistic, character. But what makes her one of my favorite filmed ladies of 2016 is her eleventh-hour growth before the credits roll. It ain't over 'til it's over, as they say, and for Nadine, her turn at the end almost makes up for the one hundred minutes of cringeworthy self-pity leading up to it. The film isn't perfect, but watching The Edge of Seventeen reminded me of how some of the dimmer chapters of life, teenage years included, require growing up and getting out of ourselves to get to the brighter side. —Mary Rose
Moana (Moana)
This year's Disney princess definitely makes my cut. Not only could I see myself in her character (I mean literally—she looks like me), and she comes from a long line of empowered women, but I also appreciated how the story connected Moana's heroism to serving those in her community rather than a princess waiting to be served. But what's most striking about Moana is how she follows her heart, despite many odds and fears that she shows herself to be vulnerable to. She manages to be true to herself while still honoring her family and her people and being a total badass along the way. It was so good—I'm not kidding when I say that in my opinion, this is the greatest Disney princess movie ever made. —Krizia
Florence Foster Jenkins (Florence Foster Jenkins)
Florence Foster Jenkins featured Meryl Streep as its leading lady, but one of my favorite parts was a climactic scene featuring a buxom blonde Agnes (Nina Arianda) shouting, "Sing, Madam Florence!" Still, the power of Streep's portrayal of Jenkins sat with me far after the film, and the more I've thought about it, the more I've admired the quirky heroine. She had some serious flaws, a horrible voice being one of them, but she had a confidence and a gumption that were admirable. That we're better off listening to our inner voice than others' belittling criticisms and that doing so often helps us reach our greatest potential are lessons the film exudes even if in the most awkward of story lines. At the end of it, you can't doubt that Jenkins set out to reach high goals, made them a reality, and was happier for it. —Mary Rose
Photo Credit: Paramount Pictures