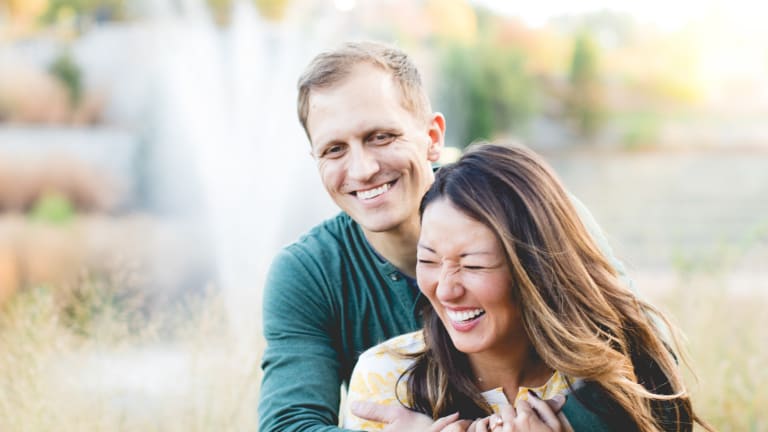 5 Things Your Engagement Can Teach You About Building a Happy Marriage
Engagement gives you a glimpse into married life that you just don't get while marriage is still a hypothetical.
Like many women, I started dreaming about engagement, my wedding, and my future marriage when I was a young girl. Back then, I had a romantic comedy ideal in my head: Everything would be perfect, my honey and I would take up permanent residence in la-la land, and we'd live happily ever after. When I got engaged this past July, I came to understand that engagement isn't really the time for floating on cloud nine, no matter how MFEO (Made For Each Other; Sleepless in Seattle, anyone?) you are.
Engagement offered my fiancé, Kristian, and me a glimpse into married life that you just don't get while marriage is still a hypothetical. And, considering the fact that engagement is the precursor to marriage, a lifelong adventure that entails sickness and health, good times and bad, that makes perfect sense.
With my winter wedding day just around the corner, I want to share five pieces of wisdom I gleaned from my own engagement.
01. Vulnerability is tough but worth it.
When Kristian and I were first dating, we didn't beat around the bush when it came to our personal struggles. We both took the relationship seriously and wanted to know sooner rather than later if the relationship was headed toward marriage. With that on the table, what was the point in hiding or downplaying our faults?
When we got engaged, we were so thankful that we had a lot of practice being vulnerable with one another because believe it or not, there was still a lot of ground we hadn't covered by the time I said "Yes!" Since our engagement, we've discovered that vulnerability builds intimacy and that there is a direct correlation between how real we are with each other and the strength of our relationship. I am more secure in Kristian's love because I've been vulnerable with him, and I look forward to that mutual trust increasing as we share even more of ourselves in marriage.
02. Becoming a 'we' takes time.
Married friends of mine have told me that they didn't really feel like a "we" until several years into marriage; learning to be more than two individuals who love each other and live parallel lives (which is basically what dating is) takes time. Engagement is when that process began in earnest for Kristian and me, and we've had to be patient with ourselves as we both learn to communicate our plans clearly, ask for each other's permission, and consider each other's needs before making decisions. Don't freak out if you are not instantly operating like a well-seasoned team before you walk down the aisle. It may take time, and it will definitely take a lot of practice.
03. When in doubt, seek outside help.
Before we got engaged, Kristian started his own leadership coaching business, and I decided to take a break from teaching high school to pursue freelance writing. Not surprisingly, these big changes left us with quite a few financial conundrums. My fiancé and I aren't money experts, so when it came to discussing budgets, investments, and retirement plans, as well as paying down debts, we solicited the help of a friend who is a financial planner. Talking with him took a lot of the stress out of the already stressful prospect of combining bank accounts and saving for our future, especially when one of us (me) is a spender and the other is a saver. If money isn't your thing or it's causing more tension than you would like, don't be afraid to pull in a third party to help with budgeting and advice.
04. Stress can make you stronger.
As fun as engagement is, it's also an intense time of preparation for the biggest, most life-changing event in a couple's life up to that point. Premarital counseling, serious conversations about money and child-rearing, wedding planning—all of it can kick stress levels up to eleven. While tear-filled dinners after a tough day of wedding planning or conflicts about budgeting aren't necessarily fun, I've been pleasantly surprised that the stress Kristian and I have experienced has brought out the best in us. It's empowering to realize that we're both capable of alleviating each other's stress through patience and love—and that conflicts aren't the end of the world but an occasion for strengthening our bond. So if wedding planning gets stressful (and it will), remember that it's not the worst thing that can happen to your relationship. Use it as an opportunity to get closer, and you will come out stronger than ever.
05. Love languages really do matter.
While both Kristian and I speak the love languages of Words of Affirmation and Physical Touch, Gift Giving (and receiving) is not as much a priority for him as it is for me. When we were first dating, I would go out of my way to find him the perfect card to go along with the perfect gift for our monthly anniversary because that's what I would like to receive. Well, if you have read anything about the five love languages, that's definitely not the right approach.
Kristian eventually shared with me that although he loves my cards and gifts, he'd rather me tell him in person what I was going to write in the card, and I could save my gift money and just make him a delicious meal instead. In turn, I expressed to him my preference for heartfelt notes and made him a list of the types of gifts I enjoy receiving (for which he was very grateful). We've both been pleasantly surprised at how much of a difference knowing and learning to speak each other's love languages has made in our relationship, and no doubt it will continue to pay dividends in married life. If you get good at speaking your partner's language, you won't have to worry about taking your partner for granted amidst all the distractions of wedding planning.
Photo Credit: Horn Photography