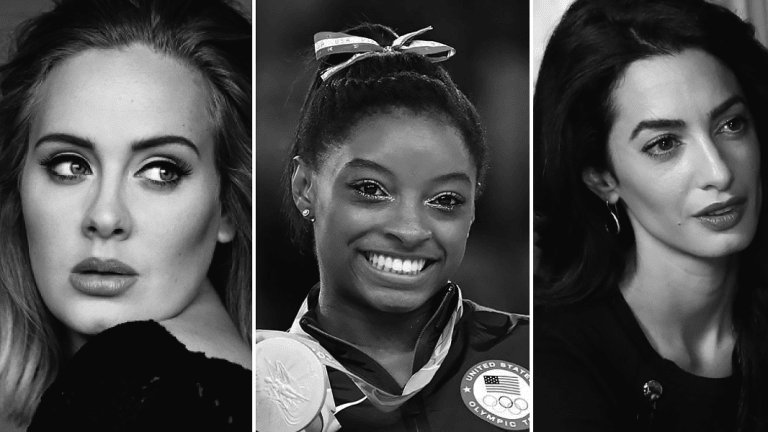 21 Women-Empowering Moments from 2016 You Should Revisit (Which Is Your Favorite?)
Need a quick recap of some inspiring moments from the past year? Look no further.
As 2017 looms nearer and nearer, many have been quick to point out that 2016 was a tough year. Before we go declaring a whole year of our lives as a wash, let's remember all the moments where women prevailed. Here's to them and to all those who will continue to do great things in the year ahead!
The Final Five Make History in Rio
In case you forgot, the Summer Olympics happened this year. While Ryan Lochte was apparently fabricating a robbery, a group of young women were making history in Brazil. The "Final Five," consisting of Simone Biles, Laurie Hernandez, Madison Kocian, Aly Raisman, and Gabby Douglas, brought home a collective nine medals for their gymnastics performance—beating the previous U.S. records of eight medals.
Harriet Tubman Is Chosen for $20 Bill
Back in April, women hit the jackpot. OK, not quite, but there is a shake-up happening in the money world. Reportedly beginning in 2020, Harriet Tubman, not Andrew Jackson, will front the $20 bill. She will be the first black woman to ever appear on U.S. currency. The $10 bill will also get a revamp with various women of the suffrage movement depicted on the back. It will be years before these bills are in regular circulation, but the announcement certainly felt like a payday.
Amal Clooney Stands Up to ISIS
Many of us laughed when the media became fascinated by Amal Clooney for the sole fact of being George Clooney's new wife. But it's fair to say the accomplished human rights lawyer stunned the world this year when she began to wage a legal war against ISIS. Representing trafficking survivor Nadia Murad, Clooney announced to the United Nations that she is collecting testimony from those abused at the hands of ISIS to make a case for crimes against humanity. Talk about a real-life Wonder Woman.
Female Militia Stands Up to ISIS
Women on the ground have also begun teaming up against ISIS for the crimes it has committed against them or their loved ones. An all-female Kurdish militia called YSJ has formed, and it hopes to rescue more survivors. Talk about taking matters into their own hands. There's nothing like some courageous women standing up against the odds to be a reminder of the smaller battles many of us face.
Lady Gaga Puts Spotlight on Sexual Assault
This year Lady Gaga performed the powerful ballad "'Til It Happens To You" at the Oscars, offering a glimpse into how the tragic issue of sexual assault affects women in ways hard to understand. Somehow in song, Gaga conveyed it, and there was not a dry eye in the house. Gaga, who revealed that she had been assaulted ten years prior, brought a personal element to the song, turning what might have been an average documentary song into an iconic and cathartic cultural moment.
England Has a New Female PM
When Brexit resulted in David Cameron resigning as prime minister, Britain found itself in need of a leader. After her contender—another woman—withdrew from the election, Theresa May replaced Cameron as PM. While she has gained a lot of attention for her choice of footwear—May is well-known for her leopard-print kitten heels—she's also known as a stalwart political force. The BBC praised her as the person Britain needed following its highly controversial EU vote. She's the first woman to hold the PM office since the infamous Margaret Thatcher—who was the first female PM.
Leslie Jones Stands Up to Twitter Harassment
In July, the controversial all-female Ghostbusters reboot hit theaters. Everything about the movie was plagued by misogyny, but the worst of it came when one of the film's stars, comedian Leslie Jones, was subjected to an onslaught of racist and sexist Twitter taunts. Jones briefly deleted her account but stood up to her attackers whose vanguard was ultimately blocked from the social media platform. Jones was the unfortunate lightning rod for a scary revelation about the dangers of social media virility. Ultimately she stood up for herself and others like her to demand better.
Mother Teresa Is Canonized
This year Pope Francis canonized Mother Teresa, the late religious sister and founder of the Missionaries of Charity. For someone small in stature, the woman in white and blue left an enormous legacy. The work she started through her order has helped people in as many as 133 countries in the world. During her life, the Nobel Peace Prize winner didn't go without challenges or dark nights of the soul, but she never gave up her commitment. "Be faithful in small things," she encouraged, "because it is in them that your strength lies."
Emily Temple-Wood Stands Up to Sexism in Wikipedia
Wikipedia is a website we've come to know as the holder of all things. Whether it's nepotism or narwhals you search, Wikipedia will teach you about it. This year, however, a young woman named Emily Temple-Wood illuminated an undercurrent of sexism in the site. To combat the lack of female representation within Wikipedia, Temple-Wood's activism led to Wikiproject Women Scientists, a large-scale initiative intending level the playing field for women on the web-based information platform.
Women in Iran Run Marathon Despite Being Banned from Doing So
Iran held its first marathon this year, and per local tradition women were banned from participating, but that didn't stop two women from stretching their legs. Identified by a journalist as Mahsa and Elham, the ladies laced up their shoes despite the fact that they couldn't legally sign up to run. I Run Iran race founder Sebastian Straten hopes the race can "show how sport can unite," and that women could race in the next edition. Here's hoping 2017 year marks Iran's first marathon for men and women.
Social Media Took a Stand
As New York Magazine recently put it, "In 2016, Social Media Made It Okay to Talk About Sexual Assault." The article recalls the many harrowing moments of sexual violence that made talking about assault an act of public catharsis rather than hidden shame this year. #Ibelievesurvivors, @ThingsLongerThanBrockTurnersRapeSentence, #notokay, #nowomanever, and #mysexualassault were just a few of the hashtags that went viral this year as women and men reacted to the news stories that dominated headlines—including assault accounts involving Bill Cosby, Roger Ailes, Donald Trump, Brock Turner, and more.
Hillary Clinton Was Officially Nominated for President
In July 2016 Hillary Clinton became the first woman ever nominated for president of the United States by a major political party. The campaign season that followed was one of the most tumultuous in our nation's history, but her nomination remains a major historic moment. During the convention, Clinton said simply, "I can't believe we just put the biggest crack in that glass ceiling yet."
Disney Princesses Get a Welcome Update
Three big things happened to the Disney Princess franchise this year. First, the live action reboot of Beauty and The Beast set us all abuzz by snagging Millennial feminist icon Emma Watson to play the leading role. The movie trailer also broke a record for most views upon its release. Then the animated newbie Moana came along. Moana broke the Disney mold of demure female seeking love. The diversity she represented was great, her agency and strength even better. Disney rounded out its princess profile in 2016 with Elena of Avalor—the first princess of Hispanic descent. Elena will be powerful—literally—and like Moana, her story will not be defined by romance.
Hello, It's the Year of Adele
By all accounts, it would seem 2016 was a great year to be Adele. Her third album, 25, was released in November 2015 and went on to be the best-selling album of that year in the U.S. But her subsequent tour which lasted from February to November 2016 was a true spectacle. She became a beacon for authenticity both on and off-stage with a refreshingly candid Instagram account and a bevy of die-hards who would swear she's the most humble superstar ever.
A Major First in the U.S. Military
In May, General Lori Robinson became the first woman to lead a top-tier U.S. war-fighting command as she took over the North American Aerospace Defense Command and U.S. Northern Command in Colorado. According to the Air Force's report of the ceremony held in her honor, "None of the officials mentioned during the ceremony that Robinson is the first woman to lead a U.S. combatant command. Instead, the focus was her abilities..."
Beyoncé Does It Again
The year 2016 gave us of lots of lemons; luckily, Beyoncé made Lemonade. The singer's sixth album was released alongside an HBO feature in April. It was widely praised by critics and fans alike for its fierce stance on infidelity and garnered nine Grammy nominations. Once again Beyoncé was a model of fearless femininity.
Ashley Graham Did It All and Then Some
Giving Gigi Hadid a run for her money, nontraditional model Ashley Graham made a name for herself in 2016. She's been climbing the ranks for a while now, but this year Graham solidified her stance as a power player in the fashion industry. It was unprecedented for a plus-size model to cover Sports Illustrated's swimsuit edition as Graham did early this year (for better or worse). She went on to collaborate on a global campaign with H&M. She was even honored with a Barbie likeness of herself (a doll she insisted should have thighs that touched). She rounded out the year by snagging the coveted cover of British Vogue—again, the first plus-size model to do so.
Karlie Kloss Launches Coding Program for Girls
In other model news, one of the original millennial fashion mavens, Karlie Kloss, took her influence from the runway to the interwebs this year. Kloss launched a summer scholarship program called Kode with Klossy for girls age 13 to 18 to learn about computer coding. The program was inspired by Kloss' own interest in learning more about coding and wanting to empower the younger generation of females to excel in traditionally male-dominated STEM fields. Here's to beauty and brains.
Elizabeth Smart Speaks Out on How Porn Affected Her Captivity
This year, Elizabeth Smart, a woman about whom much has been written and said, spoke up to discuss how elements of her captivity were made worse by a common modern-day habit: porn. Smart said when her captor came back with porn, it made her "living hell worse." Now, in her foundation as in this video, Smart dedicates her time and voice to educating others about violent and sexual crimes against children to help one less child experience what she did.
Amy Schumer Is First Woman on Highest-Paid Comedians List
Amy Schumer made us laugh many times this year. There was that time when she critiqued the way our culture expects women to look effortlessly beautiful, and the skit when she satirized how mainstream stores don't have clothing sizes available in store for average-sized women. There were some cringeworthy skits as well, but her book, Girl With the Lower Back Tattoo came out and surprised us. Whatever one's opinion on her comedy, it's clear that Schumer has a remarkable talent that resonates, as evidenced by her being the first woman to break into the ranks of the highest paid comedians.
We Have a Pregnant Superhero
This year women's representation in media such as in the comic book genre continued to make some advancements, not the least of which was the creation of a character that took on a distinctly feminine trait, pregnancy. Rather than treat it as a flaw, pregnancy was heralded as a natural part of the pregnant Spider Woman. Dennis Hopeless, who wrote the character, said that after watching his wife give birth to twins he viewed her as superhuman. To which we say: Yes please, and thank you.