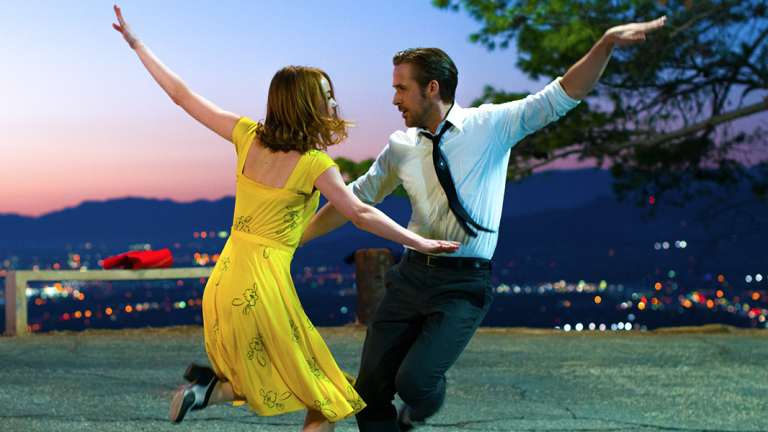 3 Style Lessons I Learned from 'La La Land'
One of the year's most unexpected fashion moments is easy to recreate.
Bright colors, dresses, A-line silhouettes, classy heels—I'm fully on board with La La Land's beautiful costuming. The film, which was released this past weekend, won Best Picture, Best Score, and Best Cinematography at the Critics' Choice Awards and has been nominated for several Golden Globes. What struck me the most, though, was how every element of the film contributed to the same message—including its fashion.
The modern-meets-nostalgic vibe is in every frame, conveying the overarching idea that a dreamlike world can reflect reality. Costume designer Mary Zophres wanted the main character Mia's (Emma Stone) wardrobe to look like an average girl's while still incorporating an element of fantasy with bold color choices. With every swirling skirt in cobalt blue, coral pink, canary yellow, or kelly green, Mia's style was every bit aspirational as it was attainable. Here's how you can get the look.
Celebrate Femininity
Pink hues are bold indeed, but don't let that make you second-guess your dress choice. Celebrate this feminine color in a complementary A-line dress, and watch as your step gets an extra pep.
Be Bold
Yellow is a hard color to pull off, but Mia proves that with the right dress (and some confidence), it's totally possible. To copy Mia's vintage vibes, try wearing your yellow dress with a pair of brogues. Now, these are dancing shoes.
Embrace Romance
This is the kind of dress every girl pictures herself wearing on a first date. A sweetheart neckline, classy ruching at the waist, a flared skirt—how could your date not be wowed?