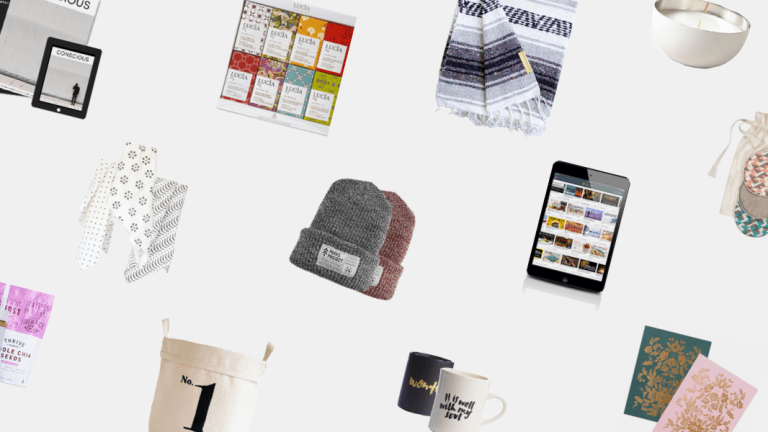 15 Feel-Good Gifts for Every Love Language
Make your loved one happy, and make the world just a little bit better.
Dr. Gary Chapman, marriage counselor and author of The 5 Love Languages, discovered that everyone "speaks" a primary love language—their preferred way of expressing and experiencing love.
My husband's love language is Quality Time, and mine is Acts of Service. He feels neglected when I don't greet him with a hug (which, for me, feels totally unnatural). I feel hurt when I have to remind him (over and over again) to take out the trash. When I shut my laptop to cuddle with him at the end of a long day, and when he surprises me with a clean living room, we're not just giving, we're giving better.
The holidays are a special time to love others the way they need to be loved. Use the 5 Love Languages official assessment to discover your loved one's love language. Then see our love language gift guide for conscious gift inspiration that will help your relationship grow and make a small move for social good while you're at it.
Acts of Service
1. Make grocery shopping a breeze. Take healthy grocery shopping off their list with a one-year membership to Thrive Market ($59.99), an online marketplace that sells natural and organic products at wholesale prices to members. Plus, each purchase provides a free membership to a low-income family in need.
2. Help with the cleaning. Tidy up their chaotic shelf or jumbled desk with this set of canvas storage buckets from The Good Buy ($38), made in the USA of recycled canvas and eco-friendly vegetable pigment inks.
3. Support a healthy lifestyle. Help them discover new sustainable lifestyle brands that care about people and the planet by giving a subscription to Conscious Box (starting at $9.99 a month).
Words of Affirmation
1. Frame your compliments. Actions don't always speak louder than words. Remind this person of all the qualities you love about them with a custom hand-lettered and framed print by Written by Brittany ($32.25).
2. Build her up with binge learning. The Words of Affirmation person thrives on hearing encouraging and inspiring words—they're big fans of TED talks and podcasts. Rather than binge watching Netflix, a monthly membership to The Great Courses Plus ($14.99 per month) gives them access to spell-binding lectures by brilliant professors from the Ivy League, National Geographic, The Culinary Institute of America, and more. And they can binge learn on any device while commuting, working out, or relaxing.
3. A boost of happiness every day. Pick any two mugs from The Created Co. ($30.95) that sum up the perfect expressions—like "Get It, Girl!" and "Live with Purpose"—to inspire with every sip. Ten percent of each purchase goes to fund charity: water, which brings clean water to people in developing countries all over the world.
Quality Time
1. Make your one-on-one dinners special. Host a leisurely meal using the Senna Napkin Set from Local + Lejos ($32). For each set sold, the artisan in India can pay for one month of school for a child.
2. Take a hike. Bundle up your loved on in a Park Watcher Beanie by Parks Project ($34) and take a hike together. Proceeds from its quality goods fund and promote projects that restore twenty-two park conservancies in the U.S.
3. Get cultured together. Visit a new museum each month. The North American Reciprocal Museum (NARM) Association offers a nationwide museum membership that works with over 800 institutions. Membership pricing depends on your local NARM institution but starts as low as $25 for one year and is fully tax deductible.
Physical Touch
1. Cozy up. This soft La Playa Blanket from Redemption Market ($42), woven on in-home looms by artisans in Mexico who are paid fair wages for their work, is perfect for the Saturday snuggler.
2. Feel-good sleep. Gift nights of peaceful slumber with the Mulberry Silk Eyemask ($30) from The Ethical Silk Company. Made of eco-friendly silk and organic cotton, proceeds go to ending homelessness and protecting children infected or affected by HIV/AIDS.
3. Relax on the go. For frequent travelers, Refresh Travel Kit by Apotheke ($25) made in the USA of 100% plant-based ingredients and sustainable packaging will replenish their skin and rejuvenate their physical senses.
Gift Giving
1. Give three gifts in one. Thoughtful gifters pay attention to detail, so a gift that serves more than one purpose won't escape their notice. The Vietas Bowl Candle by Enrou ($32), for instance, burns for twenty-eight hours in a beautiful bowl that can be cleaned and reused. Plus, the purchase provides dignified employment for Burmese refugee women in Massachusetts. The more the merrier!
2. Small gifts for them to give. Gifters give gifts as their way of caring for others. This set of eight Lucia Guest Soaps at Zady ($17) is perfect for them to have on hand for guests or hosting. The triple-milled soaps are made of the finest quality materials from carefully sourced, certified organic shea butter and pure botanical extracts. Founded by a husband and wife team, Lucia's products are cruelty-free, sustainable, and environmentally friendly.
3. Making a list, checking it twice. For gift givers, a hasty or forgotten gift can be disastrous; they often plan ahead and buy gifts for "no reason." Help them keep track of their gifting ideas and checklists with a gorgeous notebook that gives back. Ten percent of each Rorschach Notebook Set ($14) from Aimes and Oates goes to provide children access to quality education through its partnership with Pencils of Promise.