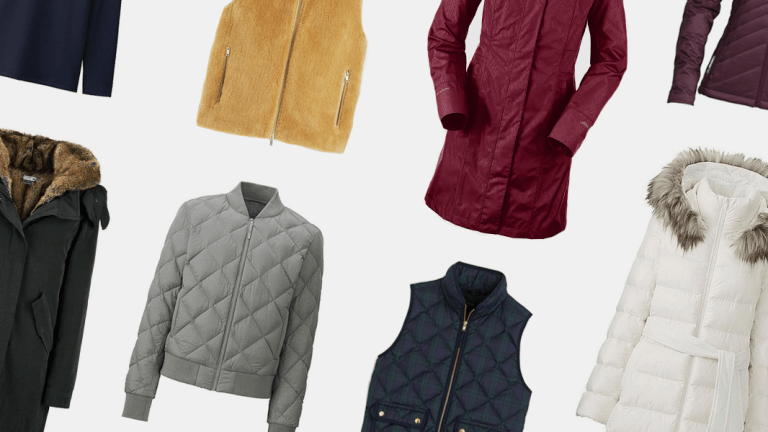 Stealthy Ways to Stay Warm Without Bulking Up Your Outfit
No matter how cold it is, no one wants to look like a marshmallow.
After enjoying two months of unseasonably warm fall weather, winter has finally arrived with its bone-chilling breezes and icy mornings. At this point, we're all wondering how we're going to make our daily outfits 30-degree-weatherproof. The answer is in mastering the art of winter layering (without bulking up too much).
If you're ready to winter-proof your look, start from the bottom and work your way up. Here's how.
Base Layers //
The cold is manageable, but it's the wind that cuts right through. For those extra-blustery days, start at your base with some next-to-skin tops and bottoms that are made of insulating fabrics or have heat technology to trap in body heat and keep out the cold. These thin base layers are ideal for keeping warm without having to pile on the chunky knits.
Bottoms
If you haven't become acquainted with heat technology yet, get ready for your life to be changed. Uniqlo's HeatTech collection promises warmth without the bulk with its ultra-thin tights and leggings that retain heat. If you want to go the old-school route, try fleece-lined or merino wool fabric leggings that use a more natural approach to staying warm. The best part? They're thin enough to be worn underneath your pants or when wearing skirts.
Tops
The key is to keep your core warm, so make sure you insulate your torso with undershirts made with heat technology or heat-retaining wools. Layer on top with your regular shirts or sweaters to ensure warmth all day long.
Mid Layers //
This commonly overlooked area is important for those bitterly cold winter months. When your core (torso) is warm, it readily releases blood to the extremities (i.e., feet and hands). You might not realize it, but the best way to keep your entire body warm is to protect your core.
Jackets
Sometimes your winter coat just doesn't cut it. Instead of layering on bulky knit sweaters that take forever to peel off, slip a down feather jacket into the inside of your coat. The slick fabric makes it easy to take on and off, and the down feathers are optimal for core heat retention.
Vests
If you don't like extra fabric bunching around your arms, try a down feather, fleece, or quilted vest. You won't even notice the vest when wearing it, but you will notice how warm you are.
Outer Layers //
Now for the obvious! When thinking of keeping warm in the winter, we picture coats, hats, and scarves. To stay away from unnecessary bulk, choose figure-hugging styles.
Accessories
No matter how bundled up we are, we all know how cold ears and necks can make us feel like we're totally exposed to the elements. Wrap up these delicate areas with fur-lined or knit trapper hats and infinity scarves.
Coats
To avoid the full-on Michelin Man look, try coat styles that have belts or sleek silhouettes that keep your inside layers compact. Look for longer lengths that will keep out cold drafts.