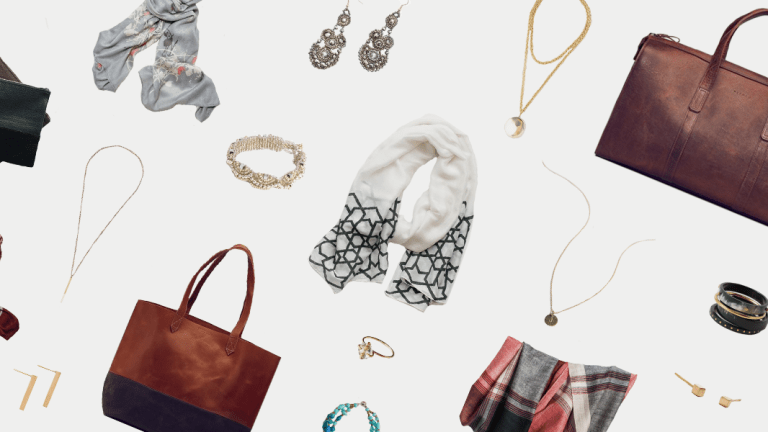 The Ultimate Style Gift Guide for Every Type of Woman
Whatever her interests, tastes, and lifestyle, we'll help you find the perfect gift this year.
Buying the perfect gift for everyone on your list is a difficult task, especially when they don't tell you exactly what they want. The easiest way to remedy your gift-giving crisis? Categorize her interests, tastes, and lifestyle. Follow our gift guide to discover which gifts to give the women on your list.
The typical girlie girl is attracted to all pretty things and has a flair for the delicate and whimsical. When choosing jewelry for her, select feminine designs such as chandelier earrings, gemstone rings, or delicately beaded bracelets. A classic girlie girl will also love pastel colors that are fresh and youthful, so stick to scarves and clutches in light gray, mint, blue, or lavender.
This friend is outspoken and bold in her character as well as her tastes. She is not afraid to make a statement in her everyday life and fashion choices. When buying for your statement-making friend, look for jewelry that is colorful or oversize. Your friend will also appreciate unique or uncommon details such as marble bracelets, funky beading, and intricate scarf designs. Go bold or go home!
Your friend who is constantly on the go will appreciate a quality gift that suits her lifestyle. For example, if she travels a lot, a sleek protective laptop sleeve will be helpful for overstuffed bags, and a weekender duffel bag will be the ideal plane carry-on. If you want to give a more sentimental gift, try a leather-bound journal, and encourage her to write of her travels. As a girl on the go, she hardly has time to accessorize, so give her a pair of simple stud earrings that she can wear all the time.
Your minimalist friend is all about the simple things, making her the easiest to shop for. Stick to neutral colors such as black, white, grey, or tan and anything with geometric shapes. For example, you can't go wrong with a black envelope clutch, chic bar earrings, stacking rings, or a delicate layering necklace. For this friend, when it comes to style, less is more.
For the girl who's always in a rush or juggling ten different things at once, give the gift of practicality. Make her everyday life easier by giving her a quality tote that she can shove shoes, makeup, and her laptop into. If you notice this friend rummaging through her bag and pockets to find keys, credit cards, lipsticks, etc., give her extra pouches that she can sort all of her things into. A cell phone case with credit card sleeves will be a lifesaver if she's prone to losing things. An infinity scarf will never unravel as she bustles down the street, and a delicate charm necklace can be worn with every outfit she owns.