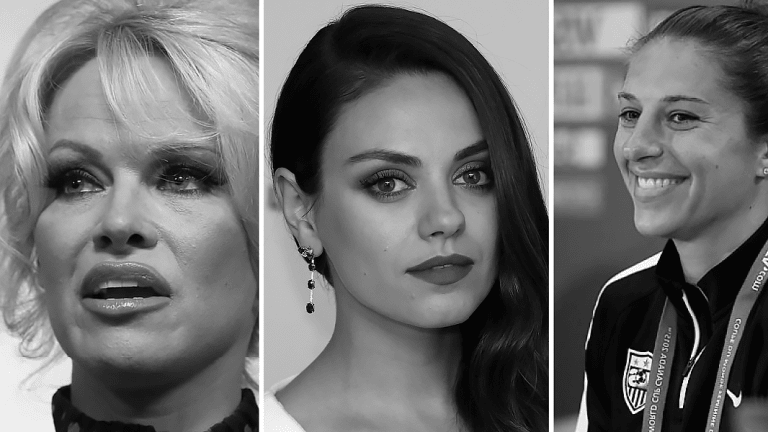 The Most Unexpected Voices Who Fought Against the Objectification of Women in 2016
These celebrities stepped out of the shadow to bring an important issue to light.
The year 2016 was a year in which women were at the forefront of national discussion. From sexual harassment to fair treatment in the workplace, women's voices have gotten far more airtime this year. 
Once of the biggest points of contention has been how women are represented in the mass consumer media. The point many have raised is that women cannot progress toward total equality if our likeness continues to be inherently sexualized nearly everywhere you turn—on TV, in magazines, in the music industry, and beyond. 
At Verily, we're passionate about not objectifying women, so when we saw so many prominent voices this year saying they feel the same, we couldn't help but notice. Some of the people we expected to hear from; others were quite surprising indeed. Collectively, though, these women spread the clear message that women need to be respected. As we continue our own mission toward celebrating the dignity of the female experience, we'd like to reflect on a few of the year's most memorable anti-objectification moments. 
Madonna Badger
Do you remember the viral video that came out this spring spotlighting the huge amounts of sexualization and Photoshopping happening in women's imagery today? The lady behind the stunning #WomenNotObjects campaign is none other than Madonna Badger of Badger and Winters, the powerhouse fashion PR firm in New York. After a life-changing event, Badger, who earlier in her career had been credited with making Kate Moss' Calvin Klein ads take off in the 90s, had a change of heart and dedicated her work to never publicizing an objectified image again. Not a small feat for a fashion PR firm, but Badger is at the wheel, so this cause is bound to leave a mark.
Mila Kunis
In November, Mila Kunis opened up about pressures she'd experienced to undress for magazine covers in an op-ed for Aplus.com. Citing how she was bullied into thinking she'd never get a job in Hollywood again if she didn't strip for the cameras, Kunis realized that if she is facing this, countless other women are too (and, for the record, she did get hired for jobs, many times over, despite refusing). Too many women in entertainment, she says, are pressured to "compromise our integrity for the sake of maintaining the status quo and hope that change is coming." But now's the time to stop compromising, and to start the change. With voices like hers reaching such a large audience, we couldn't agree more.
Carli Lloyd
In May, Carli Lloyd, U.S. soccer player and one of the most accomplished athletes today, spoke out about how she's noticed that choosing not to undress for things like the Sports Illustrated swimsuit edition give her a disadvantage when it comes to sponsorships and media attention. "I'm not going to go and pose for a swimsuit edition," she said to ESPN. "I've kept to myself, I've put my head down, I've gone to work," says Lloyd. "And I have felt undervalued." We applaud Lloyd for sticking to her guns. Because it's as true for her as it is for every woman—our value doesn't come from our looks, and if we don't recognize that, others never will.
Pamela Anderson
In September, the Wall Street Journal featured an op-ed against porn and objectifying content in media, co-penned by none other than Pamela Anderson. Yeah, it was pretty unexpected. "Children now being raised in an environment of wall-to-wall, digitized sexual images become adults inured to intimacy and in need of even greater graphic stimulation," Anderson co-wrote with rabbi counselor Shmuley Boteach. Of course the critics descended to discredit Anderson—she did pose for Playboy's final nude edition earlier in 2016— but considering how everything she said stands up to the latest research and findings on destructive aspects of objectifying imagery, it sounds to us like she was speaking with the knowledge that comes from having a close-up view of porn's destructive effects.