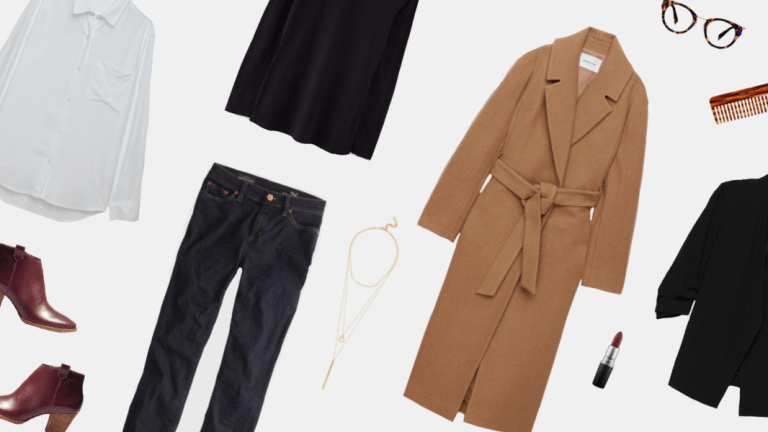 Hacks to Help You Look Polished and Professional Even on Busy Days
Looking put-together every day doesn't have to be optional.
I rarely take the time to look put-together. As the mother of a 1-year-old girl and expecting another in April, I find myself scrambling to remember to brush my teeth or put a load of laundry in. Even when I was single and working full time, I still remember the daily post-shower panic of trying to find an outfit that said, "Hey, I tried today."
Throughout the years and life (and body!) transitions, I've found that I go for the same items, makeup, and hairstyles when I need to look polished but don't really have the time. I also realized there was a delicate formula brewing: a balance of easy, neutral basics plus a statement piece or beauty look.
We've all heard the advice of stocking your closet with basics that you actually enjoy wearing. And there's truth to that. Huzzah for not having a conniption every time you get dressed and for stealthily wearing the same outfit again and again. But, the key to neutral basics is having a handful of statements you really love that put a little zing in your step.
So, below I've listed my ten universal mainstays—five foolproof wardrobe basics plus five wardrobe and beauty statements—that make getting dressed in a pinch a cinch (when the laundry is done, anyway).
Just combine one (or more) items from the basic list with one or two items from the statement list, and no one will know that you didn't spend all morning getting ready, or shower for that matter.
01. Soft Button-Up
All hail the universal top that looks good on everyone and goes with whatever you pair it with. A button-up, whether in white or denim (I have five denim tops in my closet, no joke), is sophisticated and comfortable. The trick is to get one in a soft fabric such as 100 percent cotton.
02. Dark-Wash Jeans
This is a no-brainer. Elongating, stretchy, dark skinny or straight-leg jeans are a girl's best friend, no matter your size or age. Get a pair in the best fit for your shape, and you'll never have to worry about looking messy again.
03. Solid Long-Sleeve Tee
Although it may seen blasé, a solid-colored, clean-cut knit top that can be tucked in or left out looks fresh when it's well made. There's a big difference between a stretched-out, faded, pilled top and a quality top in a beautiful fabric. I'd go for a darker hue that'll keep its color and provide a plain backdrop against statement pieces.
04. Sharp Blazer
You could wear a raggedy T-shirt and look instantly cool if you slipped a dark blazer over it. There's a style for every shape and size (I even wear mine while pregnant!). Believe me, it's worth the investment.
05. Comfy Booties
Basic ankle-length booties have the magical power to spruce up any outfit without needing to go sky-high. Go for a pair that can be both dressy and casual, and keep the height under three inches for comfort. No one wants to teeter around the office or after their own kid.
01. Killer Coat
The best part about a great coat is that no one will ever notice what you're wearing underneath. It doesn't necessarily have to be in a bold color or silhouette, although rock on if that's your thing. A classic peacoat with great lines or a parka with an awesome faux-fur collar does the trick. Better yet, have fun thrifting for one.
02. Sleek Updo
A simple bun is ideal for the girl on the run. It's also perfect for camouflaging dirty hair and convincing everyone around you that you're super put-together. Plus, it will show off your neckline and give you that effortless ballerina-chic look.
02. Bold Lip Color
When I need a pick-me-up, I go for my Ruby Woo. Although a classic red or bold lip color may not be best for an interview or first date, it sure adds a personal flair to everyday outfits in one easy step. Plus, you barely have to spend any time on the rest of your face.
04. Standout Glasses
Give contacts a rest. A pair of really cool glasses can be a statement all their own. Perfect for when you don't feel like spending time on makeup that morning, glasses are an easy way to look sharp and stylish. Find the best pair for your face shape here.
05. Long Necklace
A simple long chained necklace can transform the most basic of dresses or tops. Even better if you layer a few thin necklaces together or cheat and buy one that looks like you layered. They're a statement but not quite as glitzy as traditional statement necklaces. Plus, they're a chameleon jewelry piece you can wear again and again without anyone noticing.