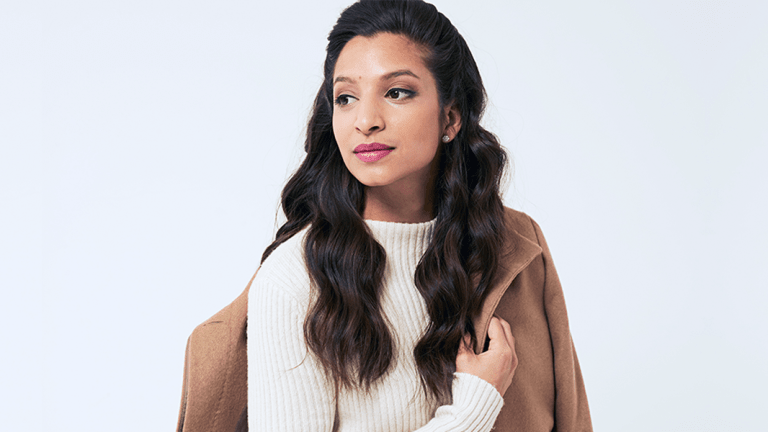 Carving Out a Future for Women in Business Means Having a Style All Your Own
Millennial entrepreneur Bianca Caban knows what it means to 'dress for success.'

Why do we wear what we wear? Have you ever wondered about that? How we dress has the proven ability to change our mood, impact our confidence, and, of course, help us face whatever any given day brings. For women in New York City especially, style has to achieve utility and aesthetics; our clothes are the LifeWear that make it all possible. We partnered with Uniqlo to ask four New York women: "Why do you get dressed?" Their answers might surprise you.
Bianca Caban is the type of woman we all want in our friend group. She's fun and social; at the same time, she's whip-smart and motivated to boot. Whether jetting off to Puerto Rico for business, taking meetings with Wall Street execs, or lending her savvy to a nonprofit, she's exactly that woman about whom we always ask: How does she do it?
Caban's heritage is Puerto Rican, and most of the work she does centers around revitalizing the economy and promoting the business potential of the Caribbean island. Using social models she witnessed firsthand in Africa, Europe, and the Middle East, Caban is determined to make Puerto Rico a major player in the U.S. and global economy, and a big part of that, she says, is leveraging the economic potential of women.
The middle child among three sisters born in the Bronx, N.Y., Caban has all the street smarts of a lifetime city dweller with none of the calloused exterior. What is truly New York about her, though, is her style. As a finance entrepreneur who left a five-year stint on Wall Street to launch her own investment holdings company and consultancy, Taino Capital LLC, Caban's life is demanding. That means her clothes have to be flexible.
"One minute I'm meeting with hip start-ups, the next with CEOs in suits," she says. "When I think about why I'm getting dressed, I know my clothes have to fit any situation." A Uniqlo knit dress is exactly the type of piece she can dress up or down depending on whom she's meeting. Her biggest wardrobe priority is to be polished, so she sticks to timeless silhouettes such as the Uniqlo cashmere stand collar coat. Overall, her job means wearing a lot of comfortable yet professional attire. It also means thinking about two pairs of shoes on most days: flats for her commute, heels for her meetings.
What's very evident when speaking to Caban is that she loves what she does, and she highly respects the opportunities ahead of her in New York City, Puerto Rico, and elsewhere. Part of her success, it's clear, comes from dressing the part of the position she wants. "In order to be at the table, I have to be really, really good," Caban says. This is a feeling familiar to women in business everywhere. But rather than feeling like she has to submit to a certain mold in order to succeed as a Latina woman in business, Caban empowers herself by opting for a style that's uniquely feminine but communicates to her colleagues that she's serious and capable.
"I've spent a lot of time in the business world," she says. "While finance is a male-dominated industry, especially in the leadership tier, you're seeing more women in the talent pipeline, which is promising." To transcend those barriers and make sure the focus always returns to her ability rather than her looks, Caban likes to dress simply yet stately. "I wear all neutrals and a lot of black," she tells us.
It's true that in life and style, Caban gets right down to business. "This is the time for women," she says. "No doubt." And as a woman not only working in one of the most competitive markets in the world but also advocating for women entrepreneurs everywhere, Caban gets up every day ready to chase success for herself and others. Helping her achieve that is a style that's every bit as personal as it is professional.