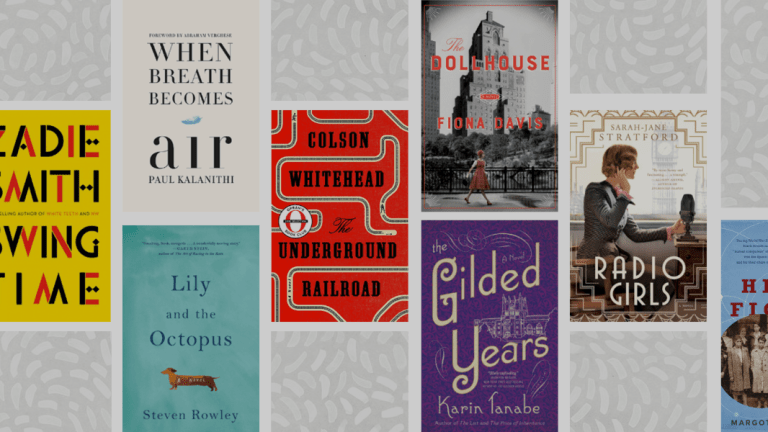 10 Great Books from 2016 That You Might Have Missed
Nonfiction and fiction had a great year, so don't let these must-reads pass you by.
This past year had a very strange vibe for me, as I know it did for many people. In the end, however, the lows that came from political exhaustion and the stress of planning a wedding were no match for the fun and joy of getting married in November, so happiness won the day. However, the temperature of the year definitely impacted my reading choices, with novels that swept me away to other worlds and times, and nonfiction that reminded me that you should always be looking for the good in the world. Here are my picks for the best books of 2016 that you should definitely read in 2017 (if you haven't had the pleasure already).
Radio Girls by Sarah-Jane Stratford
I was handed this piece of historical fiction on a whim, and I devoured it in less than forty-eight hours. It got quickly passed around my office, as the friend I lent it to lent it to another coworker and she lent it to another. (Hooray for informal book clubs!) The novel follows the path of a young woman working at the BBC in the 1920s—a path that includes a whiff of romance and the thrill of mystery alongside its professional girl-power narrative. As with all good historical fiction, I learned a lot while reading it (apparently the BBC was one of the few employers at the time who let married women continue to work), only discovering at the very end that one of the protagonists was real! Read this when you want some inspiration for reaching your own glass-ceiling shattering goals.
The Dollhouse by Fiona Davis
I read this book right after reading my LEAST favorite book of the year but I don't think that gave it an unfair edge—it is another super fun read. The story splits its chapters between contemporary NYC and the New York of the 1950s, weaving together the stories of the women who lived in the Barbizon Hotel when it housed young professional women in the fifties and the story of a woman who lives there now that the building has been converted to expensive condos. Again, romance and a bit of mystery infiltrate the pages, and while the end revelation didn't upend my universe, it was an enjoyable and quick read. Read this in a bubble bath with a glass of wine.
Lily and the Octopus by Steven Rowley
I have never owned a dog, but nevertheless, this book absolutely wrecked me. The story of a man and his dog and the emotional journey you take when grieving made me laugh and cry at the same time. (And then cry some more.) It is a beautifully written story, made all the more powerful by the universal themes it grapples with. Read this under a snuggly blanket when you could use an uplifting cry. (That's a thing, I promise!)
The Gilded Years by Karin Tanabe
Historical fiction was my sweet spot this year, and The Gilded Years is no exception. The novel is a fictional account of the first black woman to attend Vassar College, although Vassar was unaware of her race at the time of her attendance. The story is beautifully written, and transports the reader back to the New York of a bygone era and to a time when higher education for women was gaining traction. Read this with your book club to marvel at how far the concept of women's education has come.
The Underground Railroad by Colson Whitehead
When a book wins both the prestigious National Book Award for fiction and a spot on Oprah's book club, you should take note—it's likely one of those rare books that has both exceptional quality and mass appeal. This reimagining of the underground railroad as an actual railroad (a misconception that the author had as a child) has Whitehead's trademark blending of genres that makes it possible for his fanciful railroad to pack a punch. Read this when you are in the mood for a book that will stick with you for a long time.
Swing Time by Zadie Smith
Zadie Smith's newest novel follows the friendship between two young women who want to be dancers—one of them has the talent for it, but the other has the big ideas about what dance could and should be. Although the friendship comes to an abrupt end in the girls' early twenties, neither one can shake the impact the relationship has had on them. Read this when you want to ponder the nature of female friendships and competition.
When Breath Becomes Air by Dr. Paul Kalanithi
Published posthumously, this beautifully written musing on the nature of life and death is a heartbreaking reminder that no matter how many plans we make, we can never see what the future will bring. Dr. Kalanithi, a promising young neurosurgeon, was diagnosed with stage IV lung cancer at age 36 and died within two years. Kalanithi's love affair with literature shines through in his writing as he grapples with the question of what makes life worth living. Read this when you need to be reminded of the power of the human spirit.
I have never been a math girl (my love of the subject peaked in eighth-grade algebra), so the very notion of being the brains behind the math that got humans to the moon is mind boggling. How much cooler is it that it was female mathematicians that made this amazing feat possible! Hidden Figures, which is being turned into a movie starring Taraji P. Hensen, Janelle Monáe, and Octavia Spencer early in the new year, is a fascinating look at the group of black women whose talent put them front and center of one of the most exciting advances in human history, despite a society that was determined to keep them in the shadows. Read this when you need some serious inspiration and a dose of can-do spirit.
American Rhapsody by Claudia Roth Pierpont
This look at the arts in America explores both the spirit and context that has shaped the cultural scene of the United States and given us luminaries ranging from George Gershwin to F. Scott Fitzgerald to Katherine Hepburn to Nina Simone. Read this when you want to revel in the awesomeness that is America's contributions to the world of arts and culture. 
I Let You Go by Clare Mackintosh
If you didn't read this over the summer, and the winter months make you want to curl up with a gripping mystery, look no further than I Let You Go, a thriller that centers on a hit and run accident that leaves a young boy dead and spurs those involved to desperate measures. The book's plot twist threw me for a serious loop and kept me reading deep into the night. This is one of those books that make you jealous of all the people who haven't read it yet, because each chapter brings a new discovery. Read this over a snowy weekend with some bourbon and a fire crackling in the fireplace (or at least a fire video crackling on your screen via Netflix).
With so many good books left to read from 2016, there's a lot to look forward to in 2017. What books are you looking forward to reading?