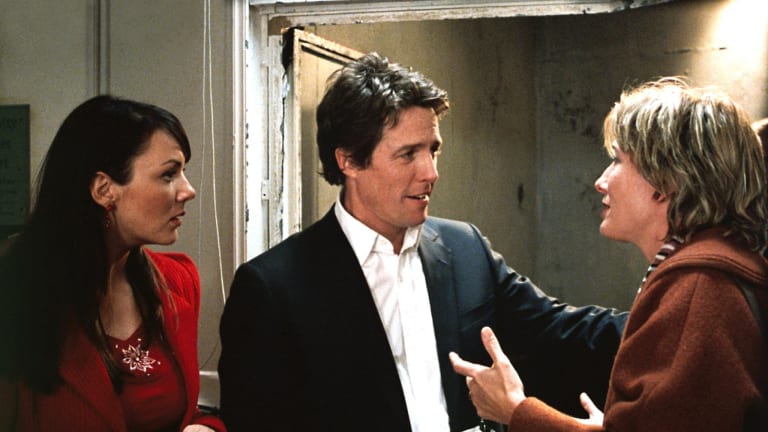 5 Christmas Movies That Have Us Feeling the Love This December
'Tis the season to curl up with a good rom-com.
Nowadays finding a good movie to stream on Netflix is harder than tracking down a Nintendo Classic (remind us again what that $7.99 a month is paying for?). As such, we might all be forced to fork up a few extra dollars this season because certain movies must be viewed before December 25—even if it means renting them.
There's no better time to spread love than the holidays, so with that in mind, here are some important lessons in love we can learn (alongside all the feels) from those holiday classics we watch every year.
The Holiday 
Aside from one poor casting choice (looking at you, Jack Black) this movie is about as good as it gets. Amanda and Iris (Cameron Diaz and Kate Winslet) are relatable even if their homes are not, and the women are often quite hilarious on their journeys of self-discovery. Graham (Jude Law) is charming despite his truly uncomfortable cry face. But the thing that really has us coming back for more is the inspiring idea that we should be the leading lady of our romantic narrative. We are the hero of our love story and we don't have to passively sit back and let love happen or not happen to us. (Rent on Amazon Video for $3.99)
Love Actually
Some might call this the ultimate holiday chick flick. Love Actually seemingly invented the oft-duplicated cinematic style of interwoven but distinctly different story lines (at least in the modern age). Unfortunately for many movies since, Love Actually is basically the only one that nailed it. With Hugh Grant, Kiera Knightley, Colin Firth, Emma Thompson, and more, what's not to love? There are risqué moments to be sure, but it's hard to imagine a December passing by without at least one viewing (or five) of the "All I Want For Christmas Is You" scene. What really warms the heart though is the way the movie acknowledges that we're all struggling and hurting in our own small ways, and this movie proves that "if you look for it, love actually is all around." (Available on Netflix)
While You Were Sleeping
Twenty-one years old and still a sure-fire holiday delight, While You Were Sleeping blends tragedy and serendipity. After saving her secret crush from being run over by a train on Christmas Day, Lucy (Sandra Bullock) ends up in a very complicated (and mildly pathological) rouse, the result of which is, of course, true love. Life doesn't follow a script, and the best intentions sometimes don't turn out. This movie is proof of that. With a couple plot twists and a good amount of '90s nostalgia, While You Were Sleeping is a holiday movie night winner best served with hot cocoa and a cracklin' fire. (Available on Netflix)
Just Friends
There's nothing like the holidays to bring high school memories back. You go home for a visit, run into some old classmates, and remember everything you hated and loved about those awkward teen years. Just Friends is exactly that as Chris (Ryan Reynolds) is reunited with his high school crush who long ago rejected him. Now he's the hot shot instead of the sheepish nerd, and the tables have turned. As we were always told, don't judge a book by its cover. If you're anticipating seeing a former flame this December, this is the movie for you. (Available on Netflix)
The Shop Around the Corner
For those who love a good classic (but who don't want to watch the semi-depressing reel otherwise known as It's a Wonderful Life) this movie is a perfect pick. It's the old-school version of You've Got Mail telling the story of pen pals who fall for each other not knowing that they've actually interacted (and annoyed each other) a lot in real life. Just in time for Christmas Eve, the pair realize whom each other is. Perspective is everything. Sometimes seeing something from in a new light reveals truths we thought were unimaginable. Lesson learned, indeed. There's no AOL in this version, but love and Yuletide charm are present. (Available on Warner Archive or Amazon Video for $7.99)
Photo Credit: Universal Pictures