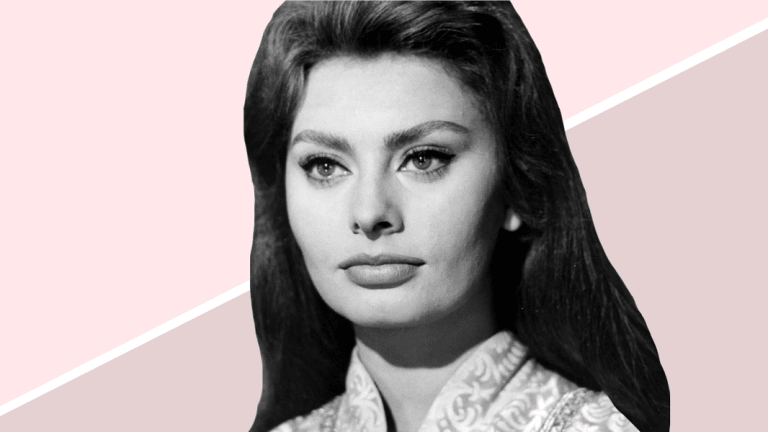 Lessons from Classic Beauty Icons: How to Master Sophia Loren's Perfect Cat Eye
Was there ever a more perfect way to highlight the eyes?
Of all eye makeup looks, nothing is sought after quite like the cat eye. The elusive feline flick is tricky to master. One day our liquid wings are perfect, and the next they're smudged and droopy. Modern celebrities such as Taylor Swift and Lauren Conrad have been known to defer to a cat eye on many occasions, but Italian actress Sophia Loren was famous for her never too subtle or too bold eyeliner mastery. That's why we are looking to this Old Hollywood starlet to copy her famous dolce vita cat eye look. Here's how to do a cat eye in six simple steps.
Step 1
Get your eyes ready with primer: This will prevent smudging throughout the day and keep your eye makeup fresh.
Step 2
Use a neutral eye shadow palette to create a base. Apply the lightest tone all over and up to your brow bones, and then apply the darker tone of your choice to your creases.
Step 3
When creating the cat eye, start with the wings first. Use a felt tip liquid liner to have silky-smooth, defined lines. Create the angle of the wing by finding the corner of your eye and making a mini triangle. By doing this first, you can play around with the wing and determine how angled you want the flick.
Step 4
Make sure the wings match on both eyes rather than finishing one and trying to duplicate it on the second eye.
Step 5
Fill in the rest of your eye using careful strokes to connect the flick to the rest of the liner. Take your time!
Step 6
When your cat eye is as desired, curl your lashes and apply black mascara. Voilà!