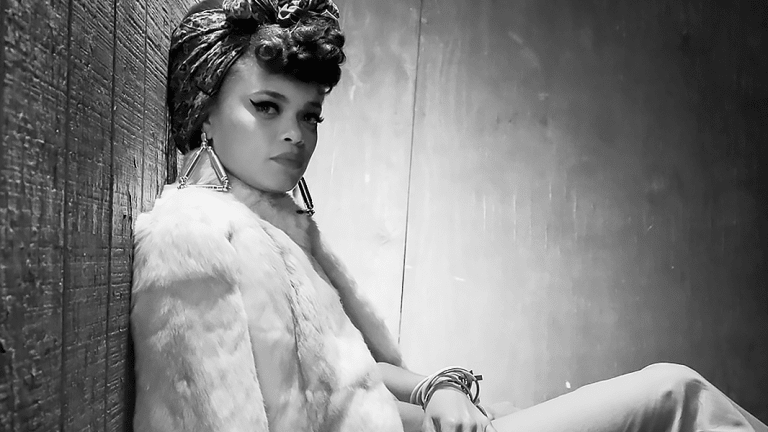 The Resilient Outlook That Makes Andra Day Billboard's Powerhouse
'Women need to know their value doesn't lie in physical beauty or sexuality.'
This month, Billboard honored singer and songwriter Andra Day at the Women in Music Awards for being a powerhouse artist.
Born Cassandra Monique Batie, the 31-year-old West Coast native professionally goes by the nickname "Andra," and her 2016 debut album Cheers to the Fall reveals a voice that stands among the R&B greats with a little bit of Amy Winehouse mixed in.
Her hit single "Rise Up" tugged heartstrings across the country when she performed it at the 58th annual Grammy Awards earlier this year. Perhaps most remarkable about Day, though, is the empowering messaging that comes through her beyond the recording studio. Here are just a few of the themes that have come out of Day's recent interviews that our world could use more of.
There Is More to Success Than Money
In an interview for Billboard this month, Day explained how she's changed since her initial taste of fame. "More than anything, I was like, 'I just wanna be successful, and I want to be able to make music and be rich and famous,'" she says of when Stevie Wonder discovered her in 2010 and she started to receive greater attention. But after some time, she says, "There was a point in my life where my spiritual self began to grow, and your vision widens to see a bigger picture." When this change of outlook happened, Day says, "My vision changed from being, 'Hey, I want to be famous,' to being, 'Hey, I have a platform; how can I impact people?'"
It's clear from Day's words that being authentic to herself matters more than a huge paycheck. And while most of us may not be chart-topping stars like Day, the challenge to notice the difference between worldly definitions of success and our own is universal. It's inspiring to see a woman such as Day taking the better path.
There Is More to Women Than Competitiveness and Cattiness
In the same interview for Billboard, Day said what she loves about the Women in Music evening is that it "celebrates women; it creates a community and a love which is so opposite to what you see and hear in the media so frequently." When Day received her award, she echoed this sentiment, expressing her praise for "highlighting women who support each other and who love each other and for breaking the stereotype that women are always competitive or always catty."
"This is a room full of women who are powerhouses and who support each other," Day said, adding that it "gives me hope."
There Is More to Empowerment Than Power Over Someone
When Billboard asked Day what powerhouse means to her, she said to her it "means someone who is strong in who they are but also aware that they're part of a bigger picture, and someone who has a desire to affect that bigger picture in a positive way; and someone who wields power but uses it to make other people feel powerful."
Talk about a humble definition of power. It's refreshing to hear a woman in the spotlight recognize that empowerment isn't about having power over someone else in a tug of war; there's more to it, and Day widens its meaning to be about living to our full potential and helping others do so as well. Day later added, "I think you just remind them of their value, you remind them of their purpose. You remind them that you are not here just to exist, you're here to impact people in their lives."
There Is More to Our Value Than Looks or Sexuality
Day went on to speak out on the pressures women experience in entertainment today. "Women in this industry need to know that their value does not lie in their physical beauty or their sexuality." Instead, she lifted up the truer and deeper aspects of womanhood: "Our characteristics are rich and necessary for a world that can survive and thrive."
Before singing her hit song "Rise Up" at the awards, Day gave a preface: "My prayer is that it's something that is healing, and encouraging, and inspiring... My desire is that as you listen, we experience this together and anyone dealing with image issues ...or feeling like they're powerless, that they're empowered with this song." Which brings us to possibly the most beautiful theme of all.
There Is More to Gain from Obstacles Than We Think
Perhaps the most powerful message Day gives us is in song, because the power of her voice in "Rise Up" exceeds its already powerful lyrics. Even when we're "broken down and tired," we can "move mountains," and "rise up."
"I'll rise up / I'll rise like the day / I'll rise up / I'll rise unafraid... / And I'll do it a thousand times again," she belts.
At the climax of the song, Day sings, "All we need, all we need is hope / And for that we have each other." Spoken like a lady who knows the value of community, especially in overcoming obstacles.
Photo Credit: Andra Day