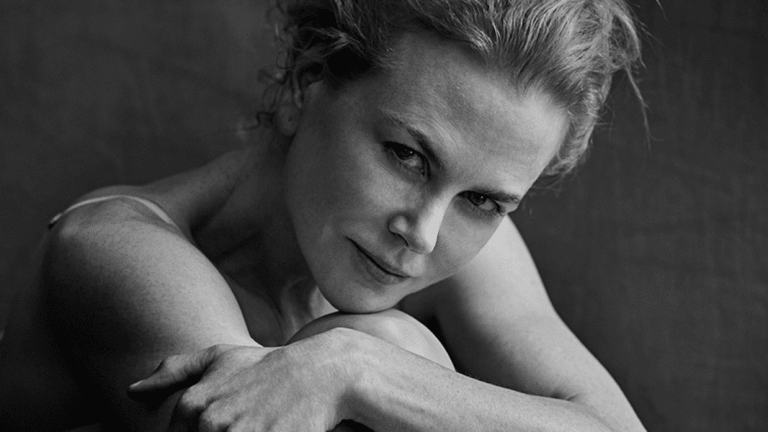 For the First Time Ever, This Famous 'Nude' Calendar Chose Not to Objectify Women
And the photographer's stance on the portrayal of women is very refreshing.
The 44th edition of Pirelli's calendar, the Italian auto manufacturer's iconic annual publication, was released in Paris this week. The 2017 edition was shot by Peter Lindbergh, who photographed the calendar in 1996, 2002, and again with Patrick Demarchelier in 2014. Although Lindbergh has produced the calendar many times before, this year's edition is unique for a number of reasons.
The 2017 issue makes several surprising departures from the calendar's traditional look that bode well for women. First of all, the calendar features women who are considerably older than in years past. Most of the women featured are older than 40, including Penelope Cruz (42), Nicole Kidman (49), Helen Mirren (71), Julianne Moore (55), Charlotte Rampling (70), Uma Thurman (46), Kate Winslet (41), and Robin Wright (50). Thirty-somethings, Jessica Chastain (39), Zhang Ziyi (37), Lea Seydoux (31), Lea Seydoux (31), and Lupita Nyong'o (33) were also featured. At 28, Alicia Vikander was the lone representative of the "under-30" crowd, meaning that the calendar featured more women in their 70s than in their 20s. 
What makes this particularly meaningful is the fact that the photos have not been retouched. Further, although there is an "undone" quality to some of the photos, the calendar is much less palpably sexual than it's been in the past. It contains no nudity, which is remarkable in and of itself, and is missing the sensual, lusting theme so persistent in previous years. 
With few exceptions, nudity and sexuality have been staples of the Pirelli publication since its inception in 1964, at times reaching a degree that can only be described as full-fledged pornography. Last year's edition, despite featuring topless photos of both Serena Williams and Amy Schumer, was actually praised in the media for its relative modesty and decorum. Many at the time wondered whether the bold shift would last for the publication so noted for its sex appeal. Upon last year's calendar release, the New York Times reported that Pirelli was careful "to paint the current calendar as part of a continuum, as opposed to a rejection of its former ways, thus leaving the door open for another switcheroo." Luckily, a year later, the so called "continuum" has moved further toward respecting women. 
In a society that increasingly encourages individuality, nakedness has become a symbol of liberation and self-acceptance. The collective cultural thinking seems to be that exposing our naked bodies is somehow the state in which the true self, unobstructed by the trappings of societal convention, is most clearly revealed. To display one's body, the thinking goes, is to display one's true self. Thus, stripping down for photoshoots in the name of confidence has become a trend among celebrities. But Lindbergh's work speaks to the fact that stripping down is not a requirement for authenticity.
Unsurprisingly, these changes were not an accident. Commenting on the photos, Peter Lindbergh explained that he feels responsible for "freeing women from the idea of eternal youth and perfection." The photographer went on to explain that, "In a time when women are represented in the media and everywhere else, as ambassadors of perfection and youth, I thought it was important to remind everyone that there is a different beauty, more real and truthful and not manipulated by commercial or any other interests, a beauty which speaks about individuality, courage to be yourself and your own private sensibility." The title, "Emotional," according to Lindbergh, was selected in order to emphasize his desire "to create a calendar not around perfect bodies, but on sensitivity and emotion, stripping down to the very soul of the sitters, who thus become more nude than naked."
Lindbergh's mission is admirable; the negative consequences of the media's portrayal of women are real and documented. And although Lindbergh made no mention of modesty in his explanation, I can't help but think there is something significant, profound even, about the fact that nakedness played no part in the project. Far from being an obstacle, clothing was integral part of achieving his goal. In that respect, the project echoes Verily co-founder Janet Easter's philosophy: often when we show a lot of skin in revealing outfits, we're not revealing ourselves at all.
Which is why Lindbergh is truly onto something when he said the models were "more nude than naked." None of the women are naked, and yet there is an undeniably revelatory quality to each photograph. Mostly, the photos are not seductive or titillating, yet they are captivating. Intended or not, Pirelli's departure from the sexualized images of the past attests to a kind of beauty that transcends sexuality and hints at the possibility that our preoccupation with nakedness may be clouding our ability to fully appreciate female beauty.
Photo Credit: Peter Lindbergh