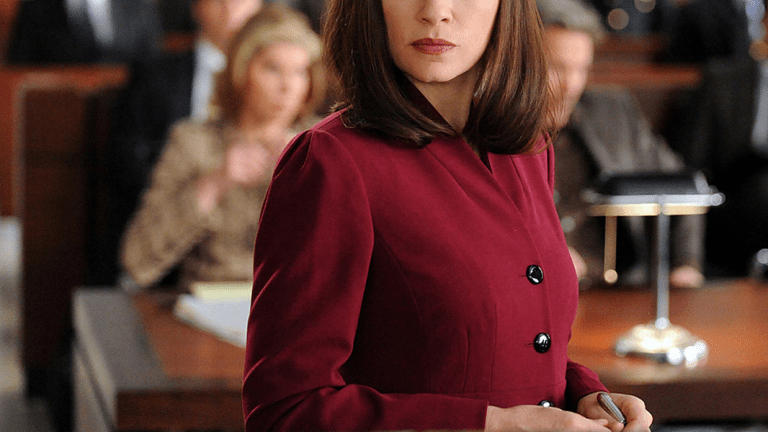 We Love Powerful Women on TV, But What's the Deal For Real Women In America?
2016 has been a pivotal year, forcing us to reflect on where women really stand in the USA today.
At one point during this election season, an image circulated the Internet that was a color-coded map of the United States. It showed how many states would be "red" if women were not allowed to vote in the 2016 election; the image indicated that the clear winner in that case would be Republican nominee Donald Trump.
Immediately, the hashtag "#19thamendment" began trending on Twitter because some reactionists suggested that repealing women's right to vote was actually a good idea. (This warrants a weeklong facepalm more than a response.)
The nineteenth amendment outcry, sadly, was only a small part of what has made this presidential campaign a sobering one in our nation—one where we were forced to really think about where women stand today in the USA.
In Corporate America and on TV, Views Are Mixed
If you were to look at the big and small screen today, you would think that women run the world. From Claire Underwood to Elizabeth McCord to Olivia Pope, there is no shortage of women in political and business leadership positions. Yet a 2015 Pew Research Center poll focused on women and leadership in politics and business concluded that while the public sees women as actually being stronger than men on some traits such as compassion and organization—and equally competent in other areas, such as innovation and intellect—women are still expected to do more than men to show that they have the chops to do a job well.
"Similar shares say the electorate and corporate America are just not ready to put more women in top leadership positions. As a result, the public is divided about whether, even in the face of the major advances women have made in the workplace, the imbalance in corporate America will change in the foreseeable future," the Pew research poll says.
Many Americans may be more prone to see women leaders on television or in the movies than reporting to one in real life, it would seem.
"Programs such as The Good Wife, Madame Secretary, and any show written and/or produced by Shonda Rhimes feature powerful and complex female characters. On these shows, female characters lead integrated lives, meaning we see them at home and at work," says Martha Lauzen, who heads the Center for the Study of Women in Television and Film at San Diego State University."The major female characters in these series hold powerful professional positions and confront challenging dilemmas in the business, medical, legal, and political spheres and don't have to sacrifice their personal lives in order to achieve professional goals."
"Films that featured strong female characters in 2015 included Inside Out, The Hunger Games, Pitch Perfect 2, and The Divergent Series: Insurgent," Lauzen says, who noted that there are far fewer meaty parts for female characters over the age of 40 in either film or television. Productions that include at least one female writer or director are much more likely to include a female protagonist (in a ratio of 50 to 13 percent). It would seem that an essential component to getting more women in lead roles is to have more women decision-makers in the process. But how do we get there? 
In the early 1970s Virginia Schein, now a professor emerita of management and psychology at Gettysburg College, did groundbreaking research in the field of management studies, in which she found that the template for assessing the characteristics of managers was: "think manager, think male." At that same time, a study on gender roles and leadership education suggests women held about five percent of management roles; in 2009, the number had increased to roughly 40 percent.
"We haven't hit an equal playing field yet," Schein says, who told me she considers the phenomenon to be universal. "Stereotypes are persistent and are continuing to affect the way we view men and women in leadership."
What does this mean for our country's presidential future?
According to Schein, if we can't see a manager in a more neutral light, it's not likely that we are going to be able to view a female presidential candidate that way. "The mental template we have of a president is one with typical masculine characteristics."
But at the same time, Schein says, with more and more women filling senior-level management positions today, "what's more likely happening is that competence wins out. Talented and very qualified women understand the stereotypes…but they are able to behave in their own authentic style, whatever works for them."
What Can Women Do?
It certainly can be a challenge for females to be viewed as leaders by their peers when in many fields they're outnumbered by men in a workplace. An engineer and management consultant, Loraine Huchler works in a male-dominated culture. While the number of women graduating with technical degrees hasn't changed much in the past two decades, Huchler says she has seen a rise in women gaining traction in the worlds of engineering and of business.
Huchler, president of MarTech Systems, a New Jersey firm that manages risk for water-related utilities, volunteers her time to mentor younger female business leaders. "The idea of women breaking a glass ceiling is too limiting," she says. "It's really about women becoming accepted in the business world."
While she approaches each organization with whom she consults differently, Huchler suggests that in addition to being good team players, women can bring excellent communication skills to their work. "The world of business requires collaboration. Your interpersonal skills are so critical to success."
When she advises women hoping to make their mark as leaders in the business world, she tells them: "Don't take it personally, recognize that the world of business is competitive—and that's a good thing."
While some women succeed by imitating male leadership and competitive strategies, Huchler says, she decided that she was going to succeed in her own style. When she didn't get what she wanted in terms of responsibility and authority in another organization, she created her own consulting firm. "I reasoned that if I wasn't responsible for making my way, the organization wasn't going to take care of me. It's not their responsibility to manage my career and if I let them, then I would get what I deserved."
In Nashville, Downton Abbey, Veep, Scandal, and more, we watch confident female characters navigate sexist and trying situations on their terms with gumption and poise. We just have to make sure we're practicing the same in our own lives.
Schein, who has hopes that eventually female presence in leadership roles will equal their proportion of the U.S. population, also has some advice for women starting out on the path to leadership: be aware of stereotypes and how they can affect you, but don't overreact and become overly self-protective.
"Just be yourself," she says. "Women, keep trying."
Photo Credit: CBS