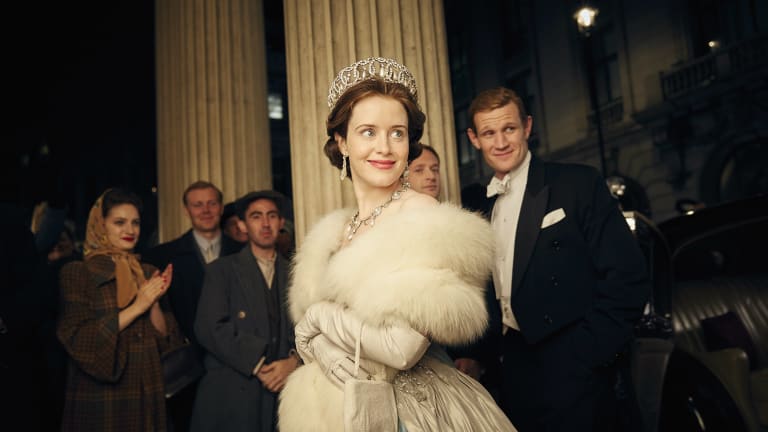 Period Drama Lovers, Here's What I Thought of the New Netflix Show, 'The Crown'
This glimpse into Queen Elizabeth II's life illustrates a silent struggle that all women face.
For all our love of iPhones and automated coffee makers, even the most modern among us can't deny ourselves of a good flashback into history. The formal dress, the slower way of life, the mastery of the English language—whether it's Jane Austen or Downton Abbey, the charm of the old world, ironically, never gets old. And this weekend, we're in luck because as of today The Crown is streaming on Netflix. 
Netflix billed the show as a view into the two ruling bodies of England—The Prime Minister at 10 Downing and the Queen inside Buckingham Palace—and the many professional and personal entanglements therein. Set in the tumultuous post-war world of the 1950s, the show follows the stories of the two pillars of power as they contend with many of the great issues of the late 20th century. There are rivalries, lies, power plays, devastations, and a brilliant display of both tradition and family. I can think of no better distraction from our current political clamor than to escape—if just for a couple episodes—into the world of Winston Churchill and Queen Elizabeth II.
And an escape it is. Netflix spent a reported $130 million on The Crown, which would make it the most expensive series ever. The show is visually stunning. You can tell no expense was spared creating beautiful costumes and giving life to the landmark locations featured. The glamour of royalty is there as is the grit of a post-war nation. Show creator Peter Morgan said there have even been strides made to involve the real British royal family, namely the queen. On the press tour, Morgan said, "There is a sense that they are both very, very nervous and very, very excited."
The casting choices are equally meticulous. Claire Foy as Queen Elizabeth II is a delight to watch. John Lithgow as Churchill is a little surprising at first but ultimately proves to be a good choice, and Dame Eileen Atkins as Queen Mary is also an excellent fit. The whole lot of characters, complete with the proper British accents we Americans love, truly bring this political drama to life.
Those looking for a Downton Abbey replacement will not find it here. The Crown is much more serious, somber even. But that doesn't make it unenjoyable. While the characters are all familiar—Wallis Simpson and Prince Edward, King George VI, and Winston Churchill, and the Queen have all been fictionalized in modern movies—the plot somehow feels less dramatic for drama's sake and more reverent. 
The drama that is here is a natural and enduring kind of struggle. It's also something to which we can all relate. Elizabeth Windsor, like her father, grandmother, prime minister, and more, faces the constant if silent nag of self-doubt. For a nation's ruler, questioning oneself may be a useful and necessary tool for calibration. Personally, though, self-doubt can be debilitating and often fruitless.
The show reveals, as is true in real life, that everyone reconciles their insecurities differently. Sometimes, such as in the case of King George VI's widow, it manifests irrationality. Other times, though, like with King George VI, himself, who was unexpectedly forced to rule upon his elder brother's abdication of the throne, that seed of uncertainty can be met as a challenge in the best sense. 
In real life, we women grapple with our own decisions constantly. Should we prioritize a career? Will doing so make us worse mothers? Are we a good enough wife? A good enough friend? A good enough employee? Katty Kay and Claire Shipman, authors of the 2009 book Womenomics, realized firsthand just how much women were dealing with doubt. For The Atlantic they wrote: 
"To our surprise, as we talked with women, dozens of them, all accomplished and credentialed, we kept bumping up against a dark spot that we couldn't quite identify, a force clearly holding them back....In our jobs and our lives, we walk among people you would assume brim with confidence. And yet our experience suggests that the power centers of this nation are zones of female self-doubt—that is, when they include women at all."
Anywhere—and everywhere—you turn, there's a reason for us to question whether the path we choose is the best. The biggest difference between The Crown and reality is that the monarch's path is more obligatory than chosen. The Queen didn't have to earn her seat at the table as many of us struggle to do, but that doesn't mean she didn't have to prove herself. 
As with any political drama, viewers get a close account of how the dangers of too much influence and too many opinions can overwhelm instincts. The average modern woman does not have parliament and royalty imparting their opinions on her, but she certainly has social media, peer pressure, and the like resulting in a feeling that someone else is always doing life a bit better, a bit easier.
Kay and Shipman found that this crisis of confidence was more acute among women. And whether due to nature or nurture, "a growing body of evidence shows just how devastating this lack of confidence can be," they said. "Do men doubt themselves sometimes? Of course. But not with such exacting and repetitive zeal, and they don't let their doubts stop them as often as women do." 
But what Kay and Shipman reveal with their research is that the effects of self-doubt aren't a death sentence for us. Does it require us to be proactive at combating the biases we feel against us? Certainly. But do great things result from that happening? Queen Elizabeth II is example enough that the proof is in the Yorkshire Pudding. 
"When women don't act, when we hesitate because we aren't sure, we hold ourselves back," Kay and Shipman say. Many times in the show, characters express their hope for the new queen, reassuring her that often the monarchy has been more favorable under female rule. Small gestures on their part, but ones I thought would be so helpful to hear, were I in her shoes.
As I watched The Crown, I was reminded of just how important it is for women to trust ourselves, as Queen Elizabeth usually did. A support system is key in life, but in the end we must all dictate our own lives. It's up to us to decide whom or what we let persuade us. And it's up to us to make sure we have a strong foundation so that outside forces and ill-intentioned advice can't shake us.
The Crown is a series any period drama-lover will enjoy, but it's no Jane Austen love story. It's a thought-provoking historical look at some of the most powerful people in history—one of whom happens to be a woman still living (and ruling) today. It's no surprise then, that you'll leave feeling entertained but more importantly enlightened. And for that, it's a show worth watching. 
Photo credit: Robert Viglasky/Netflix