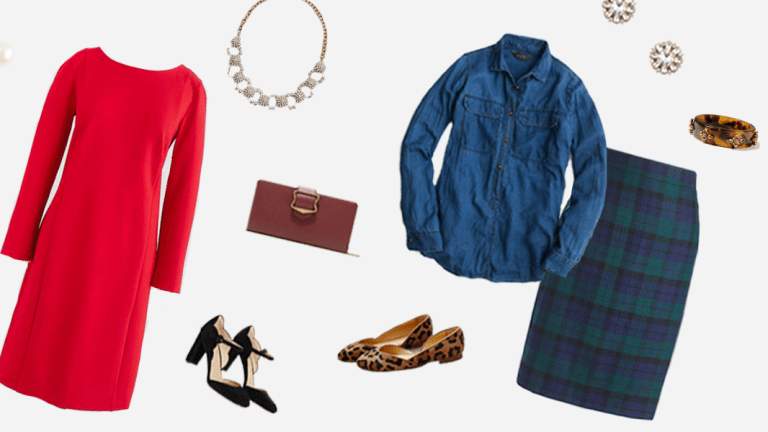 Thanksgiving Outfit Ideas: What to Wear When Meeting His Parents
Casual or fancy, we've got some looks that will make you feel like your best self.
So things have gotten pretty serious with that guy, and you're panicking because you're meeting his parents this Thursday for Thanksgiving. Naturally, the first thing any girl freaks out about is what she will wear. If you're frantically rummaging through your closet and second-guessing every outfit you put together, look no further than these two no-fail ensembles to meet the parents. But no matter what you wear, remember to be yourself! Good luck!
If His Family Does a Casual Thanksgiving
This is the trickier look. You want to look relaxed but not too relaxed because you want to make a good impression. This is where the "Are jeans too casual?" internal battle begins. Play it safe, and go for a dressy skirt with a casual top. Opt for a skirt in a fun print and/or a flexible (yet sturdy) fabric such as ponte knit because, well, Thanksgiving dinner. Dress it down with a chambray button-up with rolled-up sleeves. Avoid heels, and throw on some quirky jewelry to express your lively side.
If the Feast Is More Formal
Now this is a look you can nail, no problem. You might be balking at the red color choice, but don't worry, red is a power color and will convey to his parents that you're a strong woman and not like the rest. The key is to avoid overly form-fitting or clingy silhouettes, so stick to a classic A-line shape. To top off your look, wear a pair of black pumps with accent pearl jewelry. Classy and stylish? Now that's a girl you want to bring home to mom and dad.