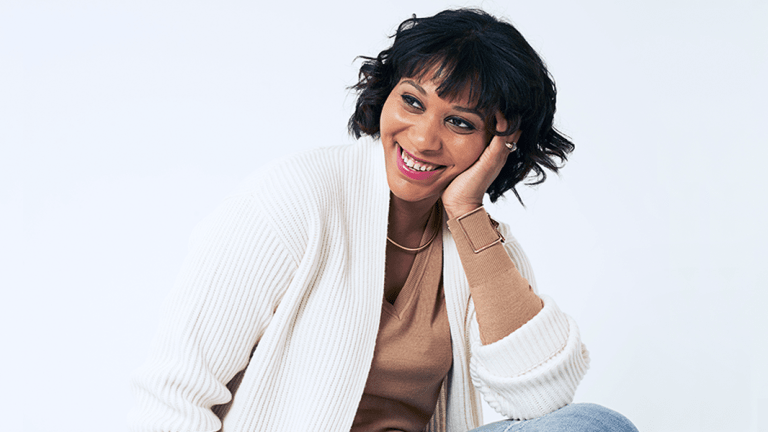 What Does Style Mean When You're a Full-Time Chef and Mom?
Tiffany Minter is a chef whose style goes way beyond the kitchen.

Why do we wear what we wear? Have you ever wondered about that? How we dress has the proven ability to change our mood, impact our confidence, and, of course, help us face whatever any given day brings. For women in New York City especially, style has to achieve utility and aesthetics; our clothes are the LifeWear that make it all possible. We partnered with Uniqlo to ask four New York women: "Why do you get dressed?" Their answers might surprise you.
The question of personal style often elicits nervous laughter from anyone who's a mother. For them, nice clothes and a discernible look went out the door with spontaneous spit-ups and sleepless nights. For Bronx-born Tiffany Minter, motherhood is definitely a major player in her wardrobe, but so is her career.
Minter happens to be one of the most buzzed-about up-and-comers in the New York City restaurant world. As chef de cuisine at Harlem's hot spot The Cecil and an alum of one of New York's most sought-out eateries The Spotted Pig, Minter is a major player in one of the most competitive games in town—the food game.
Balancing a busy life as a mom to three kids and the unimaginably high-stress stakes of an in-demand kitchen mean that style has to be easy. Thinking about why she gets dressed, Minter says, "Anything I wear has to be comfortable." You're more likely to see her in a relaxed merino wool Uniqlo sweater and pants than, say, a pencil skirt. As a chef, of course, her wardrobe is mostly proscribed, but Minter makes sure to get her personality in among the chef coats. "I'll wear a colorful headband or funky shoes," she says.
Outside the kitchen, Minter opts for a classic combination of fitted pants and comfortable blouses that allows for a lot of movement. Uniqlo's stretch denim and versatile lambswool cardigan are the types of pieces she can easily throw on to be comfortable but polished. If she's the one eating out, though, she's no stranger to a great pair of heels and some fun jewelry. Minter has eight brothers—she's the only girl among her siblings—so her style, unsurprisingly, has a tomboy vibe. But don't let the Converse or the fact that she works in a male-dominated industry fool you. Minter is a woman poised to make an impact in whatever she does. Any chef will tell you that balancing the demands of such a career while having any semblance of a life, let alone time to really care for yourself, is sometimes easier said than done. But Minter, in both style and stance, has the ease of a confident woman and the edge of a go-getter who has worked hard for everything she has.
This year Zagat named her one of its 30 Under 30 Rock Stars Redefining the Industry. And a rock star she is. Her energy is infectious; her humility is endearing. Minter isn't ostentatious with her style. Perhaps she saves some of her fiery spirit for the food she masterfully creates. But her style is genuine. It suits her and fits the lifestyle she has defied the odds to create for herself.
Minter is a true reflection of style that's simple and utilitarian but also unique. She doesn't have time to curate outfits every day, but she does make sure that her personality shows in everything she does—whether it's food or fashion. We can't all be so lucky to have the type of cooking skills that land us in high ranks at restaurants where the food has been described by the New York Times as "monumental [yet] subtle." But we can all put in due effort to make our style one that reflects our own tastes. Tiffany Minter, like the food she prepares, is an amalgam of many enviable qualities. She's funny, smart, reserved, and a bit serious yet easy to be around. Her style, just the same, is a combination of necessity and nuance that we all strive for each time we get dressed.