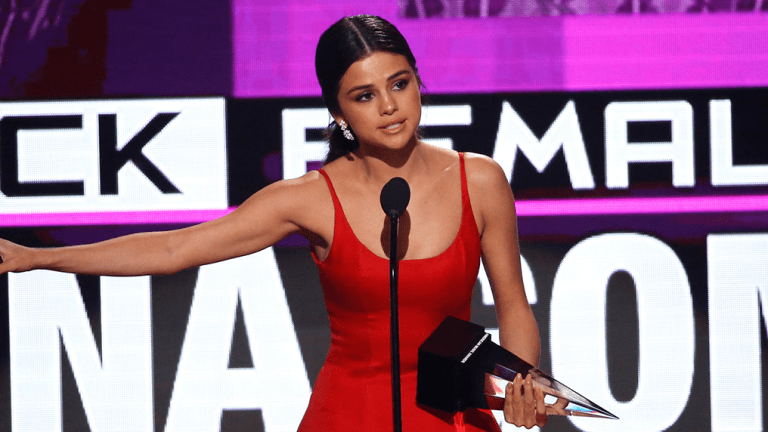 Why Everyone Is Talking About Selena Gomez's AMAs Speech Today
Famous for her sexuality, the young star was singing a different tune.
"I think it's safe to say that a lot of you know a lot of my life whether I liked it or not," Selena Gomez said at the American Music Awards yesterday, upon winning the award for Favorite Pop/Rock Female Artist.
Gomez's words come weeks after the singer and actor announced she was taking a break from performing to prioritize her health. Fans have long known that Gomez battles lupus, including the known side effect of depression. After informing fans of her struggle, she finally decided to take a clean break, face her problems head-on, and admit herself to rehab. "I had to stop. 'Cause I had everything, and I was absolutely broken inside. And I kept it all together enough to where I would never let you down, but I kept it too much together to where I let myself down."
I kept it too much together to where I would let myself down. It's fair to say these words could resonate with many women who find themselves going non-stop. But Gomez's words remind us of something we need to hear: that self-care is necessary, not selfish.
As I wrote on this topic in August, "especially when surrounded by people who appear to perform without breaks, many working women struggle to carve out personal time for fear of judgement from coworkers, family, or others. My work is too important. My family is too important. Everyone else's needs are too important. As sociologist, researcher, and author Brené Brown has said, one major challenge our culture presents us with today is a looming self-doubt that we still haven't done enough."
Referencing her 2014 performance of "The Heart Wants What it Wants," Gomez suggested it was one of the rare authentic moments she has shared with fans. Given that much of Gomez' online image presents a young sex icon, I believe her. In the past I couldn't help but wonder if her public persona was coming from her or from the culture that tells women they need to play up sex appeal to succeed in the entertainment world. Gomez's words at the AMAs suggest it might be the latter.
"I don't want to see your bodies on Instagram; I want to see what's in here," she said, touching her heart. "I'm not trying to get validation nor do I need it anymore."
Gomez ended her remarks with emotion in her voice: "If you are broken, you do not need to stay broken."
Lady Gaga, whose latest album Joanne shares a vibe of stepping away from a facade, looked visibly moved to tears, and she later posted on Instagram, "The girl with the biggest prize of all a BIG Heart that she shares with the world." The support continued to roll in from a range of entertainers. Pete Wentz of Fall Out Boy tweeted, "Selena speech at the amas ❤️ more of that in the world please."
Yes. More of that. Less of the facades. I hope Gomez takes her own advice and steps away from her sexualized persona toward something more authentically herself. If her words are just a glimpse into the honesty she can tap into, then I can't wait to hear the music she delivers next, in her own due time. 
But I have to say, for what it's worth, I find a lot of hope in her words. I find a lot of hope in the support she's getting all over the web today. It's a reminder that we don't have to succumb to the pressures of the world to look a certain way or to fit a certain mold. We can be ourselves, and that itself is worth celebrating.
Photo Credit: CNN