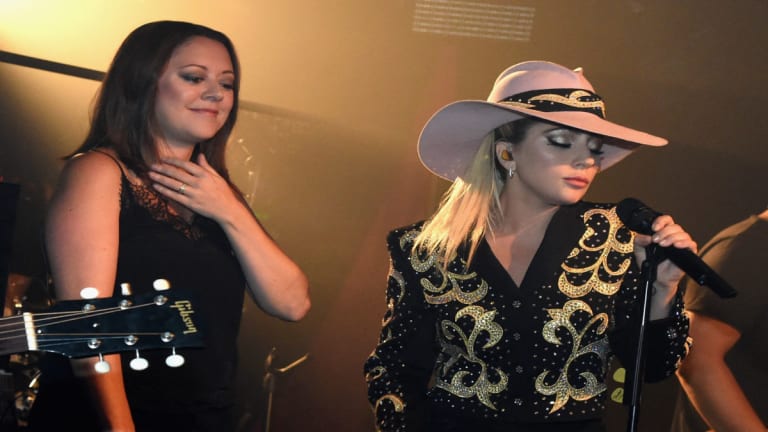 Country-Pop Music Is Having a Moment Right Now—Here Are 3 of Our Favorite Songs
This new trend is a delicious treat for the ears.
Country pop music is having something of a moment. We have long seen artists traverse the divide between the two genres before—Taylor Swift or Darius Rucker, anyone?—and it seems that many more artists are catching on that the musical hybrid is a delicious treat for the ears. Here are three current songs that show the beauty that can be born when these opposites attract.
'Million Reasons' // Lady Gaga & Hillary Lindsey
On her new album Joanne, Lady Gaga has a distinctly country sound. Among her ballads is "Million Reasons," one of the songs Gaga wrote with acclaimed country songwriter Hillary Lindsey. Lindsey appeared alongside Gaga at the song's debut in Nashville above, as well as in a recent performance on Saturday Night Live. Lindsey is known for writing the hits "Jesus, Take the Wheel" made famous by Carrie Underwood and Little Big Town's "Girl Crush" (which was stunning at the Grammys this year if you missed it).
Speaking to Rolling Stone about what genre this latest collaboration falls into, Lindsey said, "It's music. It doesn't have to be called country, it doesn't have to be called pop. It's just music. And when it's being made specifically from an artist, whether that's a country artist or a pop artist, it's just coming from them. That's what I've always hoped it could be. And I praise Jesus for her, for somebody that can still do that."
'Daddy Lessons' // Beyoncé & Dixie Chicks
At last week's Country Music Awards, an unlikely pop queen took center stage with the Dixie Chicks—Beyoncé herself. In a performance described as one of the most powerful of the evening, Beyoncé joined a stage of musicians to debut her country-infused song from Lemonade, "Daddy Lessons." One listen to the song about her daddy's tough lessons in life, and you remember that Knowles hails from Houston, Texas.
The country sound comes naturally to her voice and makes for a welcome sound even to the ears of a strict pop music fan. Her joining the talented country trio of ladies in the Dixie Chicks made for a brilliant performance. But possibly most delightful was how joyful Bey appeared while belting it out among the happy country music crowd. Pop-country collab for the win!
'Setting the World on Fire' // Kenny Chesney & Pink
Also sharing the stage as a pop-country collaboration are Pink and Kenny Chesney. Their duet "Setting the World on Fire" sits at the number one spot on Billboard's Hot Country Song list right now. "Setting the World on Fire" is a straight-country song that was marketed also to pop stations. "I heard the song a couple of weeks before it was released," Charlie Cook, a radio program director in Nashville, told Billboard. "It was an instant like in my case. I think that Pink is one of the most dynamic performers in music, and Kenny remains a format favorite."
With these songs in my head, I have to say I am looking forward to what the future holds in more inter-genre collaboration.
Photo Credit: CMT