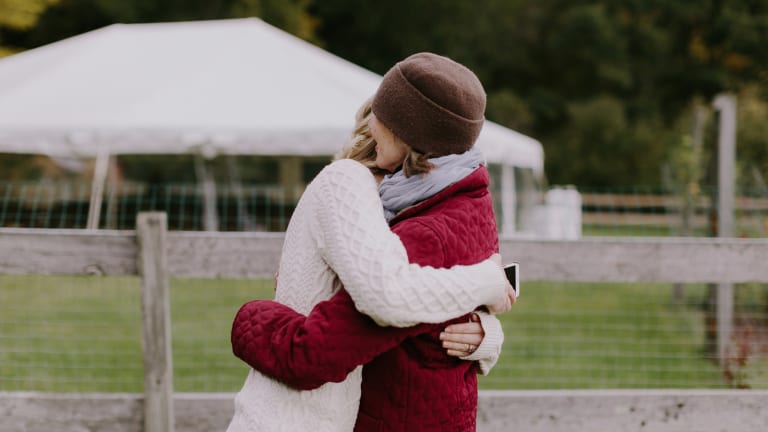 10 People to Be Grateful for When You're Single and Dating
These people make dating fun, make life an adventure, and never give up on you.
As a single woman in her late twenties, I have had time to cultivate a lot of amazing relationships over the years. But as I count my blessings over Thanksgiving dinner, I've realized that there are some people I'm especially grateful for when it comes to the more difficult aspects of single life.
The truth is, I think we all have these people in our lives who lift our spirits when single life is a drag and give us a reality check when we need it most (and want it least). These are the people who make dating fun, who make life an adventure, and who never give up on us.
01. Your Mom
OK, there are a lot of reasons to be thankful for Mom. But a big reason is her wisdom when it comes to love. I honestly get the best dating advice from my mom mostly because she knows me well and isn't afraid of hurting my feelings if she must. Your mom might not be your actual mom, but you feel like she is when she is telling you something you don't want to hear.
02. Your Dad
One of the things I will always be thankful for is the way my dad reminds me that I shouldn't settle for anyone less than head-over-heels for me. My dad doesn't have to say anything, but the way he treats me is enough of a reminder—oh, that and his "we shall see" attitude whenever I start dating someone new. Whether this person is your actual dad or your friend who never thinks any of the guys you date are good enough, this person is good to have around.
03. Your Glass-Half-Full Friend
I hate when I slip into my cyclical month long "woe is me" fest, but I can always count on this friend to help me see the bright side of things again. This is the friend who is always pointing out every beautiful thing she passes on the street, who keeps a gratitude journal, and loves to Instagram your cocktails because she knows that even your Thursday happy hour is a special moment. You may only ever strive to be as optimistic as she is, but when you are with her it's easier to see the bright side.
04. Your Relentless Matchmaker Friend
Ever watchful, ever plotting: I will always be grateful for the people in my life who are constantly on the lookout for the perfect guy for me. It's even better when they actually do something about it, but even when they don't, it's nice to know that someone (besides Tinder) is on the lookout for me.
05. Your Ready-to-Party Friend
Let me tell you, as an introvert revving myself up for a night of meeting new people is not my forte. But, for this friend, going out and meeting new people is her life blood and she will get you pumped up too if you stop by her place to get ready with her. When the pull of a quiet night in is too much for you, but you haven't socialized with anyone beyond coworkers all week, all you have to do is call this friend and ask "Where's the party at?" 
06. Your Netflix Buddy
Speaking of pulling a quiet night in...there is nothing wrong with that! Nothing helps you cast off the guilty sensation of FOMO like calling on that friend who shares your propensity for intimate conversations over a glass of wine and Netflix. I am so thankful I have friends who just want to chill the hell out with me.
07. Your 'Let's Go Somewhere!' Friend
I don't know about you, but I daydream about travel a lot. I look at the price of plane tickets and Airbnb, but it's rare that I ever actually take the plunge and do it. But that's why I am so grateful for my friend who call my bluff and pushes me out the door with her! If it weren't for my friends who love to go on adventures I don't know where I would be. 
08. Your Boyfriend's Nemesis
I love this friend for the way she makes it clear to any guy who comes on the scene that she is on my team, until he hears from her otherwise. It's not that I don't want my friends to love the guy I'm with; I do! Of course I want them to be friendly, but the friend who doesn't give her OK until a guy has proven himself is like having a bodyguard who is also your best friend.
09. Your Happily Married Friend
For me, my happily married friends are the perfect reminder of both the things I hope to have one day and the things I should cherish right now while I'm single. Their joy gives me joy, and I love coming to their homes, playing with their children, and hearing their perspective about what it's like to be on "the other side." My happily married friends are the first ones to remind me that wanting "something more" doesn't end when you're married, so now is always the right time to savor what you have.
10. Your 'Love Will Happen When It Happens' Friend
This friend is a true gift and a breath of fresh air to spend time with. While I too often find myself falling into quells of worry about who I'm going to settle down with and when, this friend has never seemed very concerned about all of that stuff. It's gotten to the point that you have stopped asking her if she has "met anyone," because you know she would let you know—and you get the distinct sense that this vein of conversation is kind of boring. To each her own of course, but I am always inspired by this friend's ability to let go and be patient with whatever life has in store for her.
Photo Credit: Nirav Patel