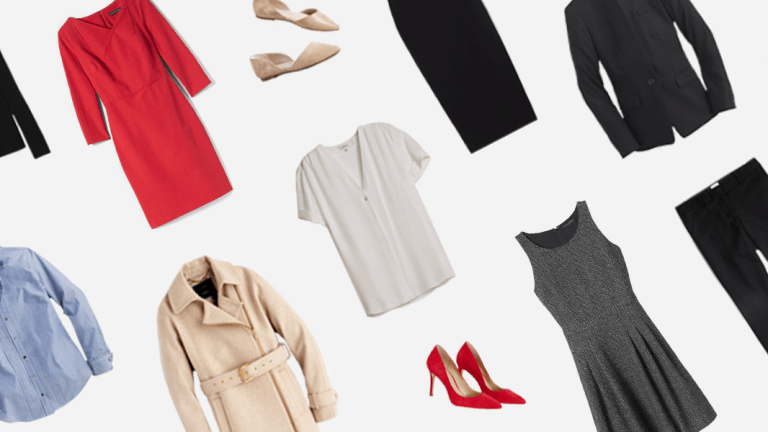 This Easy Formula Will Help You Build an Office Capsule Wardrobe
Look classic and polished every day with your very own capsule wardrobe.
Building an office wardrobe is harder than it looks, especially for anyone who is freshly post-grad. Presenting oneself as a qualified and professional adult requires looking the part, not just for your employer but also for yourself. While dressing to play a part might sound superficial, there is actually a proven cognitive relationship between our clothes and the way we perform in our everyday life. It may only be threads sewn together, but clothing can help us believe in our ability to succeed.
If you keep feeling like you're out of work clothes, don't worry—you don't have to overhaul your entire wardrobe or ask your friends to sign you up for What Not to Wear. Creating a work-appropriate closet has more to do with basic items and classic pieces than anything else, which can be difficult for those who have a more carefree style. If you're struggling to build a wardrobe that follows office guidelines, we've made a guide just for you. This easy twelve-piece office capsule collection can create more than fourteen outfits. How's that for getting the job done?
Tops
The tops in your capsule collection can be as much of a variety as you like, but we suggest sticking to neutral tones such as black, white, and blue to allow for more outfit repeats. If you wear the same patterned shirt every week, people will notice, but if you wear a simple white button-up, who's to say you don't own a few? These subtle basics are classy and nondescript.
1. The black turtleneck serves as an elegant top all on its own, flattering your lines. It's also a great layering piece, so you can wear it underneath any sweater or dress you own.
2. A white blouse is a must when building your office capsule wardrobe. Just imagine all of the outfit opportunities.
3. The blue button-up is the sister to the white button-up but a little bit more fun. The classic blue hue has a more academic appeal, and who doesn't love a collegiate throwback every so often?
Bottoms
The bottoms of your capsule serve as the foundation and should be as neutral as possible, allowing for multiple outfit combinations. We think the easiest is to choose a simple black pencil skirt and black slacks. You can wear these pieces with as many different tops as you want. The best part? Your coworkers won't even notice you have the same two bottoms on rotation.
1. It's flattering, it's timelessly stylish, and it makes any old shirt look dressy—the black pencil skirt is certainly an investment worth making.
2. A pair of comfortable black slacks will save you every time you're scrambling to put together an outfit in the morning. The ideal fit is different for every woman, so make sure you try numerous stores before settling on one pair.
Dresses
Office-wear outfits are usually a combination of a bottom and a top. To shake up your everyday look, add in a dress for a more streamlined and feminine look. Not to mention, it's much easier to throw on a dress in the morning.
1. Let's all just admit that we want to be a fierce "lady in red" from time to time. After all, red is a power color and therefore the most appropriate color to wear when conquering the workday. You can't only wear black and gray every day, so treat yourself to some vibrancy. When rocking red at the office, choose a non-ostentatious silhouette that balances the bold color.
2. Of course you need at least one simple black or gray dress in your office wardrobe, but have a little fun with a flared fit. An office-wear styling trick? Choose dresses without long sleeves for layering. For example, you can wear this dress with a classic button-up or turtleneck underneath for a completely new outfit.
Outerwear
Outerwear is often overlooked when it comes to office wear, but appropriate jackets and coats are important to maintaining your professional appeal. Nothing ruins an awesome Amal Clooney–worthy outfit more than that ski coat you've been wearing since high school.
1. A fitted wool coat will top off your polished look by pulling together your whole outfit. Not to mention the extra boost of confidence you'll feel as you strut out the door in the morning, knowing you look like you're ready to take on the world.
2. The fall chill is finally starting to set in, so you'll need an extra layer at the office. Instead of layering bulky sweaters, invest in a high-quality blazer that will last you years. Black is a staple color and ideal for styling differently throughout the week with various accessories and shirts.
Shoes
Work shoes should be simple, comfortable, and, most importantly, they should make you feel like a #boss every day you wear them. Stick to sleek silhouettes that can be worn with any pant, skirt, or dress.
1. A pair of nude d'Orsay flats are great for days you want to avoid the stilettos but still want to look polished and professional. No commute shoe changes for you!
2. You can never go wrong with a pair of red stilettos; they brighten up any boring office outfit, and they'll have you smiling every time you look down. The sleek silhouette of the shoe balances out the bold color, making them office-appropriate.
3. Trust us, you'll be grateful for those endlessly versatile black booties. These shoes just ooze cool and can be worn outside of the office with casual or dressy clothes. The block heel also offers more support, and we certainly won't complain about that.