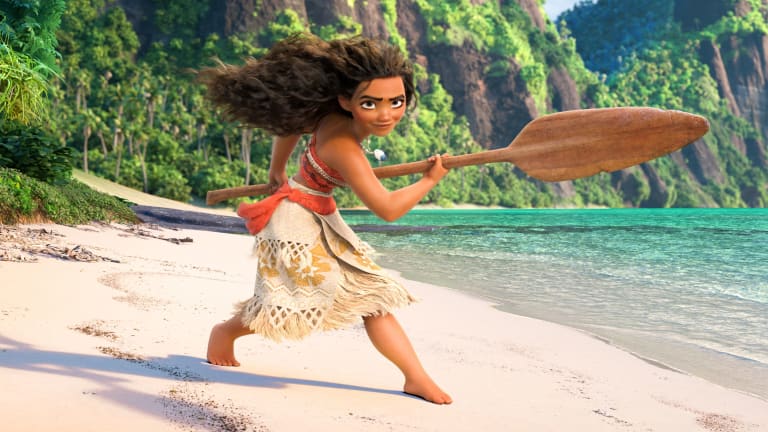 10 Reasons Moana Really is a New Kind of Disney Princess Film
Moana is the story of a strong female character many of us have waited for long enough.
This Thanksgiving, I begged my husband to take our daughters and me to see Moana, the newest Disney "princess" film co-starring 16-year old Auli'i Cravalho from Hawaii and Dwayne "The Rock" Johnson, who also has Polynesian roots.
I use the term princess somewhat loosely; one of my favorite aspects of the film is that it breaks the princess mold (literally, Moana even says so herself—more on that below). There are countless reasons why Moana is the film modern women have been waiting for, but I'll start with my top 10 (and a spoiler alert for those who haven't seen it yet).
01. I could see myself in her.
Before Moana, the closest Disney character I could relate to on a physical level was Mulan. But I'm not Chinese; I'm Filipino. I look a lot like Moana—wavy black hair, brown eyes, brown skin. She has a distinctly different body type from past princesses. Buzzfeed calls it more "realistic," but I personally call it more relatable. As Disney's first Polynesian "princess," I know it'll mean so much for young girls like me to see themselves in a strong character like Moana.
02. The story centers around service and community.
Moana and her people are islanders, relying on each other to make the most of the resources the land and sea provide. Moana is the daughter of the chief, and she's expected to assume this role. But right away, you see it's a role that truly serves the community. Moana and her family work alongside the farmers, fishermen, and women, the young, the old, and the sick. It's refreshing to watch characters who aren't sitting around waiting to be served.
03. Moana doesn't have to struggle with a male versus female world.
There was no question about what Moana could or couldn't do as a female chief. I was stunned. I asked my husband who is from Hawaii, "So it doesn't matter whether the next leader is a male or a female—whoever it is becomes the next chief?" "Yup." Still, I kept waiting for a plot twist to challenge her femaleness, but nothing did and it was awesome.
04. Great effort went into researching this film.
Disney has had a controversial history of inaccurately portraying cultures in its films. But the producers paid fine attention to detail and constant feedback from the Oceanic Trust—"a group of anthropologists, cultural practitioners, historians, linguists, and choreographers from islands including Samoa, Tahiti, Mo'orea, and Fiji"—to make Moana a culturally authentic portrayal. As we left the theater, I asked my husband (who is notoriously picky about how Polynesian culture is portrayed) how he felt about it. "It made me miss home," he said, with the faintest glimmer of a tear in the corner of his eye. A good sign.
05. She assumes (and expects) the best of everyone.
Moana's sidekick is a rooster named HeiHei who director Ron Clements says "might be the stupidest character in the history of Disney Animation." HeiHei's character was saved only months before release. Moana is the only one who sees HeiHei's inherent value, and you'll have to see the movie to find out why it doesn't disappoint.
06. She follows her heart...
...while still honoring her family and her people. I won't give it away, but Moana discovers something important about her people's history and makes it possible for them to reclaim their ancient calling. She has to go against her parents' wishes, but not in a "forget you" kind of way (ahem, Ariel); she does so respectfully and knowing that her decision is at its core centered on rescuing her people. 
07. She comes from a line of empowered women.
Moana's grandmother and mother help Moana discover why the sea is calling her. There are no soliloquies about Moana's rightful "place" in society as a woman, she just does what she's called to do.
08. She refutes the princess trope.
In one scene, the demi-god Maui calls Moana "princess," but she's much more than that. "I am not a princess," Moana insists. Maui barks back, "If you wear a dress and you have an animal sidekick, you're a princess." In the current political and cultural climate, seeing a strong female protagonist reject Maui's stereotype, you can't help but feel it's a small victory for girls and women everywhere. 
09. She shows us that it's OK to have second thoughts.
There are several times throughout the movie when Moana doubts her ability to save her people. There's one point when Moana actually gives up. Rather than being painful to watch, it's easy to see why Moana would feel afraid, intimidated, and inadequate. We all know what that feels like, which is what makes it easy for us to root for her all the way.
10. She's a total badass.
She learns how to sail a boat, convinces a demi-god to do her bidding, climbs a sky-scraping rock mountain that is also the door to the realm of the gods (where no mortal has gone before), tricks a giant bling-loving crab, and battles a seething lava goddess all while barefoot and in a dress. Enough said.
Before the movie started, I told my husband, "I'm calling it right now. This is going to be the greatest Disney princess movie ever made." It also happens to be the first one I've seen in a movie theater with my 2- and 3-year old daughters. For that, I could not be more thankful and proud.
Photo Credit: Walt Disney Pictures