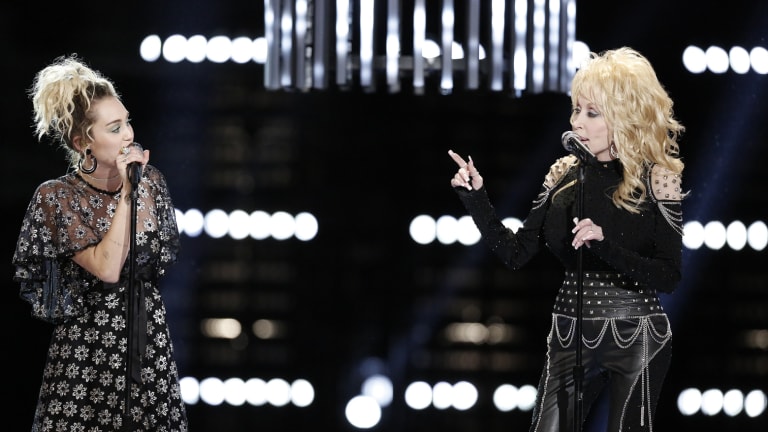 Miley Cyrus Goes Back to Roots, Reprising 'Jolene' with Her Godmother, Dolly Parton
This is a must-see performance.
Last night, The Voice judge and often eccentric entertainer Miley Cyrus partook in a performance that showcased a timeless throwback. Cyrus joined her godmother Dolly Parton on stage (yes, you read that right) along with the a cappella group Pentatonix to deliver a truly stunning rendition of Parton's famous hit "Jolene."
The performance was yet another in an ever-growing list of pop–country collaborations. Justin Timberlake with Chris Stapleton, Lady Gaga with Hillary Lindsey, Beyoncé with the Dixie Chicks, and others are proving that country is having a bit of a moment in pop music right now. More than that, though, the talent-filled display was a pleasant reminder that Cyrus does, in fact, have more to offer than the theatrics we've seen since her 2013 "Blurred Lines" VMA performance, which I've tried to blur from my memory.
Alongside the classic talent of Parton, Cyrus shone all the better. Lady Gaga, also known for her shock-value visuals of the past, collaborated with Tony Bennett for the 2014 album and PBS special Cheek to Cheek, which was also a refreshing departure. Bennett has become something of an evangelist for pop stars to return to classic roots; another famous lady he worked with was the late Amy Winehouse.
Miley, whose father, Billy Ray Cyrus, is a country star in his own right, sounded as natural as can be alongside the legendary Parton. This comes after Miley recorded a cover of the song as part of her Backyard Sessions project in 2012, in which she captured the country twang perfectly. Pentatonix also released its a cappella rendition this year, featuring Parton herself. Which is all to say, this collaboration was years in the making and feels like it was meant to happen at some point. Leave it to prime-time competition shows to bring great talent together on one stage.
It goes to show that the wisdom of age really is a beautiful and powerful thing, when artists of different generations come together to revive old hits that can outshine "Party in the USA" any day. There's something about timeless songs such as "Jolene" and the jazz standards on Cheek to Cheek that lives on beyond the fleeting gimmicks of foam hands or meat dresses. There's something about really good songs, like any art, that lifts us above all that.
I have to say, with all these callbacks to the roots of good music and entertainment and the talent to match, it's a rejuvenating moment in pop music today.
Photo Credit: The Voice