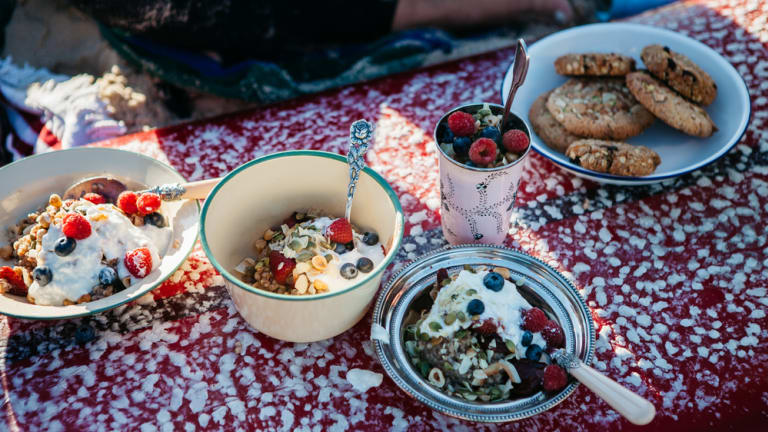 Easy Ways to Protect Yourself Against High-Risk Diseases in Your 20s and 30s
Living in the moment can be great, but it's not a good approach for your health.
During our twenties and thirties, it's easy to feel invincible. Old age seems far away, and we're multitasking superwomen. Why worry? The millennial game, after all, is about playing as hard as we can. "There's no time like the present," as they say.
But thinking about the future of our health is essential. For National Stomach Cancer Awareness and National Diabetes Awareness Month this November, we're delving into the power of what we can do now for early prevention of chronic diseases. Prevention is cheaper (and more effective) than treatment. When one in four American adults have two or more chronic conditions, according to the Centers for Disease Control and Prevention, it's worth paying attention to ASAP.
01. Stomach Cancer
Stomach cancer owns the title as the fourth most common cancer in the world. While it's most prevalent in the elderly, it's never too early to take extra care.
The Gastric Cancer Foundation shares that a major risk is eating a lot of smoked, salty, and pickled foods—aka, most processed foods that dominate American grocery stores. High salt consumption aggravates the stomach's mucosal lining, increasing vulnerability to carcinogens. It also harms the stomach's inflammatory response, preventing self-repair in times of need.
A high salt diet also encourages Helicobacter pylori, a bacteria that causes ulcers, a risk for stomach cancer. Luckily, it can be treated with antibiotics, but this emphasizes the lifelong habit of paying attention to your body and seeking medical help when necessary.
Swap the salt shaker for fresh spices and herbs. Avoid packaged, instant foods; whole and fresh is the way to go. It tastes better, too.
02. Heart Disease
As the leading cause of death in the United States, this "silent killer" primarily owes its development to high blood pressure (hypertension) and high LDL ("bad") cholesterol. Both factors can be altered by healthy habits. For example, limiting salt intake lowers hypertension, the cause of 45 percent of cardiac-related deaths in America.
As for improving cholesterol? Swap processed meats and fast food for lean proteins and fresh produce. "Fiber can also lower 'bad' cholesterol in our blood," adds Natalie Robertello, RD, a registered dietitian in upstate New York. Think whole grains, black beans, and apples.
Exercise is another ally. "Physical activity has the greatest cholesterol-related impact," Robertello says. "It can lower your risk for multiple diseases." Along with smoking cessation, a balanced diet and physical activity will diminish the major risk factors that nearly half of American adults already have.
03. Alzheimer's
While Alzheimer's is associated with the elderly, it isn't a normal part of aging. This degenerative disease can be prevented by protecting your brain while you're young. Alzheimer's Association shares that living a mentally active lifestyle toughens up (and produces) nerve cells. So pick up a book or learn a new hobby.
Sleep is also crucial. It's prime time for your brain to rest and recover. Moreover, Alzheimer's patients have high levels of beta-amyloid, a protein marker of the disease. High levels of this protein have been observed in people who don't get adequate sleep, about seven to eight hours a night.
04. Cervical Cancer
Cervical cancer is the second most common cancer in women worldwide. Luckily, it's also the most preventable, thanks to smoking cessation and routine checkups for a test called a Pap smear.
Designed to detect abnormal cervical cells that may become cancerous, a Pap smear is a key prevention tool. It's a standard component of an OB-GYN visit and should start at age 21. From 30 to 65, a woman should get a Pap smear every five years if her lifestyle doesn't change. It's all about adhering to routine appointments, a good habit that honors your health in the long run.
05. Diabetes
Fueled by unhealthy diets and physical inactivity, Type 2 diabetes has a strong relationship with behavioral and lifestyle factors. It's the primary cause of kidney failure, blindness, and amputations of lower extremities. Each year, 1.4 million Americans are diagnosed with this disease—and that number is rising.

"Type 2 diabetes doesn't happen overnight," explains Katerina Melekos, RD, a registered dietitian in Montclair, New Jersey. "It's a culmination of continuous inactivity coupled with a high intake of sodium, sugar, and saturated fat." So exercise, and ditch the sugary drinks (like soda, cocktails, and fancy coffee fraps) and processed meat (like hot dogs) along with high-glycemic foods such as white rice and white bread. These processed carbs cause a prolonged insulin spike, contributing to diabetes. Opt for nutritious whole grains, lean meats, and healthy fats.
If you have a sweet tooth, spring for a scoop of Halo Top. Its founder, Justin Woolverton, who is hypoglycemic, created Halo Top to give diabetics an all-natural, preservative-free, low-sugar dessert that actually tasted good and wouldn't compromise their sugar levels. In November, Halo Top will donate $1 for every social media #RaiseYourSpoon tag to the Diabetes Research Institute Foundation. It's a small (and delicious) gesture that can make a sweet difference in fighting this prevalent disease.
While a few bad habits might seem like a drop in the ocean, repeating them can work against you. Perform each lifestyle choice with a motive: your health, mind, and body. The power of prevention is something fierce.
Photo Credit: Luisa Brimble