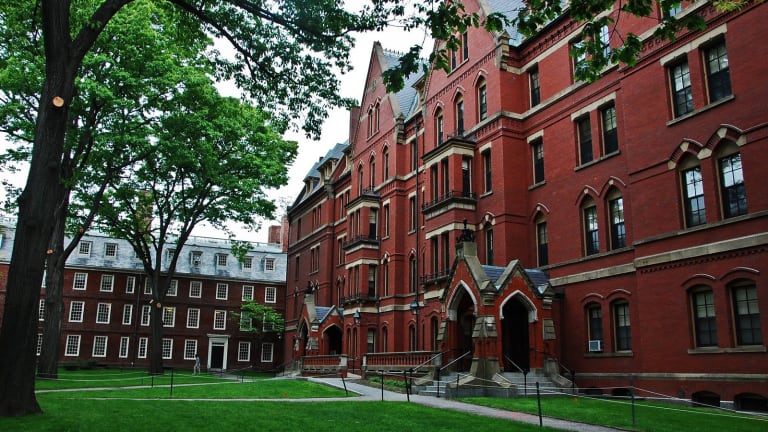 Why Harvard's Response to Women's Objectification Is a Move In the Right Direction
Whether you think the punishment was too harsh or not, it's good to see that actions have consequences.
Last week Harvard's newspaper, The Harvard Crimson, uncovered a shocking document from 2012. It was the Harvard men's soccer team's "scouting report"—a document detailing in lewd terms the sexual attractiveness of each recruited athlete on the women's soccer team. The nine-page document, which was circulated among the players via email, included numerical rankings of each of the female athletes' physical attractiveness, paragraphs explicitly assessing their sexual appeal, photographs, and demeaning nicknames for each woman. It also included an assigned sexual position coinciding with their position on the field.
Six athletes from the women's soccer team responded to the document's release with an op-ed published in the university newspaper last week, decrying the actions of the men's soccer team and outlining the "embarrassment, disgust, and pain" they experienced as a result.
After the esteemed institution's general counsel reviewed the document in its entirety, it was determined that the tradition of the "scouting report" continued into the current sports season. As a result, Harvard University President Drew Faust announced yesterday that the remainder of the men's soccer season is cancelled. Remaining games will be forfeited and the team, currently ranked No. 1 in the Ivy Leagues, is barred from participating in the NCAA Tournament as well as achieving an Ivy League championship.
Harvard students expressed a divided response on the university's decision. While some felt the punishment was deserved, others felt it was unfair that the entire student body had to shoulder the consequence of a prematurely terminated season. Regardless of the unfolding controversy surrounding the nature and level of the punishment, the university aptly recognized that consequences for the team's actions are a necessary step toward a societal respect for women.
"Actions have consequences, and character counts." This statement from Harvard University men's soccer coach Pieter S. Lehrer is a refreshing response to the team's prolonged sexual objectification of the university's female athletes. As his words and the university administration's reaction imply, if we want to reverse the culture's acceptance of demeaning women, inappropriate words and actions must be met with accountability.
The female players replied in a statement. "We are frustrated that this is a reality that all women have faced in the past and will continue to face throughout their lives," they wrote. "We feel hopeless because men who are supposed to be our brothers degrade us like this. We are appalled that female athletes who are told to feel empowered and proud of their abilities are so regularly reduced to a physical appearance.... We are concerned for the future, because we know that the only way we can truly move past this culture is for the very men who perpetrate it to stop it in its tracks."
In the wake of this, it's hard not to remember another time in Harvard's not-so-distant past that looks-based rankings were being practiced. In fact it was about 13 years ago to the day of this recent scandal. 
At 9:48 on October 29, 2003, a Harvard student named Mark Zuckerberg posted an entry to his new website that read: 
"The Kirkland facebook is open on my computer desktop and some of these people have pretty horrendous facebook pics. I almost want to put some of these faces next to pictures of farm animals and have people vote on which is more attractive."
Then his project was just a little website called Facemash, but make no mistake, the global phenomenon known today as Facebook started in a Harvard dorm as a means of judging people's looks. The Harvard Crimson published a piece at the time of the site's conception which quoted the site's own tagline of sorts: "Were we let in for our looks? No. Will we be judged on them? Yes." 
Students expressed outrage over the 'hot or not' premise and Zuckerberg shut it down copping to the fact that it was a bit "sketchy," the Crimson reported. Still though, traffic to his little hacking experiment spoke for itself. Zuckerberg was far from the only student on campus engaging in objectifying behavior. 
Flash forward to this recent event, and it's hard to tell whether Harvard's claims to have a no tolerance policy for this type of behavior is as good as it sounds.
While Athletics Director Robert Scalise recognized that the decision to cancel the soccer season was "serious and consequential," he stressed that the team's behavior was "completely unacceptable, [has] no place at Harvard, and [runs] counter to the mutual respect that is a core value of our community." He concluded, "Harvard Athletics has zero tolerance for this type of behavior." And neither should the rest of the world.
Female athletes, just like everyone else, deserve better. If we want future generations of girls to feel confident in their abilities, secure in their worth that is more than skin deep, and ultimately, be respected by their male counterparts, exacting responses like that of Harvard University feel appropriate but must also be enforced and made a part of the daily culture, not just a judgement enforced when things go wrong. 
"'Locker room talk' is not an excuse because this is not limited to athletic teams," members of the women's soccer team wrote in their op-ed. "The whole world is the locker room."
In many ways institutions of higher education act as microcosms of society, shaping future generations. The inappropriate actions of the male soccer players and the reaction from Harvard University sets a precedent for the way similarly demeaning acts will be dealt with in the future. I hope the rest of the world takes note: Sexual objectification of women is not acceptable, and demeaning remarks should not be discounted as okay. People can debate the fittingness of a particular punishment, but few would disagree it's generally not wise to do something that you wouldn't want to get caught doing. We might have a long road ahead of us in the fight against women's objectification, but we can only move forward if people are held accountable for their words and actions, one consequence at a time.
Photo Credit: Harvard