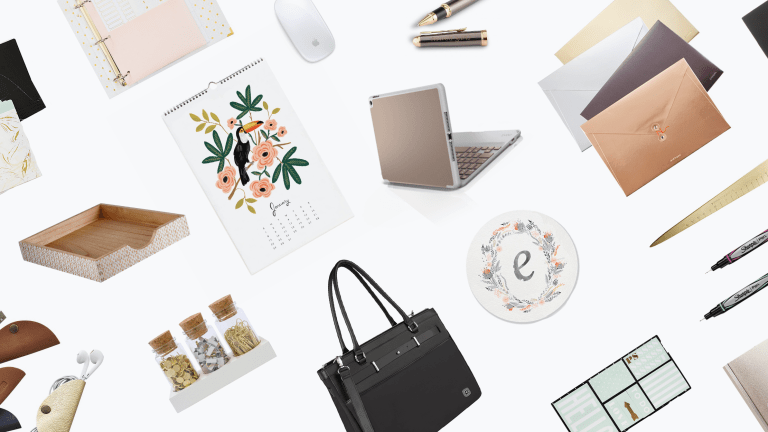 20 Christmas Gift Ideas That Will Help Your Loved Ones Achieve Their Goals Next Year
Find out their productivity style and buy them something they'll actually use this year.
Stumped on what to get that special someone for Christmas? Want your gift to be utilized rather than collect dust this year? We've got the productivity gift guide for you.
The Verily team took this quick quiz from the Harvard Business Review to find out their personal productivity styles: Prioritizer, Arranger, Visualizer, Planner. Different tools work best depending on a person's preferred productivity style. So we compiled a list of Christmas gifts based on the results!
You can surreptitiously ask your significant other, coworker, boss, sibling, or best friend to take the productivity style quiz (it takes less than five minutes), or you can make observations about their working style to figure out what kind of productivity they gravitate toward. Then check out our list of ideas that hit the nail on the head when it comes to choosing a gift that will keep on giving all year long.
For the Prioritizer
Prioritizers prefer logical, analytical, fact-based, critical and realistic thinking. They are typically time-managing gurus when it comes to prioritizing projects. They strive to meet goals and objectives starting with the highest-value tasks down to the lowest value tasks.
Constructive tools for prioritizers include checklists, notepads, and any gadgets that help streamline the process of completing the tasks ahead of them.
For the Arranger
Arrangers prefer supportive, expressive, and emotional thinking. They encourage teamwork and utilize their intuition to make timely decisions. They also have a tendency to colorize lists and keep tasks visually comprehensive.
Arrangers love anything that organizes or orders their workspace. Stylish office supplies, and accessories are an Arranger's best friend.
For the Visualizer
Visualizers prefer holistic, intuitive, and integrative thinking. They're known for creativity and innovation, and they can see the big picture while being able to manage and juggle multiple tasks. Visualizers think strategically about projects and work quickly to execute tasks. Like Arrangers, they tend to maintain visual lists, often using color.
Good gifts for a Visualizer include planner or pads where they can brainstorm and make their visions come to life (or anything that can help with their ideal creativity and visualization process).
For the Planner
Planners thrive on organized, sequential, planned, and detailed thinking. Though they are similar to Prioritizers, Planners like to indulge in organizing and scheduling even the nitty-gritty details of a project.
The Planner has never met a calendar or project-planning tool that they did not like. Other gift ideas to help streamline their already pristine processes include chic chargers or folders to help the Planners be prepared for whatever changes or surprises comes their way.