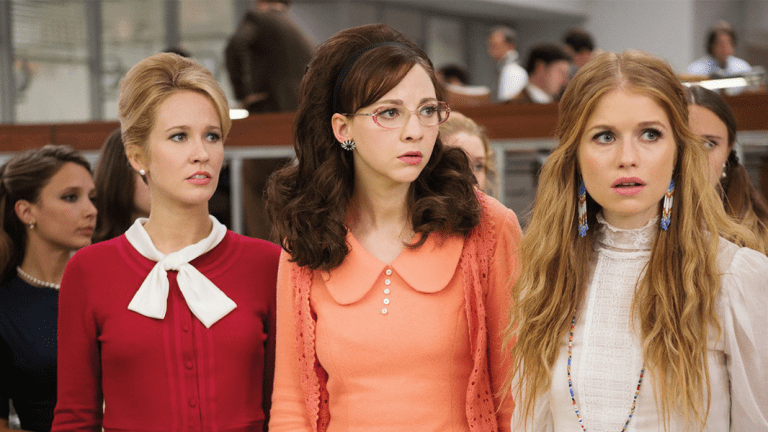 'Good Girls Revolt' Was Exactly the Reminder We Needed About Our Power As Women
The Amazon series we were all watching this past weekend did not disappoint.
At the height of the women's rights movement of the 1960s, 46 women working at Newsweek were fed up with gender discrimination on the job. Almost across the board, women only worked as mail girls, fact checkers, and researchers at the publication. The title of staff writer was reserved solely for men. That is, until Lynn Povich defied the odds by becoming a junior writer and spearheading a revolt against the system.
Good Girls Revolt, an Amazon series released last Friday, is based off Povich's 2012 book and unveils a fictionalized account of the "good girls" at Newsweek—or as the show call it, News of the Week—who sued the media organization for sexual discrimination.
The series was created by Dana Calvo and is helmed by an interesting, if slightly underdeveloped, cast of young revolutionaries. Patti Robinson (Genevieve Angelson), the quintessential '70s cool girl, and her coworkers, Cindy (Erin Darke) and Jane (Anna Camp), work as "researchers" in "the pit." Actress Grace Gummer plays Nora Ephron who appears sporadically throughout the episodes. The main men include Finn Woodhouse (Chris Diamantopoulos), editor of the fictionalized magazine, and young reporters Douglass Rhodes (Hunter Parrish), Sam Rosenberg (Daniel Eric Gold), and Gabriel Greenstone (Teddy Bergman).
Over the course of the season we see an interesting dynamic play out. On the one hand, the women are friends with their coworkers (sometimes more than friends, even). But as we watch them tackle the news—the men leading, the woman assisting—we see the women slowly realize, as their lawyer tells them, that their lack of rights is something to take personally. Their civil rights attorney helps them see that any regard for their male colleagues isn't compensatory for the fact that they aren't being granted their legal rights at work.
The show's narrative felt, to me, equally as relevant now as it must have in 1970 when it was happening. We have achieved a lot thanks to the women's movement some 50 years ago. We have enormously more opportunity in the workplace. For the first time ever, more women than men are going to college. Motherhood is being acknowledged more and more for the heroic task that it is rather than just a woman's obligatory job. We've even reached a point at which a woman has a fair shot at the White House.
"Fifty years ago, a man would have written this piece," staff writer Stav Ziv wrote in a Newsweek article leading up to the series premiere. "I might have done research or helped report it, but a man would have written the words. While his career advanced, I might have been told to go somewhere else if I wanted to write, because 'women don't write at Newsweek.'"
But for all the strides we've made, the current climate both in America and abroad feels a bit like a bottle of Diet Coke that someone just shook. Women are frustrated by the fact that for all our small victories, we still haven't achieved true equality—the kind that respects all people for their unique differences but holds them to the same standards.
What those women of the early '70s experienced was, of course, much different than what women today face. But the basic premise of hypocrisy and casual deference toward women endures.
Contrary to what the discrimination within the Madison Avenue newsroom suggested, Newsweek was not entirely deaf to the countercultural voices fighting for women's rights in the '60s. On March 16, 1970, the magazine published an ironic cover story on women's liberation. Instead of assigning the culturally responsive piece to one of their own female staff, Newsweek hired Helen Dudar from the New York Post to pen the story and published it with the cover photo of a naked woman's silhouette, fist raised in the air. The female employees felt that the publishers' decision to run the cover story highlighted ignorance of the fullness the women's real plight, preferring to focus on a sexy offshoot and overlook the injustice in their own offices. As a result, the women planned a press conference that day to go public with a formal complaint.
Dudar's story was a pertinent piece, in which she unknowingly addressed issues present within the magazine itself as well as larger problems of women's discrimination in the workplace. "[The American woman] earns less than men and has fewer prospects for promotion, no matter how superior she may be," Dudar wrote. "[Feminists are] talking about changes in social attitudes and customs that will allow every female to function as a separate and equal person."
Sometimes talk of revolution and young rebellion can feel cliché, but in this series it was exciting. The actors were fresh; the stories were interesting. As we wonder what the next week, month, and year will hold for the women of our time, it was inspiring to see a historical account of what our predecessors did. It was a reminder that we very much needed—a reminder that we can make change for ourselves and that fighting for equal opportunity is never something to shy away from.
"We were women in transition, raised in one era and coming of age in another, very different time...here we were, entering the workplace in the 1960s questioning—and often rejecting—many of the values we had been taught," Povich wrote in her book which inspired the series. "We were the polite, perfectionist 'good girls,' who never showed our drive or our desires around men. Now we were becoming mad women, discovering and confronting our own ambitions, a quality praised in men but stigmatized—still—in women."
Whether fiction or real life, women have the responsibility and privilege of helping each other. It's not up to Sheryl Sandberg or Michelle Obama or Malala Yousafzai to make change for everyone. Action among a small tier of women with clout isn't enough. It's up to all of us to make change for the one woman who is suffering, who is dealing with a sexist boss or a classroom full of males in an economics class who think she isn't as good as them or a sexual assault that no one believes actually happened.
As I watched the women of Good Girls Revolt become a team, one by one convincing another researcher to join their cause, I saw the power of unity. I saw how together they felt brave, where alone they felt unsure.
I don't know what exactly change looks like in the modern age, but if it looked—or rather felt—anything like the press conference scene in the season finale of Good Girls Revolt, I think we might actually get somewhere. 
Photo Credit: Amazon