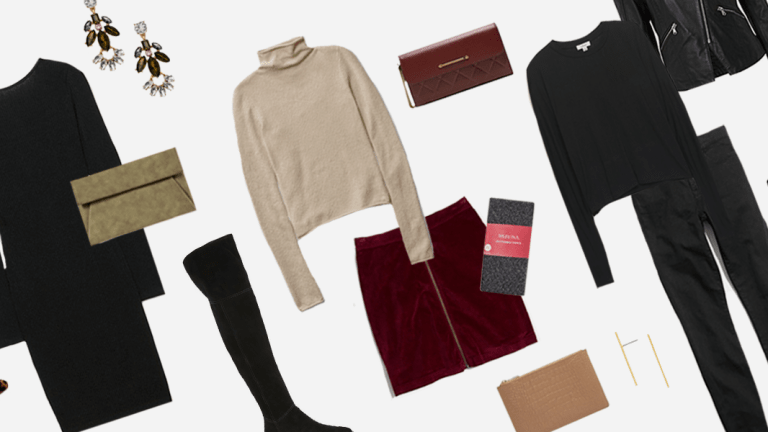 3 Dressy Outfits for Girls Who Don't Wear Heels
Want to look fancy without adding extra height (or pain)? Here's some inspiration.
It's no secret that most women love shoes. Some even love shoes to the point of obsession, but not all of us are so fond of the styles that fall under the "stilettos" or "pumps" categories. In a world that often associates dressing up with high heels, we ladies who'd rather stay grounded have a hard time getting dressed. If the pain isn't your gain or you simply don't want the extra inches in height, there is a way to get dolled up without the heels. We have a few tricks to looking fancy in flats, but at the end of the day, confidence will always make you the most occasion-appropriate. So rock your flats proudly, ladies!
01. Rock Statement Jewelry
The trick when wearing more casual shoes is to make up for it everywhere else. Don't underestimate the power of costume-worthy jewelry—these faux jewels will immediately perk up your getup. Statement earrings add a flair of glamour, especially if your hair is swept up. Trust us, nobody will be wondering why you didn't wear pumps.
02. Black on Black
It's the most basic trick in the book but honestly the most effective. When in doubt of your no-heels outfit, wear black on black. This New Yorker–approved look works for everyone, instantly giving you that effortlessly cool vibe street stylers are known for. So whether you're off to a rooftop bar, a nightclub, or a girls' night out on the town, you'll be outfit-appropriate. There's no going wrong with this look.
03. Go Long
The over-the-knee boot was popular in the seventies, and we will admit that we're happy to see its return. Why? Because these boots are classier without the heel. The long, elegant line of the boot creates a chic silhouette that can be worn to almost any dressy event. Pair them with an A-line skirt that hits just above the boots and a pair of warm tights, and you'll be ready for anything the night throws at you.