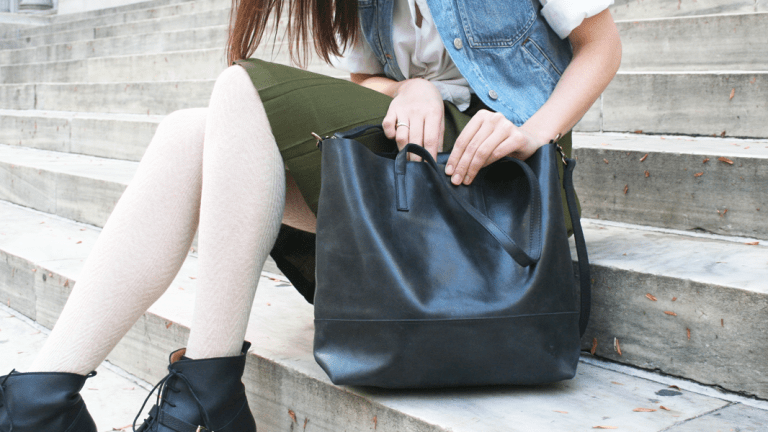 Are Women the Future of Our Global Economy? This Fashion Company Thinks So
And it's giving away a leather tote to one lucky Verily reader!
FASHIONABLE is not like most other ethical brands you're familiar with. There is no one-for-one policy, and the proceeds from your purchases are not a "one-and-done" donation to impoverished communities that we've become accustomed to seeing. That's because the mission behind this unique leather goods and accessories company is much bigger.
FASHIONABLE's co-founder and CEO Barrett Ward explained to Verily that the core mission of his brand is not to temporarily give charity to those in need but is much more ambitious: to end generational poverty through creating jobs. "There are enough charities in the world—we need businesses to create jobs. That is taking a serious solution to poverty," he says. "We do not believe that a social business should be creating products in China and then giving the portion of their products to the poor. That keeps the poor out of the economic group. They need to be a part of the economic loop."
More pointedly, Ward believes that a serious step to solving poverty means creating jobs specifically for women. "By creating jobs for women, you will have the greatest impact on the community," he says. The company believes that the social influence of women is vital for economic growth.
So how does FASHIONABLE support this? By working with developing or existing businesses to expand and employ more women and by holding these partner businesses accountable to fair employment practices. Ward explains, "We believe in partnering with manufacturers in the communities we wish to impact, creating jobs along the way." The goal is to increase the living wage of everyone on the manufacturing team with guaranteed wage minimums and by accepting price increases on products, as long as those increases go to workers.
FASHIONABLE's main objective is to invest in its partners through establishing long-term purchasing, thus helping them to become viable businesses. Since its beginnings in Ethiopia, FASHIONABLE has now expanded into Peru, Cambodia, Zambia, and the United States.
The beautiful handmade leather goods and fine jewelry you see on FASHIONABLE's website are made by women who have been given a chance to use their talents and the opportunity to stand on their own two feet by overcoming difficult situations, such as homelessness and addiction.
That includes women such as Meseret, who says, "At the age of 15, I ran away from my family and worked in the prostitution business. I worked for thirteen years on the streets. Over all these years I've seen a lot of challenges in my life, and I have been hurt so many times by many people. I am so glad to join the team at FASHIONABLE. I have so much more joy at this job compared to my life on the streets."
With an aesthetic that certainly competes with any other mainstream leather brand, we can't find a reason not to buy one of FASHIONABLE's bags!
Dying for one of FASHIONABLE's stunning bags now? Then it just might be your lucky day because we're giving away one black leather Abera cross-body tote! To enter in the giveaway, follow us on Instagram (@verilymag) and check out the instructions we're posting there.