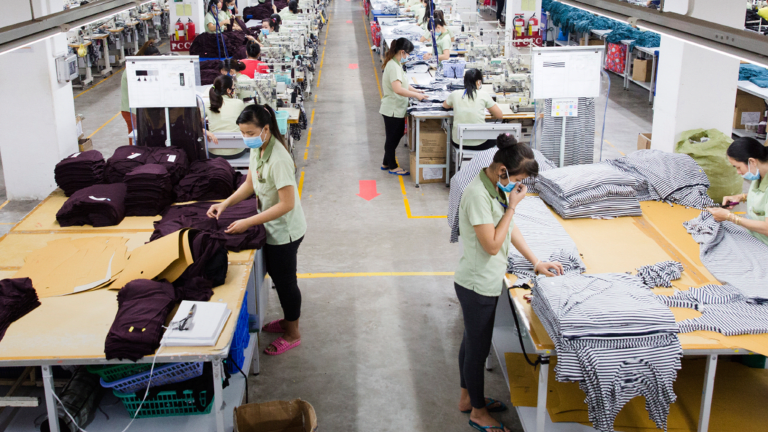 These Anti–Black Friday Events Are Reclaiming the Spirit of the Season
Hate Black Friday craziness? This is a great antidote.
With lines wrapping around stores at 3 a.m. and news reports of people being trampled to death by frenzied shoppers, it goes without saying that America temporarily loses its mind on Black Friday. When the mere idea of sales and discounts turns everyday people into angry mobs, it's time to step back and reconsider the Black Friday habits we've developed. This is exactly what a handful of ethical brands are doing this Friday in an attempt to change the mentality behind Black Friday by reclaiming the spirit of giving.
These ethical brands are on a mission to not only support artisans worldwide but to also heal the consumerist mentality that leaves so many of us feeling empty during this season of love. Check out these alternative Black Friday events and regain the spirit of giving.
Slumlove Sweater Co.
Not your typical Black Friday Sale: Slumlove is holding an "anti" Black Friday event where 50 percent of all sales on Black Friday will be donated directly to its nonprofit partner organization Kibera Penda Project. 
This organization provides high school scholarships to children living in one of the world's largest slums, and it is hoping to sell enough on Black Friday to provide full scholarships for several students. Even though this isn't necessarily a discount for customers, the company is still hoping to get the word out about the promotion and have people purchase products on Black Friday that will be doing extra good. 
Everlane 
Every year, Everlane donates its Black Friday profits to improve the lives of the people who work at their factories. This year, it is collaborating with Nobland, the largest factory it works with, to source safe, high-quality helmets for every employee.
Why helmets? In Vietnam, thirty-five million people commute by moped, but almost none of them use safe helmets. Each helmet costs $14.72 to make, so the goal is to make $117,760 to make eight thousand helmets for factory workers in Ho Chi Minh City so that they may get home safely.
People Tree 
In an effort to remind people that Black Friday is just like any Friday of the year, People Tree is partnering up with the United Kingdom's leading fair trade organization, Traidcraft, to support its 'Just Friday' campaign. With the social media hashtag #JustFriday, both People Tree and Traidcraft want to encourage people to shop with thought and to buy with love.
MadeFAIR + Bead & Reel
Joining the alternative Black Friday party is ethical fashion retailer, MadeFAIR. In collaboration with Bead & Reel, MadeFAIR is holding their annual Ethical Black Friday event. 
From Black Friday through Cyber Monday, both MadeFAIR and Bead & Reel will be shutting down/redirecting their sites to the Ethical Black Friday page, selling just one item—the Linda Scarf. The site shows the breakdown of production for each scarf sold, allowing half of the proceeds to go to the Dressember Foundation and its movement to leverage fashion and creativity to restore dignity to all women. 
Patagonia
Patagonia has been recently trending for announcing its plan to donate 100 percent of its Black Friday proceeds to grassroots environmental groups. In an effort to unite the country on environmental values, Patagonia will be donating an estimated two million dollars to organizations that are fighting to protect resources such as water, soil, and air.
Braintree Clothing
Sustainable fashion brand Braintree Clothing is holding its annual #thoughtfulfriday campaign on Black Friday to encourage thoughtful shopping. Fifty percent of all sales made through Braintree's website will be donated to two charities: Refugee Council and a second charity of the customers' choice through social media nomination.
The Refugee Council is one of the leading charities in the UK working directly with refugees and supporting them to rebuild their lives. The charity provides access to settled housing, health and well-being services, help with asylum-related issues, financial stability, and training and employment.