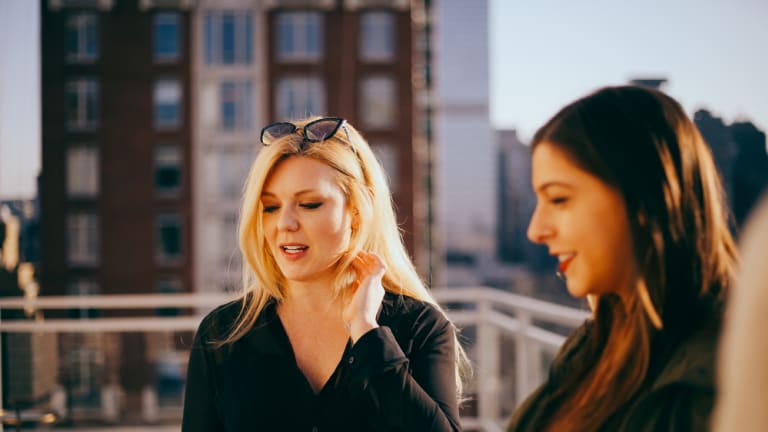 These Female Leaders Experienced Sexual Harassment, and Here's Their Advice
Too many women have stories about how sexual harassment affected their careers.
What follows is an excerpt from Earning It: Hard-Won Lessons from Trailblazing Women at the Top of the Business World by Joann S. Lublin (Harper Collins), now available wherever books are sold.
Ambitious women today feel little connection with female business executives who overcame obstacles to succeed. Those leaders seem to have catapulted directly into their lofty posts once they got past some setbacks along the way.
But there are powerful parallels between their world and yours. I know this landscape firsthand. In 1969, I became the first female summer intern for the Washington, D.C., bureau of the Wall Street Journal. It was a highly prestigious office of the premier business newspaper in America.
I was thrilled to make my professional debut at such a well-known publication. During my nearly three months at the paper, my byline appeared on five front-page features. And I learned a lot about big-time journalism from my lanky, middle-aged editor. A veteran of twelve years in the news business, he smoked a pipe and demonstrated a deft touch with words.
But my Journal summer stint had an unexpected and unwelcome conclusion. On the day my internship ended, my boss walked me out the door of the office. He then leaned down and kissed me on the lips.
I felt violated. I hardly knew the man. Yet I yearned to be a big-time journalist someday. Mumbling goodbye, I fled the office. I remember thinking, "I can't tell anyone what just happened."
I repressed memories of this horrific incident until 1991, when I helped the Journal cover alleged sexual harassment by Clarence Thomas during Senate confirmation hearings for his U.S. Supreme Court appointment. I suddenly recollected my supervisor's misbehavior. I shuddered visibly.
The unwanted goodbye kiss was not an aberration when it came to sexist behavior in the workplace. "Where have they been keeping a dish like you?" male sources often asked me in a teasing fashion.
These setbacks, while sometimes daunting, didn't discourage me. They emboldened my passion to prove that working women are just as capable as men. I shared the Journal's 2003 Pulitzer Prize for stories about widespread corporate scandals that toppled a number of top executives. As the paper's longtime management news editor, I have written extensively and overseen other people's reporting about such topics as women in the workplace, chief executive succession, executive pay, and company boards of directors.
Sexual Harassment Never Vanished
More than 75 percent of millennial women, who reached young adulthood around 2000, identify gender bias as a workplace problem, according to a 2011 poll by the Business and Professional Women's Foundation. The most common forms cited by the young women? Stereotyping. Unequal pay. Not being treated as an equal. Inequality of opportunities. Being held to different standards. Sexist jokes. And of course, sexual harassment.
The scourge of sexual harassment in the American workplace persists despite decades of outcry, litigation, legislation, and awareness training for workers.
Long after becoming the first woman to run a Fortune 20 company, Carly Fiorina remembered her early encounters with sexual harassment. And even as recently as 2015, the year Fiorina launched her bid for the White House, young women regularly approached her to share their tales of being harassed or demeaned by men.
While a young saleswoman for AT&T, Fiorina once rebuffed an amorous middle manager at the company's Mountain Bell unit in Denver. The two had spent much of the day visiting customers, and that evening, when they met for drinks in the hotel bar, she realized that the man viewed her as his next sexual conquest.
Although she escaped to her hotel room, "he called throughout the night and was angrier every time," Fiorina said in Tough Choices: A Memoir, her 2006 book. The next day, when she arrived at the Mountain Bell office in Denver, she was greeted with unwelcome stares from her coworkers. "Eventually, I was told that the man I'd rejected the previous evening had come into work that morning bragging about the great sex we'd had the night before," she wrote. Fiorina described the incident in greater detail along with how she dealt with it during our subsequent interviews. Rather than fume, she told a trusted male associate about what had really happened. "A guy who was well-respected in the office and knew me and believed me," she said of the man she confided in. As for the middle manager whose behavior had so upset her, she decided to exclude him from a major business pitch she made to a U.S. government agency.
"I don't think revenge is the right term," Fiorina said. But, she noted, "there are consequences to choices. The consequence for him was that he had destroyed a working relationship." And, she added, "he was a higher level than I was. I had no power. I just cut him out of what I was doing."
Thanks to Fiorina's instrumental role in winning the contract with the federal agency and the successful installation of AT&T equipment, the company promoted her to sales manager. The Denver harassment incident made a deep impression on Fiorina, helping her figure out how women should deal with offensive treatment on the job. She noted in her book, "We can only be diminished if we choose to allow it."
Sexual harassment has long represented an occupational hazard for women. As I wrote in a front-page article in the Wall Street Journal in 1981, unwelcome physical or verbal advances usually directed by men at women pervade the workplace and increase employee absenteeism and turnover.
Little has changed since then. One in four women has experienced sexual harassment in the workplace, Langer Research Associates found in a 2011 poll of 1,018 American adults. And 64 percent of both genders still viewed sexual harassment as a problem, a figure that soared to 88 percent for women who had been harassed. A survey of more than two hundred tech industry women with at least ten years of experience was also telling. Nearly all of the women worked in the San Francisco Bay area. A surprising 60 percent of those polled said they had experienced unwanted sexual advances.
Such behavior is not entirely random. Women in male-dominated organizations who display assertive, dominant, and independent personalities find themselves the primary victims of sexual harassment, a 2007 academic study concluded. "Sexual and sexist comments, unwanted sexual attention, and sexual coercion [are] primarily targeted at women who step out of place by having masculine characteristics, or 'uppity women,'" wrote Jennifer L. Berdahl, then a management researcher at the University of Toronto. "This suggests that sexual harassment is driven not out of desire for women who meet feminine ideals but out of a desire to punish those who violate them."
Penny Herscher of FirstRain, the business analytics firm in San Mateo, California, which she led between 2005 and 2015, believes sexual harassment remains prevalent because of how society treats women. "It is very deep and very fundamental," she said.
"We all have more power than we realize"
Linda Hudson rose from being an engineer to being the first female head of a major Pentagon supplier. She commanded BAE Systems, whose products include combat vehicles, until January 2014.
At the beginning of her four-decade career, Hudson frequently faced sexual harassment during business trips, industry conferences, and facility visits. "There were all kinds of evil and ugly things that happened in the workplace," she told the New York Times in 2009. "I know what it's like to have to find the skills to cope with that and still do well."
During our interview, Hudson said that she used to see pictures of nude women on desks and be greeted by catcalls as she made her way through factories. She was especially annoyed when male factory workers "accidentally" rubbed their arms across her chest.
But Hudson feared that an overly emotional reaction or complaint might cut short her advancement. "I wasn't going to let this defeat me," she said about the harassment. "You had to learn to deal with it." For example, she would make comments to the men about their inability to recognize her value to their organization. "That was their problem, not mine," she pointed out.
Coping with such incidents also shaped Hudson's leadership style. As chief executive of BAE, she tried to eliminate inequitable treatment of employees throughout the U.S. defense contractor. She required that middle managers and executives take a two-hour class about "unconscious bias" so that they could recognize how hidden preferences for members of certain groups often influence crucial workplace decisions.
She also put in place a system where a woman or a person of color participated in panels that interviewed potential middle managers and executives. As a result of Hudson's efforts, the number of women and people of color in senior management climbed nearly 10 percent between May 2011 and May 2013.
The moral of the story for contemporary women facing sexual harassment in the workplace? "You can outthink any man who is on the move," says Charlotte Beers, a brash trailblazer in the advertising business known as the "queen of Madison Avenue." Fiorina, former chief of Hewlett-Packard, notes, "We all have more power than we realize." Dina Dublon, an ex–finance chief at JPMorgan, also never felt unable to oppose harassment. "You just push back as equals," she says.
Photo Credit: Alexa Fernando