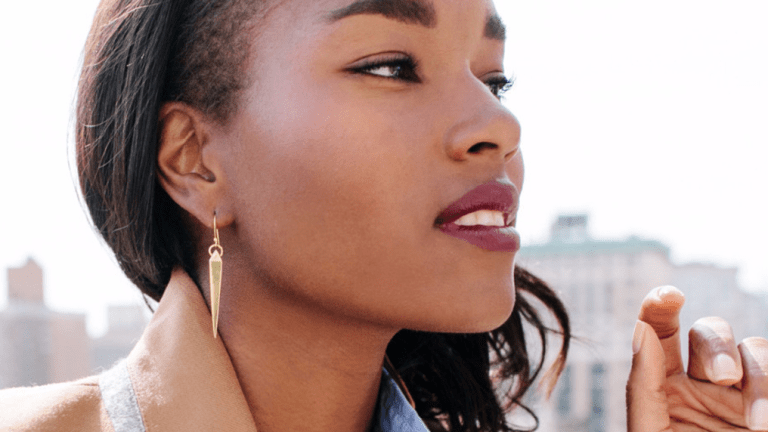 The Best Cyber Monday Sales to Check Out Today
Bargains you don't have to leave your couch for? Sign us up.
It's safe to say that most people love bargains. But as much as we may love a phenomenal discount on a great piece, the thought of waking up at 3 a.m. on Black Friday sounds as appealing as a juice cleanse.
Luckily for us, Cyber Monday lets us have our sleep and get our bargains, too.
We've gathered a list of our favorite shops and the discounts that are being offered Monday, November 28. What's better than getting great discounts on classy clothes and chic jewelry? Getting those discounts without even leaving your couch.
01. BaubleBar: 25% off 1 item and 35% off 2+ items
With a wide range of pieces and styles, BaubleBar is bound to have what you're looking for. Whether you're trying to find a specific piece or browsing for a gift for a friend or family member, the store has looks for every style. If you're on the hunt for the perfect bold statement necklace or a delicate pair of earrings, BaubleBar will have plenty of options to choose from.
02. Ubuntu Made: 20% off Zazzle products
Ubuntu Made features a range of exceptional pieces, from leather bags to colorful scarves and uniquely designed travel pouches. The company celebrates the artisanal work of makers within the Maai Mahiu community and drives sustainable revenue to Ubuntu's Foundation and on-the-ground philanthropic programs. Today the company will be offering 20 percent off of all its Zazzle products. Not only are you getting quality products for a great price, but you're also contributing to improving the lives of those who need it the most this holiday season. You'll feel good and look good.
03. 31 Bits: 25% off your whole purchase + free shipping with code MONDAYMAGIC
The eye-catching pieces from 31 Bits are hard to resist as is, but even more so with the sale being offered today. A few of the collections feature bold and bright beaded jewelry, while the Holiday 2016 and Designers + Inspirers collections show off more delicate metallic pieces. Each piece displays the integration of fashion and art and is the perfect thoughtful gift for you or your loved ones this year.
04. Soko: 30% off
If simple and stunning jewelry is on your wish list, Soko has got you covered. This ethical jewelry company based in Nairobi, Kenya, works with artisan entrepreneurs to make their stunning metallic handmade jewelry accessible to the international fashion consumer. Each day the company works toward building its business and improving the lives of its workers through a sustainable increase in income. Be confident in both wearing these pieces and knowing that they were made in an ethical and sustainable way.
05. ModCloth: 30% off
ModCloth is going above and beyond this holiday season. Setting out to delight customers with great savings, it's extending the discount dates to make sure you get everything you need. Starting Sunday, November 27, at 9 a.m. EST, ModCloth is offering 30 percent off everything on the site with coupon code CYBER16. The sale is running until Wednesday, November 30, at 9 a.m. EST. And as an added bonus, ModCloth is offering (when using the coupon code) free domestic savvy saver shipping.
06. doublehighfive bk: 25% off select items using code "blackfriday2016"
Made by hand from recycled rubber flip-flops by women in Mopti, Mali, the bracelets at doublehighfive bk are as striking as they are meaningful. The business has been doing work with local African artisans for twelve years, providing a dependable means of support to these women. Giving these bracelets as gifts isn't only a gesture of love to friends and family, but it's also an act of kindness toward these talented women. Today the company is offering a 25% percent discount on select items using the "blackfriday2016" coupon code. As if we needed any more incentive to buy them.
07. Sole Society: 30% off sitewide
Sole Society is giving us another excuse to add great pieces to our closet this fall. To celebrate Cyber Monday, it is offering 30 percent off the entire store.
08. Banana Republic: 50% off 5 regular-price items
Adding to the many things we have to be thankful for this season, Banana Republic is having an online and in-store sale. It is offering 50 percent off five regular-price items sitewide and in-store.
09. Bandier: 25% off sitewide using code CYBER25
We work out to feel good, but there's no harm in looking good while we're doing it. Bandier is known for making workout and yoga attire that is high-quality and fashionable. This Cyber Monday, take 25 percent off any item by using the code CYBER25. You just might find that a cute pair of leggings makes working out a little more enjoyable.