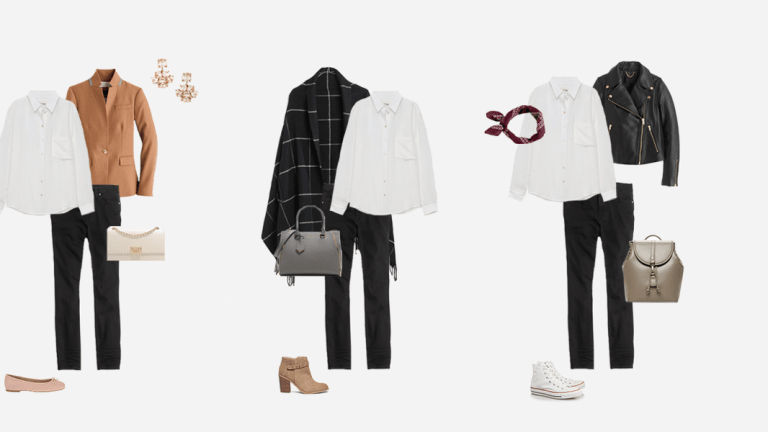 How to Wear the Same Thing Over and Over Again (Without Anyone Noticing)
It doesn't have to be a fashion faux pas.
Do you ever wake up and wish you could just wear the same thing you did yesterday? While many women would never wear the same outfit two days (or more) in a row, is it really a fashion faux pas if nobody else can tell?
Whether your busy workweek has you crunched for time in the morning or your weekend trip has you packing lightly, a few simple styling tricks will help you ace that outfit repeat time and time again.
01. Choose Neutral Colors for Your Base
A successful outfit repeat depends upon a neutral base—if you're wearing a bright red top three days in a row, people will definitely notice. Discreet pieces such as black pants and white button-ups will go unnoticed and look good.
02. Choose Base Pieces That Can Be Styled Differently
Choose base items that can be worn a few different ways. For example, a button-up can be worn with sleeves rolled to above the elbows, buttoned at the wrists, tucked in at the waist, untucked, or even tied. You can also pop the collar or leave it flat. Similarly, a pair of nondescript jeans can be cuffed or uncuffed. They can also be tucked into boots or worn with ballet flats. These simple styling changes can completely revamp your look.
03. Choose Statement Accessories That Demand Attention
Statement accessories draw the attention away from whatever else you're wearing. They become the focus of your outfit and influence the overall look. For example, if you're wearing a fun patterned scarf, people will be looking at your neck and not the fact that you wore the same shirt yesterday. You can similarly change it up with a bright statement necklace or earrings.
04. Don't Wear the Same Shoes
Shoes make a statement all on their own and really set the tone for your outfit. If you're wearing black booties, your outfit will come across a little more relaxed and will have a chic street style appeal. If you're wearing a pair of pink ballet flats, your overall look will come across as more darling and classic. The shoes communicate the vibe you're going for and feel like a big enough switch to hide an outfit repeat.
05. Layer as Much as Possible
Jackets, coats, blazers, and sweaters do wonders for switching up your outfit. These layering pieces are visually strong, adding another element to your look that makes your outfit so much more interesting (and totally different from the last time you wore it). You'd be surprised at how much a difference an oversize blanket scarf and a blazer can make.