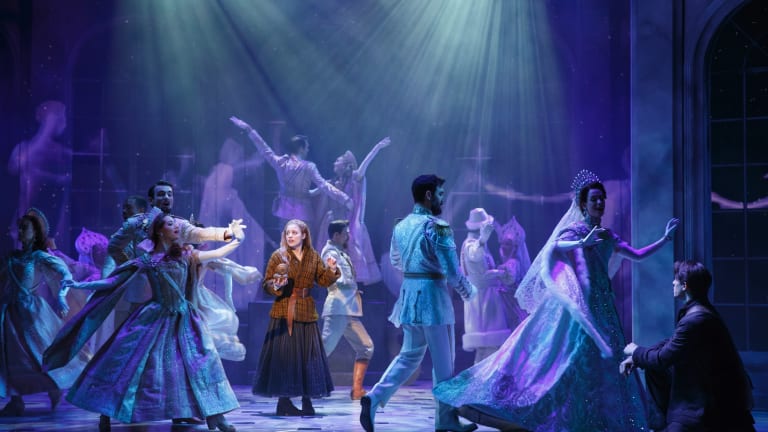 Anastasia Is Back! Here Are 3 Reasons She's an Awesome Heroine for the Modern Woman
She's definitely not your typical princess, that's for sure.
Have you heard? (Hint: There's a rumor in St. Petersburg.) Anastasia is coming to Broadway next March, and tickets just went on sale in October.
I'm pretty sure that nineties girls everywhere are having a major moment. I sure was when I heard the news. The 1997 often-mistaken-for-being-Disney animated film has sparked an almost cultlike following over the years due to its beautiful and strong heroine, its incredible soundtrack, and its fascinating—albeit loose—historical background.
Anastasia really lived on this earth; there really was a revolution that killed her family (although Rasputin had nothing to do with their deaths); Anastasia's grandmother really did survive the revolution and wanted desperately to believe that some of her family did as well. As it happens, though, Anastasia unfortunately died along with the whole of her immediate family. This thus makes the entire story of Anastasia's journey to find her family a matter of wishful thinking.
Nevertheless, there is still some basis for creating this movie about the fate of the youngest Romanov daughter. After the executions, people speculated over the years as to whether Anastasia escaped her family's execution—fueled by Anastasia impostors, the most famous of which was Anna Anderson, who facilitated many of the conspiracy theories. The mystery surrounding her fate was not actually clarified until 2007 when forensic tests identified her remains.
Nonetheless, I'm glad the film introduced the world to grown-up Anastasia. Because, despite its base in fiction, the Anastasia we met in the film is in many ways a great model for the modern woman.
Anastasia Takes the Hard Road to Reclaim Her Story Despite Mental Health Challenges
Not to belittle any of the Disney princesses, but in my humble opinion, Anastasia is not your typical princess. Anastasia is a confident, headstrong, brave, and feisty redhead who manages to be both humble and kind and focuses on others before herself. She also breaks the mold of the "Cinderella-like" princesses who rise above their circumstances and somehow end up marrying Prince Charming (either by true love's kiss or with the help of a pumpkin carriage). Her royalty is her own, and she doesn't need to find a man to have it; she needs only to get in touch with herself.
Anastasia forges her own path after leaving the orphanage, and despite suffering amnesia after her traumatic childhood experience and forgetting who she is, she does not give up or take the easy road of ignorance. Instead, she embarks upon an adventure of self-discovery.
Anastasia Stands Up for Her Integrity
There is something refreshingly authentic about Anastasia and her candid personality. She speaks her mind, embraces independence, and does not allow herself to be pushed around by those around her. She knows what she wants, which is to be reunited with her family, and she will not let anyone or anything stand in her way. When she meets the conman Dimitri and his partner Vlad, she agrees to go to Paris with them to meet the Dowager Empress, in hopes that this woman truly is her grandmother. However, she lets Dimitri know that she will go on her own terms and play by her own rules, and she will not partake in their dishonest ways or routine thievery in the process.
Further, Anastasia makes known she will not conform to be who Dimitri wants her to be, and she will not pretend to be someone she's not. She simply is trying to remember who she is and where she came from. With nothing but a necklace that reads "Together in Paris" to guide her, it seems quite plausible that she really could be the lost granddaughter for whom the Dowager Empress is searching. Anastasia is not interested in discovering that she is Russian royalty for the sake of being royalty (although she gets a little swept up in dreaming about it—really, who could blame her). Rather, she truly wants only to find her family and discover the truth of her past.
Anastasia's Story Is So Much More Than a Romance
Anastasia is a romance, but the romance is not the center of the movie. It is, above all, about valuing family and honoring your connections with your past. On her quest to learn her origins and be reunited with her family, Anastasia exemplifies the virtues of loyalty, perseverance, and strength, and her devotion to her grandmother toward the end of the film is both heartwarming and inspiring.
Anastasia follows her heart, and she does so in a wonderfully selfless way. The moral of the story surrounds the theme of being there for others and not using others for personal gain. By the end of the movie, Anastasia's happiness comes not only from finding answers but also from seeing the joy that her homecoming brings to her grandmother.
And what about the handsome Dimitri? Well, let's just say that the entire journey caused him to have a change of heart and more than a little character development, which causes Anastasia to see him differently and develop a little more herself.
Perhaps what's most special about this story coming to Broadway is that Anastasia herself is directly responsible for her happy ending. She does not just happen to fall passively into her "happily ever after" like so many princesses with whom we are familiar. She has to undergo a lot of heartache and rejection and betrayal along the way. But by bravely staying the course to be true to herself and by connecting with her long-lost loved ones, Anastasia finds love in her future as well. Not a bad film in the nineties and not a bad message for young women today.
Photo Credit: Hartford Stage Co.