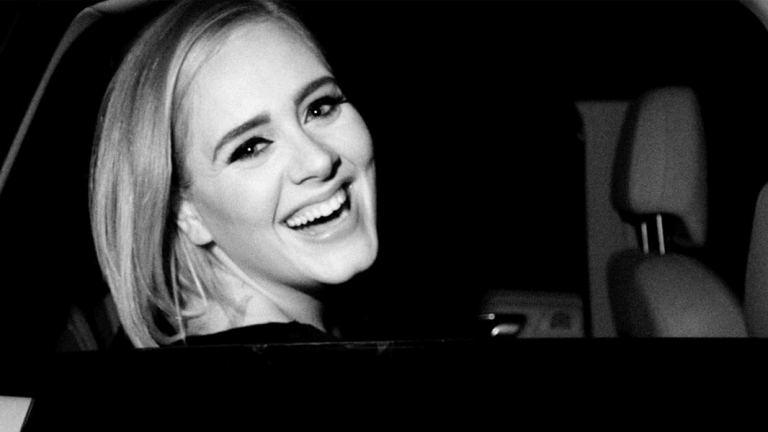 4 Things from Adele's Latest Interview That Remind Us She's the Real Deal
This megastar has such a refreshing approach to life and fame.
Let's be honest, most of us would probably say that Adele is the guest of honor at our dream celebrity dinner party. Every new interview reveals a funny, relatable, candid, vulnerable, nonjudgmental, fiercely talented young woman who also seems to have her priorities in good order, despite all the Grammys and the record-breaking career success.
Her most recent cover story with Vanity Fair is no exception. Here are some highlights from the interview that will make you want to be Adele's BFF (more than you already do).
She's true to herself.
Can you think of any other modern singer who has reached Adele's level of fame without any dancing, huge production numbers, skimpy onstage outfits, or commercial product endorsements? I can't. For Adele, the focus has always been on her gifts—her voice and her songwriting—above everything else, including fame, money, and praise: "I'd still like to make records, but I'd be fine if I never heard [the applause] again," she told Vanity Fair. "I'm on tour simply to see everyone who's been so supportive. I don't care about money. . . . I don't come from money; it's not that important a part of my life."
Sure, being a bestselling artist more than pays the bills—she's on Forbes' Celebrity 100 list, after all. But not being motivated by a desire to make as much money as possible out of her fame has clearly influenced her choices and helped her remain true to herself. Forbes reports, "She is the only musician on the Celebrity 100 to make over half her earnings from music." In terms of endorsement opportunities, Adele has turned them all down, despite ample options. "What have I said no to?" she told The Guardian last year. "Everything you can imagine."
She encourages community and relationships over competition.
"Every day as I get older, I appreciate women more and more," Adele told Vanity Fair. "When you're between the ages of 15 and 19, maybe you see women as competition, as opposed to lifesavers and people that hold your hand and have experienced pretty much everything that you have. So the more women in my life, the better."
In a culture full of competition and celebrity feuds, Adele is remarkable for having stayed out of the headlines for pretty much any other reason than her professional success.
It seems like her commitment to prioritizing her own life and relationships has played a big part in this: "I want to sing these songs when I'm 70 . . ." she told Vanity Fair, adding that "all of my relationships are more important to me than any tour I'll ever do. If my relationship with Simon [her partner] or my relationship with Angelo [her son] started to flounder a bit now, I would pull out of my tour. My life is more important to me than anything I'm doing because how . . . am I supposed to write a record if I don't have a life? If I don't have a real life, then it's game over anyway."
She wants people to be present in the moment.
In a selfie- and social media–obsessed culture, Adele has a pretty down-to-earth and healthy message to share about technology, too. "People would rather have a photo to show to people than actually enjoy a moment," she says. "It's weird—when I first started out, nearly ten years ago, no one had their phones out. I'd go onstage to people. Now I go onstage to 18,000 phones. . . . No one is actually looking at the world—they're on their phones all the time."
Rather than worrying about whether she's an Instagram star, she wants to share an authentic moment of connection with her listeners through her music. Prioritizing the experience of meaningful moments over appearance and status could help us all to be more present in the moment and live happier, more balanced lives. Putting away our phones and enjoying the music would certainly be one way to start doing that.
She gets that motherhood doesn't have to be easy to be awesome.
Motherhood is a big bundle of contradictions, and Adele is so real about that. "I'm scared of a lot of things now because I don't want to die; I want to be around for my kid," she shared with Vanity Fair. She's honest about the struggle, admitting, "I had really bad postpartum depression after I had my son, and it frightened me."
She went on to describe that contradictory tug of war between yourself and your love for your child that all mothers experience: "You're constantly trying to make up for stuff when you're a mom. I don't mind because of the love I feel for him. . . . I don't care if I don't ever get to do anything for myself again." As Adele says, you can hate motherhood at the same time as loving your child so fiercely that it scares you, and oftentimes it's only fellow parents that get this. "I knew I could just sit there and chat absolute mush with my friends who had children, and we wouldn't judge each other."
Adele has described her son as her number one priority in life and motherhood as a role that gives her life purpose. And yet she's also totally open about how hard it is, telling Vanity Fair that she thinks self-care is super-important: "It makes you a better mom if you give yourself a better time."
In an age when a star's every move is under scrutiny through social media and the gossip industry, Adele is a refreshing and relatable example of how to live life as a modern woman pursuing your dreams, both professionally and personally. She's a sign of hope that we have the power to stay true to who we are and a reminder that nothing is perfect, even the seemingly shiny life of a superstar. What matters in the end is whether we're happy with our lives and the decisions we made when we look back on them at the age of 70 or 80. Leave it to 28-year-old Adele to remind us of this.
Photo Credit: Adele