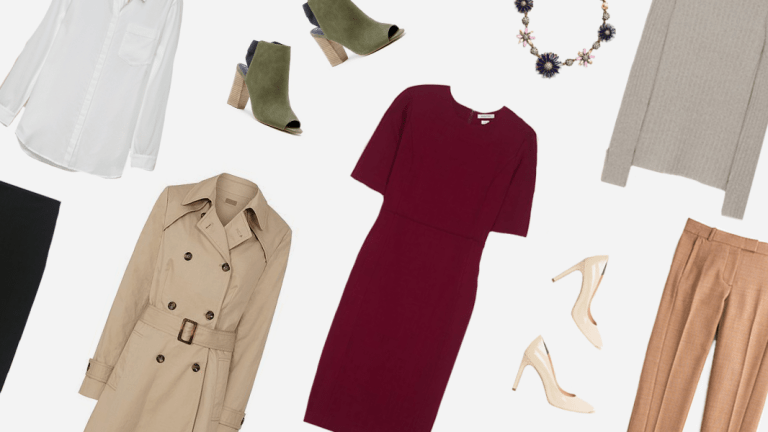 Comfy, No-Effort Office Wear Tips That Will Get You Through the Workweek
Combat 9-to-5 fatigue with a feel-good work outfit.
What's worse than the monotonous midweek grind? The uncomfortable and constricting clothes we have to wear during it. Somehow that paperwork becomes a bit more tedious when your pencil skirt is too unforgiving, your collar too stiff, and your heels too high. If you find yourself counting down the seconds to when you can burst through your front door and change into pajamas, we have a few tricks to help you cheat the system. That's right—comfortable workwear is a mere scroll away.
Tip 01: Substitute with Ponte Knit Whenever Possible
The Formula: Ponte Knit Pencil Skirt + Loose Button-Up + Block Heels
Let's be honest, pencil skirts are both a gift and a curse. They promise an immediate professional appeal but will make you pay for it by digging into your flesh as soon as you eat anything. The answer to your pencil skirt woes (or any woes, really) is ponte knit. This magical fabric tricks the eye into thinking it's sturdy wool when really it's a stretchy, comfy knit. The tightly knitted fabric is heavy, making it perfect for fall and extremely smoothing to the shape. You'll fool everyone at the office as you relax in your swivel chair and answer emails. Pair your favorite new pencil skirt with a loose-fitting button-up and block heels for a look that says "polished" but a feel that says "pajamas."
Tip 02: Balance Your Restricting Items with Comfy Ones
The Formula: Turtleneck + Slacks + Blazer + Brogues
The basic rule of dressing comfortably is to never pair constricting pants with a constricting top. The ideal outfit formula is: tighter bottom + looser top or tighter top + looser bottom. If you're wearing a form-fitting, tailored top and bottom, you'll start feeling like a caged animal. Let your body breathe by keeping the comfy-to-structured ratio in mind. For example, you can totally wear your cozy turtleneck outside of the house and to the office. All you have to do is balance its comfiness with a pair of structured slacks and a blazer (bonus points if it's a fashion-forward sleeveless version). And forget those heels! Brogues, oxfords, and loafers are becoming increasingly mainstream, and let's be real, when it's comfort versus bunion pain, we pick comfort—every time.
Tip 03: Cheat Professional Wear 
The Formula: Joggers + Knit Blazer + T-Shirt Blouse
If your dream is to feel like you're in loungewear during your team meeting, we're here to tell you that you literally can. Meet the jogger, the most underestimated pant of all time. Cheating professional wear is all about mimicking the shape and silhouette of office wear classics in comfortable fabrics, such as breathable cotton or flowing crepe. Stick to black joggers for an overall streamlined and sleek aesthetic. To top off this chill-worthy ensemble, we'd like to introduce you to the knit blazer. Related to the classic blazer in only structure and design, the knit blazer has all the comfort of your college sweatshirt and all the appeal of being a #boss.
Tip 04: Make Up for It in Accessories
The Formula: Ponte Knit Dress + Office Bag + Statement Jewelry
When all else fails and you feel like your outfit is a little too comfy-casual for the workplace, make up for it in accessories. If your dress is too simple or basic, deck it out with a statement necklace and brightly colored bag. You can apply this same method to a white button-up and slacks combo because who are we kidding—a statement necklace and bag can pretty much save any old basic outfit.