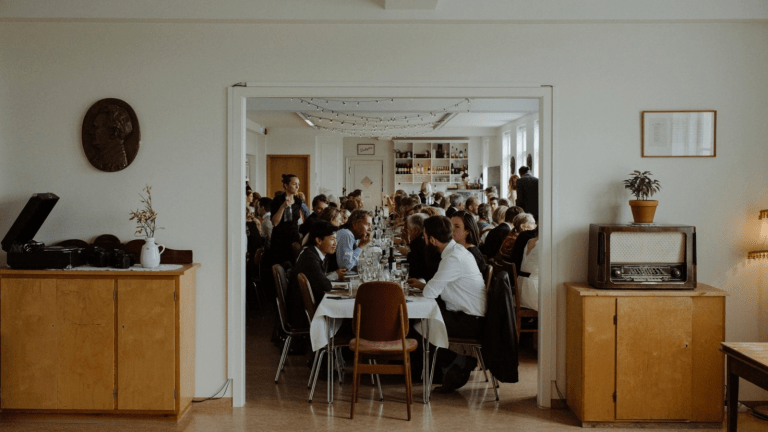 5 Tips for Having Your 'Where to Celebrate the Holidays' Conversation Now
Take the stress out of holiday planning.
The most dreaded conversation for many couples—aside from the monthly budgeting meeting—is the conversation about where to spend the holidays. It's not that you don't like his family, you just like your family a lot better.
Just kidding . . . (sort of).
The trouble is, much like the money talk, the chat about where you as a couple will be spending the holidays is necessary for peace, love, and joy in your relationship—and you should do it sooner rather than later.
In fact, when my husband Joe and I began pre-marriage counseling, our counselor spent a good deal of time discussing the importance of planning out the holiday schedule a year in advance if possible. Why? Because knowing way ahead of time who gets you for Thanksgiving and who gets you for Christmas helps set expectations for you and your extended family. This way, nobody feels caught off guard.
Make a plan now, and you won't take anyone by surprise (unless that's part of the plan!). Here are five tips for making holiday planning as stressless as possible.
01. Plan Early
Honestly, if you are just making plans for the holidays now, you are a little behind. If your goal is to minimize stress and disappointment come holiday season, you really should have a date with your calendar set up for the day after New Year's. After New Year's a whole year full of holiday festivities and family gatherings has come and gone, so you can get a better sense of what kind of distribution is fair and doable.
All is not lost if it's October and you haven't done the necessary, but procrastinate no longer! Make it a date night, and add some ritual that will help you to look forward to repeating the tradition next year, such as fun cocktails or a fancy dinner. 
02. Be the Most Generous
Going into the "where to spend the holidays" conversation with a spirit of sharing is essential to doing it right. If you are lucky, your family might be close enough that you can arrange to go halfsies for every holiday—maybe dinner with his family and dessert with yours? But if you have to choose because your family, or his, is a plane ride away, set an example of generosity from the get-go, and the conversation will go a lot smoother. What does this mean? For your first conversation, make up your mind to give him whatever holiday is most important in his family—even if it's Christmas. It's hard, but you can do it, and your love will be that much stronger for it. Then perhaps you can trade off in the following year.
03. Be Kind
The prospect of pumpkin pie with your man's Aunt KooKoo, the one who always manages to sneak in a backhanded compliment, may hit you like a ton of bricks. But this is not the time to air your grievances.
The sacrifice of not being able to spend your time with your brood the way you always did each year will be hard on both of you. Be kind to one another, let him know that you appreciate how difficult this is, and thank him for being generous.
04. Communicate the Plan to Your Family ASAP
It's all well and good to have come up with the perfect plan for the holiday season, but you are missing a very important step if you don't let your family in on the plan, too.
Send an email out to your family and his, or call them if that's easiest. Be prepared to show a united front if parents put up a stink about missing out on a special day. Hopefully your parents will understand that this kind of thing is part of married life, but if not, be loving and firm. After the call or email, follow up with a calendar invite for the holidays you will be spending with each family, and that way nobody conveniently forgets.
05. Brainstorm New Family Traditions
Marriage really is a new chapter in life, and a lot of things change. It's hard when old traditions have to make room for a different way of life. But the good news is, just because you can't all be together every year doesn't mean you can't forge a new tradition to make up for the void in unifying family ritual.
For example, if opening presents together was something you looked forward to every Christmas, plan another day that you can all meet for a present exchange. Planning ahead also helps you coordinate the holidays with other important family members; if you all know you can be there for Thanksgiving next year, plan an epic game of touch football and an extra-special feast you can all look forward to.
Photo Credit: The Kitcheners