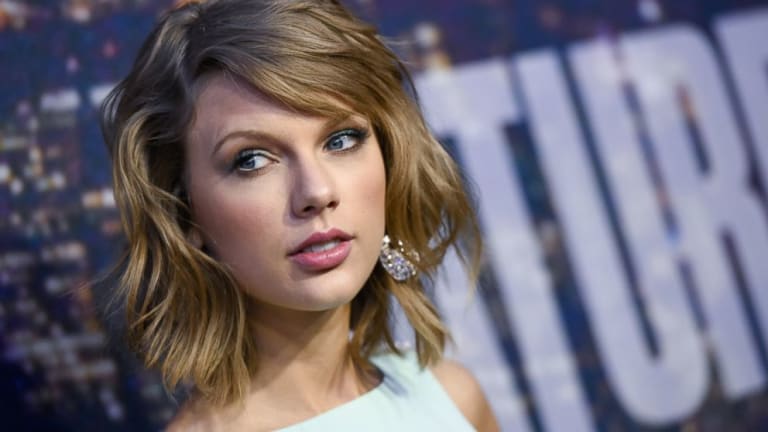 Taylor Swift Just Had a Career Milestone, But It's Her Sexual Assault That Really Strikes a Chord
The pop star is joining a growing force of females standing up against sexual assault because she's a victim herself.
October 24, 2016 marks a decade since the phenomenon otherwise known as Taylor Swift first came through our stereo speakers with her self-titled debut album. Back then Swift was just a brazen, ringleted blonde peddling her country songs about young love. Now she's a global household name. She traded in her cowboy boots for crop tops, and became the only female to date to win a Grammy for Album of The Year twice. By all accounts, she's not just a pop star; she's the pop star.
Whether you're a Swiftie or not, it's sad that on such a monumental day for her career, we aren't so much talking about how far she's come—or even her success at all for that matter. Headlines today have focused mostly on than the fact that Swift, arguably the world's most influential singer, is among the countless women who have been victimized by unwanted sexual advances.
Over the weekend, reports surfaced of Swift's deposition regarding an incident from June 2013. At a fan meet-and-greet Swift says she was groped by Colorado-based DJ David Mueller during a photo op. She has been privately dealing with it ever since, but the alleged assault became a matter of the court when Mueller filed a lawsuit against Swift in 2015, claiming she slandered him and that he lost his job as a result of her "false allegations." Swift countered with a suit for assault and battery and demanded a jury trial. On Friday a judge granted Swift's appeal to seal the photo evidence, but other evidence, including the deposition, is now available to the public.
As reported by E! News, a transcript of Swift's deposition read: "Right as the moment came for us to pose for the photo, he took his hand and put it up my dress and grabbed onto my ass cheek and no matter how much I scooted over it was still there," she explained.
Furthermore, as if anticipating the all-too-common propensity for the public to disavow women's sexual assault claims, Swift added that this was no misunderstanding.
"It was completely intentional," she said, "I've never been so sure of anything in my life."
Perhaps the most harrowing quote from Swift's deposition recalls an intense account of emotions Swift felt at the time—feelings anyone who has been felt violated can relate to.
"I remember being frantic, distressed, feeling violated in a way I had never experienced before," Swift said.
Whether one is a public figure or not, no one should have to face sexual assault. Swift is among a rapidly growing number of high-profile cases that have surfaced this year. Swirling around news stories of Bill Cosby, Roger Ailes, Donald Trump, and more, women are coming forward in record numbers with allegations, reminding us that sexual assault is entirely too common and pervasive a crime, and one that thrives particularly when kept in the shadows. In addition to those women, fellow pop stars such as Lady Gaga and Kesha have also publicly dealt with very personal sexual assault stories. The women's messages, though unique to each individual, are a powerful and unifying voice: Women and men, alike, must not be seen as objects for consumption anymore.
Even without the public airing of this assault case, 2016 has been a rough year for Swift, from her high-profile romances with Calvin Harris and Tom Hiddleston, to the now-infamous Kanye West-recorded phone call made public. In a world where most women are doubted when they come forward about sexual assault, let's hope we can put our unsure feelings about Swift aside and support a fellow woman as she seeks justice against the man who violated her. It's something we'd want for ourselves, for our sisters, and for our friends. She may be far from a perfect person, but she deserves our empathy just the same. 
Photo Credit: ABC