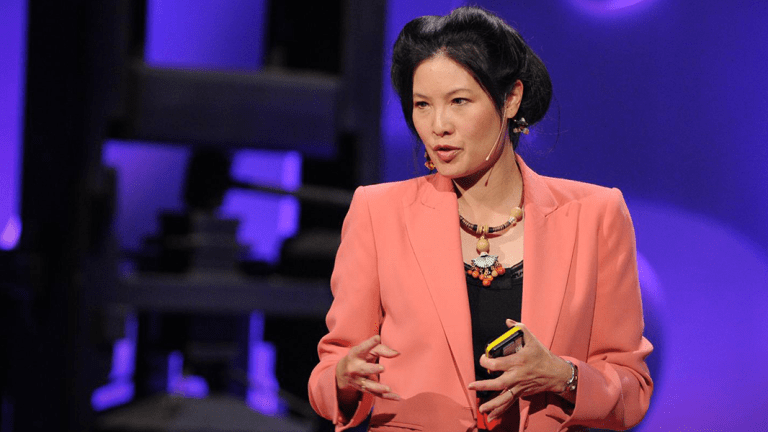 The Most Empowering TED Talks Every Woman Needs to Watch
Reclaim your life from negative media and fill your leisure time with some positive inspiration.
We all have those days when we get home and plop down on the couch, discouraged and frustrated. Whether the cause be work, school, the never-ending bad news stories—we've all been there. We may know "this too shall pass," but sometimes it can seem like there isn't a happy hour in the world that can cure the blues.
Still, this doesn't mean you have to sit and wallow in your discomfort and self-pity. Recently I wrote on how I reclaimed my life from negative media by filling my leisure time with more positive stuff. And it's true: The Internet is filled with empowering, inspiring media and is only a few clicks away. All it takes is resisting the urge to snuggle in with wine and Netflix. Here, handily compiled in one place, are some of the world's most inspiring TED talks that have taken the world by storm.
'Women Entrepreneurs, Example Not Exception' | Gayle Tzemach Lemmon
Supremely successful women are not just exceptions to the rule, and the rest of us need to believe that. The struggles we can face are real, but women do not have to feel stuck playing the victim. Gayle Tzemach Lemmon, journalist and author, explains how women all over the world are making huge differences not just for their families and communities but for national economies and beyond as well. Only by believing you have the ability to succeed can you start to work toward that goal.
'New Data on the Rise of Women' | Hanna Rosin
Hanna Rosin, co-founder of Slate's women-centric offshoot Double X, delivers the statistics that prove things are becoming a more equal playing field at home, in the workplace, and in societies around the globe. Sometimes just hearing numbers can provide a refreshing reminder to not feel so small.
'The Career Advice You Probably Didn't Get' | Susan Colantuono
If you're frustrated and feeling stuck at work, maybe you need to hear the advice you probably didn't get. Susan Colantuono, CEO of Leading Women, explains a crucial missing piece to women reaching the tops of their fields. Let this talk change your perspective on advancing your career, and walk confidently into the office the next day.
'A Saudi Woman Who Dared to Drive' | Manal al-Sharif
Feeling bogged down by society? Let Manal al-Sherif bring out the rebel in you as she tells her story of breaking a Saudi ban against women driving. She explains that the only way to bring about change is to actually do something, not just wait for it to happen.
'Why Do Ambitious Women Have Flat Heads?' | Dame Stephanie Shirley
The woman who pioneered the concepts of work-at-home jobs and women returning to the workforce after a career break takes the TED stage to talk about how she challenged the conventions of the time and paved the way for working moms today. Dame Stephanie Shirley shares her two secrets to success along with her story that is sure to leave you feeling inspired.
'Can We All Have It All?' | Anne-Marie Slaughter
When you feel like you've leaned in too far, let Anne-Marie Slaughter explain how she realized she needed to rewrite the feminist narrative she grew up with—and that that was OK. Truly having it all means that family is valued as much as work, not one over the other.
'Our Century's Greatest Injustice' | Sheryl WuDunn
If you want to put your problems in perspective, Pulitzer Prize winner Sheryl WuDunn has the stories of young women who have overcome the impossible. She reinforces the importance of educating girls around the world and gives shocking yet uplifting stories of young women who were able to make a lot out of a little.
What are some of your favorites?
Photo Credit: TED