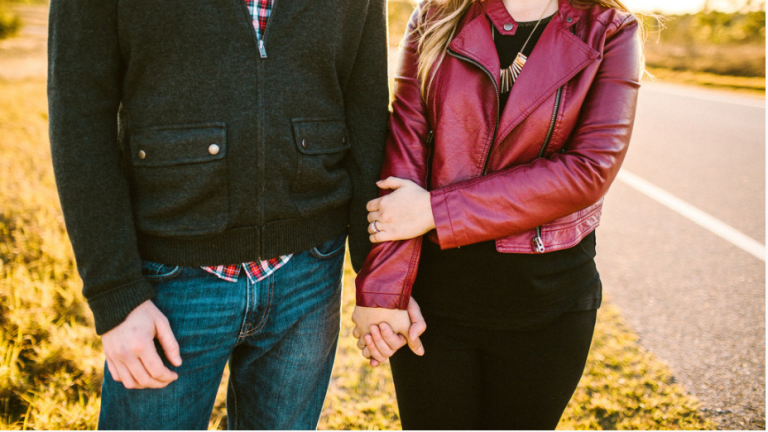 How Real Couples Who Met Online Navigate the 'How Did You Meet' Question
Should we be embarrassed to say we met on Tinder?
When it comes to an adorable meet-cute and a "how we met" story that your children will swoon over, "he swiped right" typically doesn't come to mind.
In fact, a lot of women have a good deal of anxiety about using dating apps for that very reason. They don't want to have to tell people if they do end up meeting someone serious. So I asked people who are dating someone they met on an app how they feel about owning up to it, and their responses kind of surprised me.
While it may have taken them some time to ease into it, for them, meeting someone great is totally worth it.
'It Doesn't Really Matter'
Eric explains that not only does he not think twice about telling people he met someone on Tinder, but the people he tells don't blink either. "We're very forthright about it; we don't try to hide that we met on Tinder or anything," Eric says. "To me, it doesn't really matter where or how we met, and that's the reaction I get from most people when asked."
'We Never Would Have Met'
Julia also never really had qualms about telling people the truth about her meet-cute. "I met my boyfriend on Hinge this past summer, and it was very unexpected. He was recently single, so he was equally as ambivalent to any expectation beyond having fun, as I was," Julia explains. Despite their lack of intention, love found them anyway. "Against my original thoughts of a fun summer fling, he has turned into someone very important in my life," Julia says. "We are both very honest about how we met with people because honestly, if it weren't for Hinge, we never would have met. Dating apps are so common these days that I don't think there's anything to be ashamed of. It's a really great way to put yourself out there to meet people outside of your circle."
'I Decided to Own It'
Not all of the happily matched dating app users were so totally unfazed by telling people they met on an app. Sure, dating apps are common, but it's still uncommon for two people to actually date.
Lilly explains, "I used to be tentative to tell people how I met my boyfriend because of how I thought it would reflect in terms of my 'extracurricular' activities. I mean, how do you tell your grandma you met on Tinder? But then I realized how lucky and proud I am of who I am dating, [so] I decided to own it."
Lilly's tactic for making the "How did you guys meet?" question a nonissue? Keep it light. "I tend to laugh it off when I say we met on Tinder and always lead with 'We actually met on . . .' in anticipation of people being caught off guard," Lilly explains. "I think it intrigues people when I explain that he's from London, and I'm from New York, and how exactly that worked under the original Tinder criteria. But it reminds people that love and romance can happen through many different channels, and they respect your honesty in owning it."
'It Was a Little Embarrassing'
For Mary, love was also something she kind of stumbled into while using Tinder for fun. "To be completely honest, my girlfriends and I used Tinder as a drinking game," Mary shares. "I never expected anything to come of it!" But, as fate would have it, she met the love of her life on Tinder, and she had to come to terms with that pretty quickly. "It was a little embarrassing for me for about the first six months of dating just because I always associated people who online date as 'desperate' or too socially awkward to meet somebody the old-fashioned way," Mary admits.
Mary isn't alone in her misconceptions about people who use dating apps. According to a Pew Research poll back in 2005, 29 percent of U.S. adults agreed that people who use online dating sites are desperate. As of 2015, that percentage of people has decreased a bit (23 percent), but it seems it is still a popular perspective.
Now, Mary explains, she totally owns it. "That embarrassment faded out, and now I love telling people we met on Tinder! We think it's hilarious and rather unconventional, but that matches us, so it works."
'It Wasn't Something to Be Afraid Of'
Emily, who has been making a concerted effort to not participate in the hookup culture, was especially anxious about what people might think. "I was hesitant to admit we met on Tinder since there is a certain connotation that goes with it," Emily explains. "When people first asked me, I tried to avoid a direct answer by tying in some loose connections we already had through his sister."
So, how did Emily get past the awkward explaining? Her boyfriend's calmness and confidence in the face of their unconventional meeting. "The first time we were asked together, he just flat out said 'Tinder' without any hesitation," Emily said. "Since my initial shock, I realized that it wasn't something to be afraid of because how we met doesn't define the awesome, intentional relationship we were able to build. Tinder may be why we went on a first date, but it isn't the reason we are getting married."
Photo Credit: Shannon Lee Miller