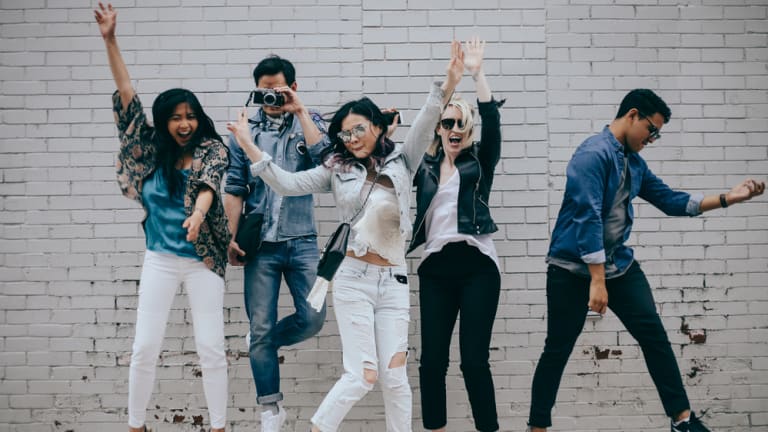 How to Create Your Ideal Outfit Formula and Love What You're Wearing Every Single Day
Deciding what to wear doesn't have to be a chore.
The stylish women of the world have a secret you wouldn't expect: They wear the same things over and over again. Audrey Hepburn, Jane Birkin, Coco Chanel, Jackie Kennedy, Alexa Chung, and Françoise Hardy are all women who are world-renowned for their style. What's the connecting thread among these stye icons? They had an outfit formula.
You might be asking, "What is an outfit formula?" Simply, an outfit formula is your very own uniform—a trademark look, if you will. That doesn't mean you wear the same thing every day, but when you consistently dress with repeatable elements to your outfits, you achieve an air of personal style that can be worn interchangeably every day of the week. Identifying your formula will help you create your "look" and—more importantly—make getting dressed in the morning much easier.
01. Determine Your Go-To Pieces
When you wake up in the morning and get ready for the day, what are the first items you pick out? Do you find yourself repeatedly grabbing your high-waisted skinny jeans and button-up top? Oftentimes, these items are ones we have to stop ourselves from wearing every single day (but totally wish we could). Keep these items in mind, and they will help you decide on your ideal outfit formula.
02. Decide on a Silhouette
Keeping your go-tos in mind, what is the overall silhouette that those items create? Do you go for form-fitting bottoms with loose tops? Maybe you have a penchant for A-line skirts? Figuring out the proportions of your ideal outfit will help you find individual pieces that will create the silhouette.
For example, fashion writer and photographer Tamu McPherson loves wearing an oversize silhouette. She repeatedly chooses boxier jackets and coats and always has the length of her pants or dresses hit mid-calf. McPherson knows the silhouette she wants to create and sticks to clothes that achieve her look.
03. Choose the Specific Items of Your Formula
Now that you've decided on your desired silhouette, start thinking about specific items. What does your ultimate outfit look like?
Think of your outfit formula as a math equation. Does your outfit consist of many pieces, such as Jeans + T-Shirt + Sweater + Blazer? Or is it simpler with only a couple items, such as Dress + Jacket? These combinations will help you decide exactly which items your ideal outfit consists of.
Eleonora Sebastiani is a great example of someone who has a distinct outfit formula of minimal integers. Her wardrobe consists primarily of midi skirts, button-ups, pencil skirts, and form-fitting sweaters. These base items are the foundation of her outfit formula, which she can interchangeably wear by mixing and matching.
04. Get Creative with Similar Variations of Your Formula
Now that you've determined your ideal outfit and know what your base items are, you want to make sure you aren't literally wearing the same thing every day. This is when you start thinking of creating variations of your outfit formula. This means pieces that are similar in style and silhouette but different in color, fabric, print, and texture.
Emmanuelle Alt, editor in chief of Vogue Paris, has a distinctly simple formula: relaxed jeans + button-up + heels. Alt sticks to her formula but wears color variations to change up her look every day. She is a perfect example of how to stay true to a formula without wearing the same thing. Experiment with those different colors, fabrics, textures, and prints, but make sure you stick to the style, fit, and silhouette of your formula to maintain your ideal look.
05. Note Styling Details That You Prefer
What are the trademark styling details that make a look your own? Do you casually tuck in your button-up? These little details add a personal flair to your look. For example, Alt loves to roll her sleeves, making the more basic outfit distinctly her own. Sebastiani, on the other hand, keeps her sleeves buttoned at the wrist. Maybe you pop the collar of your shirt, accent your waist with a belt, or wear your scarf a specific way. Note your preferences, and own it!
06. Mix and Match Your Items
Now that you've discovered your ideal outfit formula, the goal is to be able to mix and match your items while still maintaining your look for every day of the week. An outfit formula doesn't mean being restricted—it means getting creative within the boundaries of your formula. For example, if your original outfit formula consists of a slouchy tee and skinny jeans, a form-fitting pencil skirt and boyfriend sweater will still be within the wheelhouse of your formula because the combo creates the same fit, silhouette, and overall style.
Think of your outfit formula as a starting point to exploring your personal style. You might find that it's much easier to be creative once you have defined your ideal outfit.
Photo Credit: Alexa Fernando