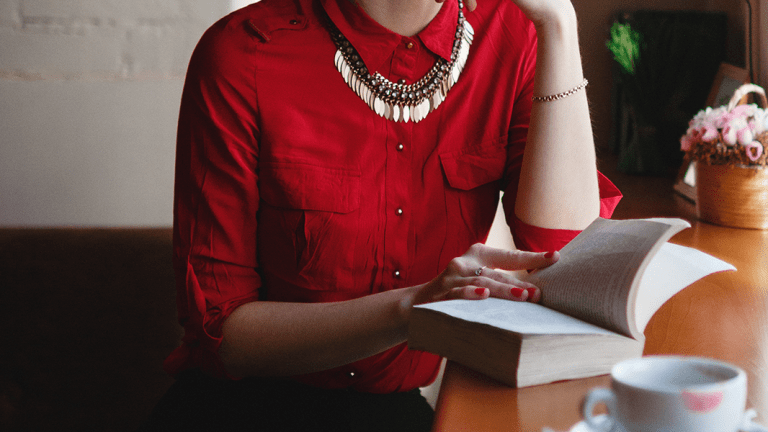 6 Books You Need to Read in Your Twenties and Thirties
Recommended reading for your quarter-life crisis (because it happens to the best of us)
It took me a year in the real world to have a crisis. As I got settled into my nursing career, I realized it wasn't everything I expected. Around the same time, the guy I was convinced I'd marry broke up with me.
My life was in shambles.
Though I didn't realize it at the time, I was having a very typical quarter-life crisis. Psychologists at the University of Greenwich and Birkbeck College led by Dr. Oliver Robinson propose that a quarter-life crisis happens between ages 25 to 35, typically around age 30. It has the features of a midlife crisis—doubts, insecurities, regrets, disappointments, loneliness, and even depression—and usually takes place after a tough transition in a job, relationship, or both.
Robinson and colleagues have found that the quarter-life crisis can be a catalyst for positive change. Being on the other side of my quarter-life crisis, I can look back on it and recognize the immense amount of personal and professional growth in that time. However beneficial, a quarter-life crisis is difficult. Books, articles, and research are constantly coming out about the new phenomenon of a quarter-life crisis, in addition to endless lists of things you should and shouldn't do. The wonderful thing about a quarter-life crisis is learning how to figure it all out for yourself. Instead of a list of dos and don'ts, try reading one of these books to teach you how to navigate tough times and make decisions for yourself.
01. The Defining Decade by Meg Jay, Ph.D.
Clinical psychologist Meg Jay literally wrote the book on the quarter-life crisis without ever using the term. As I was just starting to navigate my own quarter-life crisis, it was as if Jay took every complaint I ever had about my twenties and addressed it in The Defining Decade: Why Your Twenties Matter—and How to Make the Most of Them Now. From career planning and social media to endless life possibilities and how to find a good partner, Jay gives you the tools to make a decision that is authentic for you.
Jay convinced me I could write down what I wanted in life and not feel bad about it. She helped convince me to fulfill a long-standing dream of travel nursing where I was able to crisscross the United States for work. Her book was so helpful to me that, to date, I have bought twenty copies for various friends and family and mention it often. Almost all of them have found at least some part of it useful. It is just that good.
02. David and Goliath by Malcolm Gladwell
Gladwell is a captivating writer who does a marvelous job at integrating psychology, history, research, and stories of everyday people. David and Goliath: Underdogs, Misfits, and the Art of Battling Giants is a rare find that talks about how a variety of individuals used their disadvantages to their advantage. From his book, I learned the inverted U-curve model.
Certain advantages—like money—can increase our happiness and wellbeing, but only to a point. After a certain point, all advantages have their inherent disadvantages. For example, Gladwell cites how money stops increasing happiness at about $75,000 a year and can actually cause more problems the more we earn. After reading David and Goliath, I stopped fixating so much on what other advantages people around me had and concentrating on what advantages and supposed disadvantages I could use to my benefit.
03. The Gifts of Imperfection by Brené Brown
I stumbled across shame researcher Brown's famous TED Talk about vulnerability just as I realized my nursing career had a much larger emotional and spiritual component to it than I ever imagined. She talks about the importance of connection, just as I was tempted to disconnect from my patients because I was starting to burn out.
I've read everything she's written, and The Gifts of Imperfection: Let Go of Who You Think You're Supposed to Be and Embrace Who You Are is my favorite by far. The title itself resonates with me. Brown breaks down ten different guideposts for wholehearted living and teaches how our imperfections are indeed gifts. Her work validated my need for connection and taught me how to be more open and present for others. It's been the greatest compliment of my career to be told I'm compassionate and caring after four years of nursing. Without coming across Brown, I don't know if that'd be true today.
04. How to Avoid Falling in Love with a Jerk by John Van Epp
Though Aziz Ansari's 2015 Modern Romance has been dominating the New York Times Bestseller list, it is not the best book I've read on romance in modern times. While Ansari and sociologist Eric Klinenberg present a variety of research on modern dating, they offer little advice to help you rectify the situation, let alone help you figure out how to make a good decision.
Van Epp, however, offers a refreshing dating model that restored my faith in modern relationships. His book How to Avoid Falling in Love with a Jerk is poorly named for all the wonderful insights he offers. Through his tested Relationship Attachment Model (RAM), Van Epp teaches you how to watch out for red flags in your prospective partner that will become problematic years down the road. At the same time, he teaches you how to recognize bad patterns from your own upbringing that may become problematic in your future relationship. I learned many foundational tools in how to build a healthy relationship and avoid the same dating mistakes I was making repeatedly.
05. Quiet by Susan Cain
As a millennial, my world is dominated by noise and social media. I have a natural inclination to want to be by myself to recharge. I always felt like I was missing out by being alone, but I was burning myself out being with other people all the time. As a travel nurse alone in a new city, I finally had some alone time, and I thought I was a freak for loving it.
Turns out, I'm just an introvert. An introvert herself, in Quiet: The Power of Introverts in a World That Can't Stop Talking, Cain talks about the benefits of introversion in a culture with a very pervasive "extroversion ideal." In a culture that is obsessed with self-promotion and thrives on our fear of missing out, it's revitalizing to find a book that teaches us it can be beneficial to be by ourselves, alone and quiet. Even if you are naturally inclined to recharge in group settings, extroverts can learn to tap into their quiet creativity, too.
06. The Power of Habit by Charles Duhigg
As my quarter-life crisis was coming to an end and I moved to Wisconsin to settle into a permanent job, I wanted to be mindful of the habits I was creating for myself. It took travel nursing to break a lot of bad habits, and I didn't want to form bad ones now that I was settling again.
In The Power of Habit: Why We Do What We Do in Life and Business, Duhigg talks through the science of habits (which the nurse in me devoured) and then teaches you to apply it to everyday situations from finances to eating well. It takes surprisingly little to develop a good habit, and once we do, we stop thinking about it. Duhigg convinced me to start watching how I spend money and helped me become more productive at work. I've gotten into much more mindful, healthy routines that have helped me avoid burnout in my personal and professional life.
Coming from the other side of a quarter-life crisis, it's extremely difficult but so, so worth it to figure out how you want to shape the rest of your life. Our twenties and thirties are an exciting time, full of possibilities and opportunities. But it's impossible to do absolutely everything. If you're having a crisis about what you want to do, I hope these books help you figure it out as they helped me.
Photo Credit: Marlene Arteaga