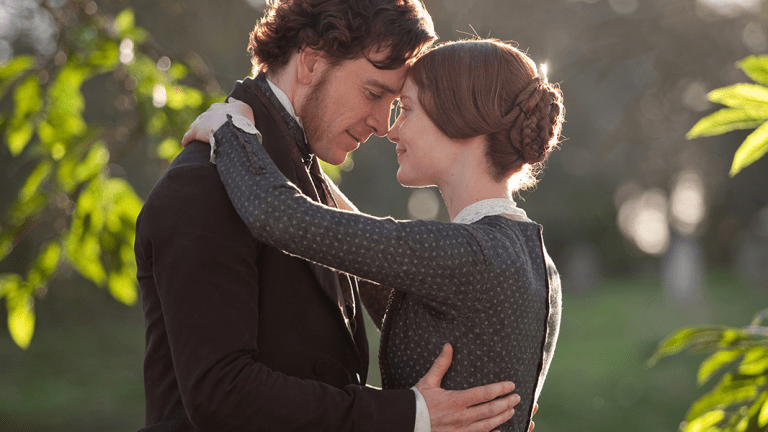 6 Films Streaming Now on Netflix Perfect for Anyone Who Loves 'Pride and Prejudice'
If you're hankering for a period piece, these will do the trick.
I think I was destined at birth to be a history junkie. My mom is a middle school history teacher, and among her three daughters, I am most definitely the one who inherited her obsession with the historical fiction genre—whether in the form of a novel, film, or TV series. Some of our most memorable bonding moments include snuggling on the couch with popcorn watching some Hollywood actor portray a fictionalized version of old times. If you're looking for a good period drama, here are some of my top picks now available on Netflix.
Becoming Jane (2007)
For all my Pride and Prejudice and Sense and Sensibility fans out there, this 2007 film is a must-see. Anne Hathaway plays a young and idealistic Jane Austen before she achieved fame as a writer. Set in nineteenth-century England, the film follows Austen's romance with a penniless apprentice lawyer (James McAvoy), who is in every way opposite to the wealthy man her impoverished parents want her to marry. Throughout the narrative, we watch as Austen finds the inspiration and voice that led her to success in her writing career.
The Boy in the Striped Pajamas (2008)
Set in 1940s Nazi Germany, this eye-opening film tells the story of Auschwitz from the perspective of an 8-year-old German boy, Bruno (Asa Butterfield). Though he is consistently fed anti-Semitism by his nationalist father, Bruno struggles with the inconsistencies between what he has learned about Jews and what his interactions with real Jews reveal. Based on a novel by John Boyne, the story follows Bruno's secret friendship with a Jewish boy named Shmuel (Jack Scanlon), who lives in a neighboring concentration camp. The innocence of their relationship in the face of the dark historical setting, coupled with the heart-wrenching conclusion of the film, brings the tragedies of Hitler's rule to an excruciatingly personal light.
Jane Eyre (2011)
In this Charlotte Brontë renaissance work, actors Mia Wasikowska and Michael Fassbender put a fresh take on a story that will bring you into another world. While Jane has certainly seen her share of struggle in life, a rider thrown from his horse in her path offers hope of a brighter future. Except it only seems to get darker and darker. Of course there's a love story and plenty of classical scores in the background, but a happy ending seems almost impossible for Jane—almost.
Elizabeth (1998)
We know that any period piece pertaining to the monarchies of yesteryear will be rife with drama—lies, alliances, jealousy, and plots to destroy. Elizabeth deliveries it all and then some thanks to Cate Blanchett's Oscar-winning role. If, like us, you're not-so-patiently waiting for the premiere of The Crown on Netflix, this movie will keep you busy in the meantime. While Queen Elizabeth I of the movie and Queen Elizabeth II of The Crown are not directly related (their lineage is very complicated), British royalty is British royalty, and this movie is an enthralling account of "The Virgin Queen."
Love and Honor (2013)
With the controversial movements of the 1960s as the backdrop, this 2013 film follows two soldiers (Liam Hemsworth and Austin Stowell) who come home on leave from serving in Vietnam, only to learn the reality of American sentiments about the war. The film depicts Stowell's character as he attempts to win back his now anti-war girlfriend, as well as a budding romance between Hemsworth's character and another civil rights advocate. Through the story of the two soldiers, the film shows the nature of protests during the 1960s and the power of the free speech movement on college campuses.
Amadeus (1984)
Set in eighteenth-century Vienna, Austria, Amadeus is the story of—you guessed it—Wolfgang Amadeus Mozart. The plot is actually about an envious peer of his planning to murder Mozart and steal his final work for himself. Whether he succeeds, I won't say. But the piece is full of a bit of darkness and plenty of Mozart's music. In its day, Amadeus was nominated for some fifty awards. It's also the only movie to date to have two of its actors nominated for the prestigious Best Actor category at the Academy Awards. Are you searching it on Netflix yet?
Photo Credit: Universal Pictures