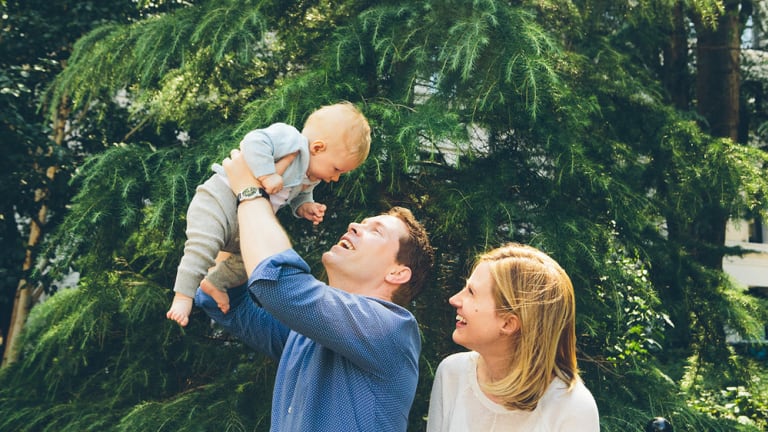 I Thought Having a Baby Would Ruin My Career, But I Was Wrong
There's not just one 'right' way to pursue a life and a career you love.
One of my earliest memories, long before I learned to read or write, is one where I'm sitting underneath my mother's desk as she worked, filling her notebooks with scribbles. I used to borrow her Dictaphone and walk around the house recording my observations about the world around me, and years later we still have reams of embarrassing tape that convince me I should never, ever go into radio.
My mother is a writer and journalist; she was a finalist in the annual Vogue Talent Contest in her early twenties, and went on to win the Catherine Pakenham Award for her work exploring the predicament of elderly peasant women living at the foot of Mount Fuji on land requisitioned by the Japanese army after World War II. I watched my mother write and I knew that I wanted to write, too. 
I also watched my mother sacrifice her career for the sake of her family. 
It's only looking back now as an adult, and a mom, myself, that the full impact of her sacrifice really hits home. It wasn't until I was in my late teens and started thinking about my own career ambitions that I became acutely aware of the unique struggles a wife and a mother all-too-often go through when trying to juggle work and family. 
Does marriage and family always have a negative effect on a woman's career? From where I stood as a young adult, it sure looked like it to me.
Fast forward to the year after college, and I'm living in London earning a masters in Magazine Journalism. It's a tough course—we've each been assigned an area of the city to cover, and once a week we have to write up a news story from our beat which is then put on a slide-projector and picked apart by the class line by line. One time, someone makes a positive comment about their class mate's work, and the teacher tells us that's not why we're there. We take it in turns to conduct phone interviews in front of the rest of the class, and compete against each other to come up with winning new magazine concepts. There's nowhere to hide; it's utterly terrifying, and I love it. This is my dream, and I'm going to chase it, hard.
I left the course with a renewed sense of what I want to do with my life in a general way, but unlike some of my peers, I still didn't know what I wanted to specialize in. I was interested in a ton of things, from style and ethical fashion to travel, food, interiors, relationships, and cultural commentary. I knew I wanted to work for a magazine with a positive impact, and I knew which kinds of magazines I didn't want to work for, but that was about it. I wasn't sure whether the kind of magazine I wanted to work for even existed, let alone what kind of career path would get me there.
A few months after graduating, just as I was deep into the fun world of first-time job applications and internships, a few life-altering things happened in quick succession: First, my father was diagnosed with terminal cancer, and second, I realized that I had met the love of my life. He happened to live in my home town at the time—not London where all promises of career growth lived. An American studying for a PhD at Oxford, he owed the Army a few years of service after he wrapped up his studies—knowing that was looming made me wonder if putting time and effort into getting a job I loved, only to have to leave it shortly after would be worth it. Ultimately my desire to be near him, as well as to be near my family during that incredibly difficult time, trumped my motivation to pursue a career in journalism. I left London, and so I thought, my dream career. 
I got married the following year; my father walked me down the aisle and danced with me afterward, despite the severe pain in his lower back and legs. Those moments I'll never forget. I moved into an apartment near my family in Oxford with my new husband, and settled into a job in marketing. I wrote freelance pieces in my spare time, but as anyone who has worked a full time job knows, "spare time" is a rare commodity when you get home exhausted after a long day in the office. Still, I hoped I would be able to find my way back to my dream career path eventually, but that dream seemed to be getting further and further away. Then something generally believed to be even more career-snuffing happened.
Four months after my wedding, I got pregnant.
When we found out, I was overjoyed that my father would be able to meet his granddaughter before he died. But I also secretly believed that I had lost any chance of ever making it in the field I had spent so much time, energy, and money pursuing. I had seen my mother try desperately to balance her career needs with my father's while raising three children, before having to sacrifice her own career for our sake. To me it seemed like it would have been infinitely easier if I had put off having children until I achieved everything else that I wanted in life, and then perhaps settled down and devote myself to child raising. After all, that was the path all of my peers seemed to be following. 
What I had never foreseen, though, was how becoming a mother would help me with my career. Put in business terms, my personal development surged my professional development. And I could have never seen it coming. 
After I gave birth, I fell into the fatigued daze many mothers do. But something else happened. I was overcome by a desire to think more deeply than ever before about what I wanted to do with my life. My entrepreneurial, fearless side was re-awoken. During those sleepy first few months with a newborn, my daydreams were consumed with a spontaneous inspiration: I wanted to create an ethical lifestyle website in honor of my father, who taught me to try to leave the world a better place than I found it. I fell back in love with writing, with the power of social media to connect people, and with the digital world and the potential there to grow meaningful movements and communities. I felt an urgent need to pursue my dreams again, for my own sake as well as for my daughter. I didn't want her to grow up knowing that my dreams were a casualty of my giving birth to her. I wanted to prove to myself and to her that if you are a multi-passionate person with a desire to be a mother and to do other things as well, you can. I wanted to show my mother that her own sacrifice hadn't been in vain.
Shortly after, I moved forward with creating that website, and I called it "A Better Place Journal." Along with a team of nine friends who volunteered to help out, I crowdfunded the several thousand dollars that we needed to pay for the website design and construction over the course of six weeks. It now features hundreds of ethical brands we've tried and tested ourselves. I noticed one of my favorite magazines was hiring for a position that could be done from home, just a few hours a day—the kind of job that fits perfectly around a baby's schedule. Pursuing that position led me to my role working for Verily today.
I never could have planned it this way, but my work with Verily has naturally increased as my daughter has grown, unconsciously in line with the amount of time that she can spend away from me. These days I'm working full time in what I can honestly say is my dream job, with a team of generous, passionate, talented women making a difference in the world. When I look back at my fears that having a baby at this stage in my life would kill my career, I can laugh now because I have the luxury of hindsight. I now see that London was just one possible path for me, not the one and only path.
The struggle for working mothers is very real, and jobs that fit around a mother and baby's schedule are very rare—I know, because I tried (and failed) to make my 9-5 office job work for a while after having a baby. I've been in the position where I've had to move back home with my parents because I couldn't make ends meet, juggling child care and work. 
But what I also learned is that life doesn't end when you have a baby. Life may not have followed the path I imagined for myself, but the real one was better than the one I had planned. And, contrary to what everyone (including myself) thought, my career was not extinguished when I became a mom. Now I'm not sure where I'd be without my daughter. And I can honestly say that I'm not sure I'd ever have found my dream job had I not put my family first.
Photo Credit: Cynthia Chung Photography