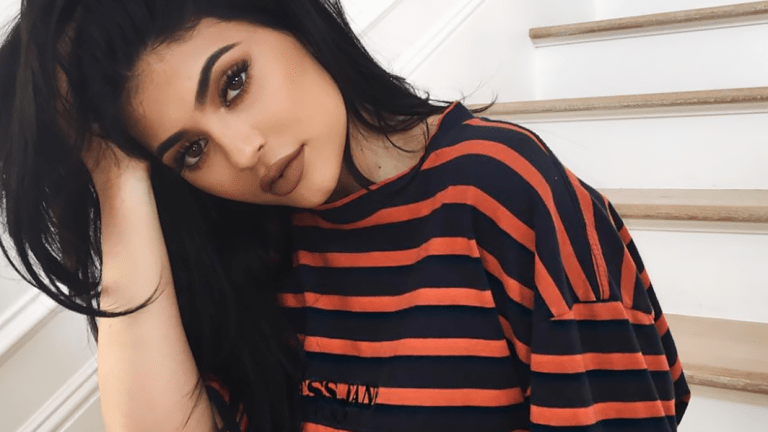 Kylie Jenner's Latest Interview Is a Rare Glimpse Into the Side of Social Media We All Dread
A lifetime of fame has made the Snapchat star confused about her own identity and worth.
An average day in Kylie Jenner's life seems, to put it mildly, envy-inducing. The social media star's day includes anything from cinnamon roll waffles, to impromptu visits to her mom's custom closet housing exclusively Hermès Birkin bags, to throwing lavish parties for her friends. What a life!
At least, that's the story Snapchat tells us. It seems no one knows exactly how many people tune into her short-lived video diaries, but she's definitely the most popular user on the platform, surpassing even her sister Kim's reported nine million viewers.
The youngest member of the Kardashian-Jenner dynasty, Kylie has been in the spotlight since age 10 as millions tuned in to watch Keeping Up with the Kardashians. Now 19, she has made her own name with a booming cosmetics business and a personal brand few can rival. On all counts, she's an idol of millennial proportions.
She's also something of a cautionary tale. Last year Jenner set the Internet ablaze with her PAPER magazine cover, for which she was criticized for looking too "plastic" and fake. Now, she appears on Complex magazine's October/November issue with another controversial cover, this time posing topless.
To PAPER, Jenner infamously said she didn't "believe in after 30." That is, she doesn't believe in life after 30. Perhaps that sentiment isn't so unbelievable for a person not yet 20, who's already been exposed to so much. The Complex story shed some light on what, exactly, the impact of that life has been. One revelatory moment was about the cover image. Apparently Jenner made the decision to pose topless on the spot, she said, out of a desire to "try something new."
We know by now that nudity in the media is nothing new. That such a young woman as Jenner uses her naked body as a currency to simply entertain herself and her audience, however, is really something (although perhaps a message she picked up from her sister Kim).
While Jenner defends fame as being not that bad, she also confesses that growing up in the spotlight confuses her about who "Kylie" really is. "I didn't know who I was a year ago, and I still don't know exactly who I am now. You're trying to grow up and make mistakes and everybody's watching."
For a cover story on one of today's most famous young women, I was struck by how depressed I felt reading it. Young voices are usually the ones we can rely on to provide fresh outlooks and reminders of hope in the world; Jenner's words, however, seemed more like a cry for help. At one point she laments, "If someone told me how big [Keeping Up with the Kardashians] was going to be, I probably would've had a second thought about it," she says. "I don't want to be 'Kylie Jenner.' It's become a job more than who I am. I don't even want to be that person anymore."
Arguably, Jenner can do anything she wants. She owned cars before she could legally drive them, she got lip injections at age 16, and now, she posed nude on a whim. But with interviews like this, it seems murky whether she's doing what she actually wants or with any real direction.
The Highs and Lows of Overexposure
There are numerous moments in the Complex interview that echo this sad chord of how the world of fame has caused Jenner to become more of a product than a person. One of the biggest moments in the interview pertains to her most famous physical feature—her lips. Jenner revealed to Complex that she got lip fillers because of an insecurity that manifested in middle school. The story reads:
"'This guy I kissed was like, 'Your lips are really small but you're a really good kisser. I didn't think you were gonna be good at kissing,'" she remembers. The article noted Jenner was crossing her arms and hunching over recalling the story, revealing her discomfort. "It was so rude," she said, "From then on, I just felt like I saw guys staring at my lips. I felt like no one wanted to kiss me."
It's easy to chalk Jenner's reaction to her constant time in the spotlight, but her confession sounded like, well, every other young woman overexposed to social media. While many adolescents today don't have the resources to change their appearances after a crush puts them down, many experience constant pressure to perform for their social outlets such as Instagram, Twitter, and Snapchat—just like Jenner does.
Author Peggy Orenstein's research on the side effects of sexual culture on young girls speaks to this. In her book, Girls & Sex: Navigating the Complicated New Landscape, Orenstein says that selfies aren't harmless. She says, "Selfies can impose another tyranny on girls, another imperative to dish up their bodies for inspection by others and themselves, another way in which their value is reduced to the superficial, flattened, measured by visibility."
Furthermore, Orenstein noted that plastic surgery for those under 30 is on the rise. "In 2011 there was a 71 percent increase in the number of high school girls obtaining chin implants specifically because they wanted to look better in prom selfies. One of every three members surveyed by the American Academy of Facial Plastic and Reconstructive Surgery in 2013 said that their patients sought their services to look better in selfies."
When Influence Goes To Far
Trends like these make me worried for our future. In generations past, the look of untouched youth was considered most beautiful. Now it seems that even natural youth is not beautiful enough, or at least countless girls seem to think so.
As an older sister to two beautiful and amazing girls, one of whom is Jenner's age of 19 and another who's 12, I wish I could respond to girls lusting after Jenner's image that self-worth is not the result of the perfect selfie angle or how many "likes" your photo gets. We are so much more than our looks, status, or what others think, and believing otherwise can be toxic.
I wish Jenner had someone to tell her that, too. For all of her visible fortune, she pays a high price. It may not be written as a "woe is me" story, but the interview was incredibly sad. I heard someone longing for the simplicities most take for granted. Jenner revealed in the interview that she used to share her "silly" side on the social-media platform Keeks but stopped when people made fun of her. "I started to lose a lot of myself, pieces about myself that I liked the most."
Humans have a tendency to fit into their surroundings. You are the company you keep, the saying goes. We're also the media we consume, and the comments we take to heart.
We have a responsibility to ourselves to remember that a person isn't meant to be an idol; humans are imperfect and that's part of what makes us, and life, so beautiful. If Kylie Jenner's Complex interview tells us anything, it's that the allures of social media to attempt perfection can fail us. And when being ourself feels more like a job than like living, something's got to change.
Photo Credit: Kylie Jenner